MUSIC PREVIEW: Fearing loathing Trump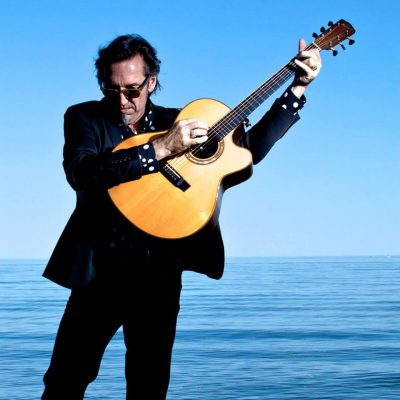 Stephen Fearing was born in Vancouver, raised in Ireland, lived in Minnesota and wound up back in Vancouver in 1984 – where only then he became the Canadian folk hero he is today.
He could live anywhere – and America is bottom of the list.
In the area for a trio show at Festival Place Saturday night, Fearing is among many singer-songwriters "inspired," if that is the right word, by U.S. President Donald Trump. Fearing's new album Every Soul's a Sailor contains a pointed protest song called Blowhard Nation where he calls Trump "a weird looking creature with a rug and a jowly frown," and bemoans the State of the Onion: "Like a bad a tattoo, there's nothing you can do."
Of course, being a kinder and gentler sort of folksinger with 10 albums and a successful side project (Blackie and the Rodeo Kings), Fearing's new song is certainly not up to the bile level of most of the other anti-Trump invective that artists have been pumping out. Not since Nixon has the pubic been so politically engaged!
Tickets to the 7:30 pm show from $31
Thursday Feb. 1
Choir and Marching Band – Neither choir nor marching band, this local indie outfit features musician and surprise MacEwan University history professor Dr. Trevor Rockwell with some clever and excitingly futuristic alternative rock music, contained on nine recordings since 2008 – and only recently starting to earn that coveted "buzz." Hewson Grey opens the show at the Aviary, 7:30 pm, $10 advance
Friday 2
Cash'd Out – It seems to be a big weekend for tribute bands – Beatles, Eagles, Heart, you name it. Country fans won't want to miss this one, with an award-winning Johnny Cash tribute band from San Diego, and the opening act, Edmonton's own Olivia Rose. Brixx (lower level of Starlite Room), 8 pm, $15 advance
Marc Cohn – This Grammy-winning artist is on tour to celebrate the 25th anniversary of his 1991 debut album and the timeless hit therein: Walking in Memphis – a song that has become so ubiquitous in the roots-rock canon that sometimes people have to be reminded who wrote it. It's this guy – on stage at Festival Place accompanied by the Blind Boys of Alabama. SOLD OUT
Platinum Blonde – One of the few bands named for – and can live up to – their own hair, these Torontonian rockers practically defined the Canadian '80s with songs like Doesn't Really Matter and Crying Over You. Like many such hair bands, they wisely took the '90s off before making reunion noises in the 2000s. Sadly, shortly after their bassist Kenny MacLean was talked into it and played their first proper reunion gig in 2008, he died of a heart attack. They tried again a couple of years later with two originals left, singer Mark Holmes and guitarist Sergio Galli, and a new rhythm section (bassist Rob Laidlaw and drummer Dan Todd) – and they've been touring and recording ever since. River Cree Casino, 9 pm, tickets from $37
Saturday 3
Jordan Norman and The Wisdom Teeth – This Neil Youngian Fort Saskatchewanian rootsmith is amping up his career with a new album, called While They're Still Hungry, and his first Western Canadian tour. Partnered with Alex Vissia and Vicky Berg, the band plays a double album release show at the Aviary, with Denim Daddies. 8 pm, $10 advance
Experience Points – Here's what happens when you send video game nerds to jazz college – a band that plays video game music live. Mario, Zelda, Undertale, they're sure to play your favourites. They're also appearing at the Video Games Live tour at the Jube in March. Wait, didn't Charlie Parker write the theme song to Dig Dug? Yardbird Suite, 8 pm, $20 members/$24 guests
Marlaena Moore – Standing astride the gulf between singer songwriters and alternative rockers, this Edmonton favourite has three albums to her name, the latest being from 2016: Gaze – which must mean there's new material on the queue for the show at the Sewing Machine Factory. Let's hope so. Moore tops a bill that also includes Jom Comyn, Stoplights and Glass Machine. 9 pm, $10 at the door
Monday 5
Portugal. The Man – Must we do these band name disclaimers all the time? Neither from Portugal, nor "the" man, this Portland band is five guys who'd been experimenting with psychedelic groove pop since around 2002 and scored a massive worldwide hit with Feel It Still last year; the song just won the Grammy for "best pop duo/group performance." Hollerado opens the show at the Winspear Centre, SOLD OUT