REVIEW: Brilliant play for short attention spans …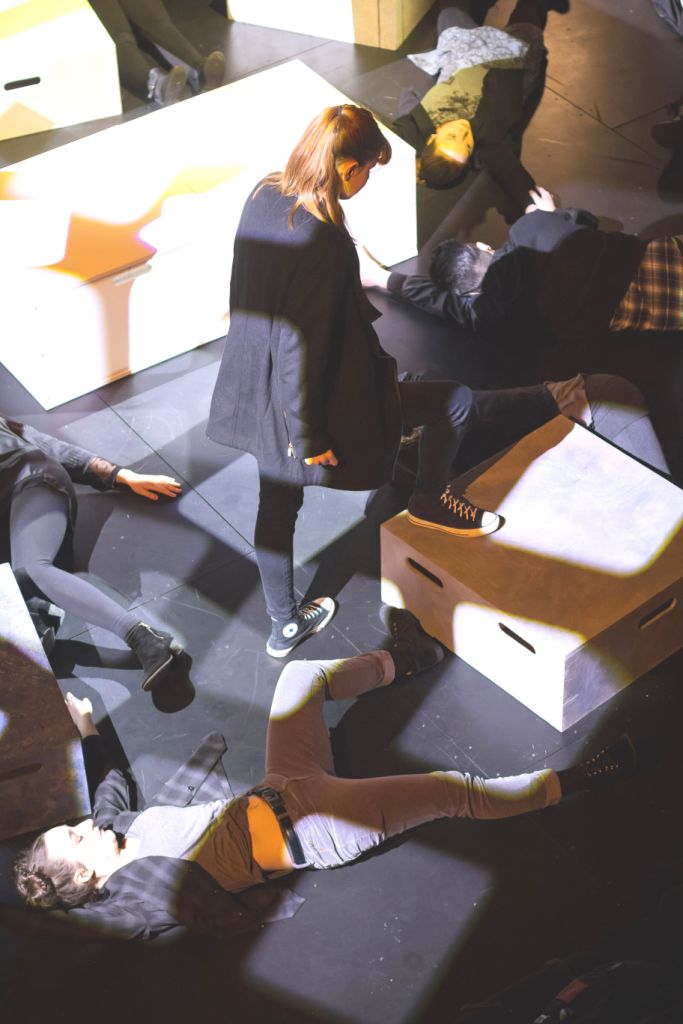 With Caryl Churchill's Love and Information, MacEwan University's Theatre Arts program introduces a new stage to Edmonton – the Theatre Lab in the impressive new Allard Hall.
The new black box, 150-seat space is just what a theatre school needs – an area flexible enough to accommodate productions of all sorts and sizes. If it can happen in your mind – it can happen in this welcoming wall-less world. The lab space in the old building was a wonderful tool that presented theatre from small (Goblin Market) to large (The Show of Shows) and this space shows every sign of being a welcome addition to the University and our city.
It's hard to imagine a better production than Love and Information to allow young performers to exercise their dramatic chops. Churchill wrote the play for the Royal Court Theatre in London in 2012. Like all of her works (Top Girls, Cloud Nine) she stretches the bounds of theatre to create a new form of expression, challenging director, performers and audience to join in the adventure with her. Under the direction of Dave Horak, the young participants rise to the occasion admirably.
Love and Information's set (designer: Megan Koshka) is a series of screens and platforms in blackness in a (near) theatre-in-the-round setting. As we enter, past the two performers at the door in gas masks singing in lovely harmony, we meet the cast. They earnestly tell us about the sex life of snails, or their pets. If you're lucky you'll get a chocolate drop.
The work that follows is a reaction to the fractionated world of information in which we live. It's certainly not a play in the classic definition. It's a kaleidoscope of 57 scenes – some as short of five seconds – featuring more than 100 characters performed by 22 actors in a 90-minute intermissionless constant bombardment of ideas and fragments. Characters come and go so quickly you don't even have a chance to think, "What just happened … ?" because if you do, you will have missed something. Welcome to the playwright's take on the modern state of human connection and the often overpowering tsunami of information that informs and confuses our lives. These are snapshots and signposts all thundering past, leaving us lost in a cosmos of internet, Facebook, mathematics, philosophy, religion, feelings, dreams, love and hate and – all the things that assault our humanity in a confusing world.
The production throws it out there and challenges us to decide what to make of it all.
Some of it is funny: a linguist goes through an unending list of words for "table." Two ex-lovers having it off one more time remember the many times where and when they "did it." A scientist describes an experiment on a chicken's brain leading to the conclusion that how we think is just a chemical process. Is there free will or is it just a random particle? Do we really remember the big events in our lives – or just the videos we made of them?
Like everything else in this confounding play, there are no answers – just situations that hang in the air. Are these profound questions or just an instant camera shutter flash in a mindless universe? Perhaps merely a laundry list or a mishmash of pop psychology? Some of the vignettes are supported by vivid videos (video designers: Robyn Ayles and Scott Spidell) – and some are not.
In all the tumult, you are left with a niggling sense of unease about how the speed of communication replaces human interaction.
The evening is a tribute to the spare, focused writing of Churchill, and the young performers who generate considerable emotion and motivation into short bursts that begin out of nowhere and go, well, nowhere.
Horak's brisk and intelligent direction manages to keep most of the production anchored in a recognizable world. Churchill's plays are known for leaving stage directions up to the director, so that is a fairly formidable task. The cast shows a rather mature grasp of the confusion around them and come to think of it are probably more able to understand the turmoil than older generations.
In the end we are dazzled, provoked and confused, but there is a signpost in Churchill's telling title: we must learn to temper our insatiable need for information by maintaining our capacity for love.