Tears mix with laughter in remarkable one-man show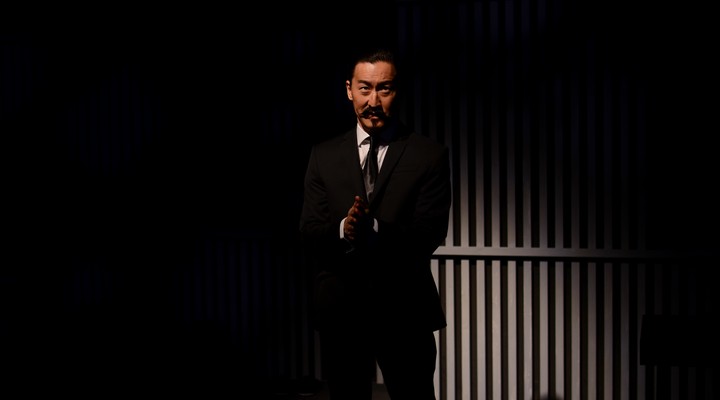 The one-person stand-up show is a staple of theatre – but you've never seen one like this before.
Empire of the Son, on stage at the Citadel's Club theatre until Feb. 18, is the work of the much-hyphenated (writer-comedian-filmmaker-movie-TV star-radio host) Tetsuro Shigematsu. He has co-starred in a sci-fi film with George Takei, was a martial arts master in a TV series, wrote for This Hour Has 22 Minutes, spent two years studying with Japanese Butho Dance Master Kazu Ohno and studied poetry with Allen Ginsberg. He also hosted CBC radio's The Round-Up.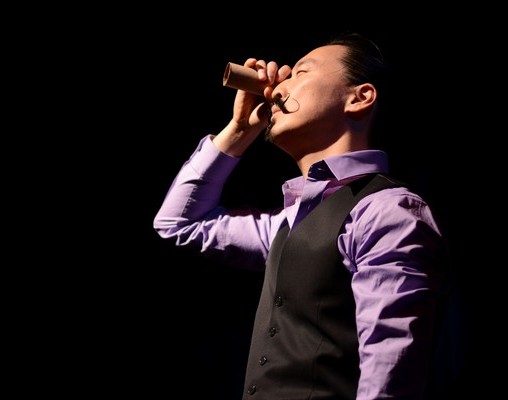 When he set out to write his one-man show, Tetsuro chose a daunting task. He wrote about his father, Akira. During his childhood his father was a distant, enclosed  presence. He and his son did not talk but, goodness, how they argued. Dad, a CBC broadcaster of a generation earlier, would sit at the super table with earphones on his head.
Tetsuro in his youth had attempted to use his dad's persona in some of his stage work, but his mother told him to stop because he was making fun of his father. Like a good Japanese son, he did just that. Later he remembered that some of the best reactions he ever got on stage were when he did the bits about his dad. So he tentatively approached the now elderly gentlemen and asked if he could recreate him on stage. To his surprise his father said, "Yes! If you tell my life story then it will have had some meaning."
The show was an immediate hit and is now in the middle of a successful cross-Canada tour.
In designing Empire of the Son, Tetsuro did not want to stand in the middle of a stage and tell stories. He has employed a profusion of influences – from the elegance of Japanese art (designer: Pam Johnson) to the newest of technologies. Consequently we are treated to a tale that summons the yin and yang of great storytelling: with the pull of the traditional Japanese reticence and the demands of entertaining a hall full of people.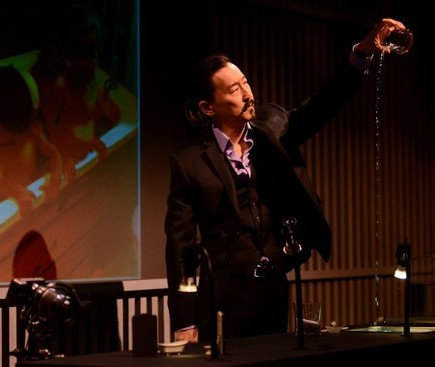 The show is intimate enough to address why he could not weep at his father's funeral – and bold enough to stage a recreation of the bombing of Hiroshima. That astonishing spectacle is accomplished by using an aquarium and a syringe of white liquid, all magnified, turned upside down, and projected on a huge rear screen. Using the same technique, with four of his own fingers he recreates both he and his father squabbling – with tiny Tetsuro riding on a mini-skateboard. The performer ingeniously uses toys and miniatures set up on a long board and blown up on a big screen to become visual elements in his life. There are filmed anecdotes and recordings of his father and members of his family.
All this is really a tool in a show that is not really about panorama and pageantry but much more about ordinary people caught up in mighty events.
Tetsuro is an understated yet charming and commanding presence on stage. Like many family stories, much of the evening will leave you laughing. His eyes twinkle in a face covered with a generous, flowing 19th-Century handlebar moustache. "Deeply aggressive facial hair," his sisters call it. His expressive radio-seasoned voice fills the cozy Club venue.
Empire of the Son is an involving and intimate tale of a father and son. At times earnest, at others humorous, but always compelling, Tetsuro spins a moving story of two men who move from a culturally driven detachment, through compassion, to love.  It is a quest that continues long after his father's death – a journey he shares with us. Tetsuro many not have been able to weep at his father's funeral, but there were more than a few in tears from the audience at the end of this remarkable evening.