HMS Pinafore: A jazz cruise with pizzazz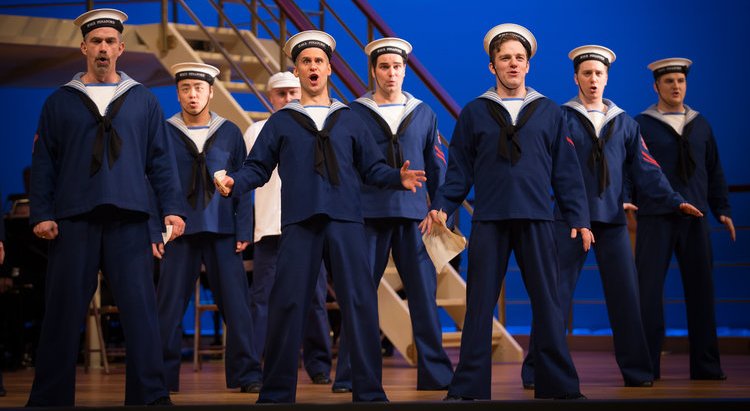 Shortly after it was written in 1878, Gilbert and Sullivan's HMS Pinafore (or The Lass That Loved a Sailor), became the most popular musical in the world. Propelled by silliness and mirth, it was a huge hit in London and, crossing the ocean, became an immediate sensation in America. At one time pirated versions were playing simultaneously in eight theatres in New York.
Many of the stuffy upper classes huffed and puffed at the assault on the aristocracy, horrified at recognizing themselves on the stage. One newspaper rumbled, "Something higher is demanded for what is understood as 'comic opera.'"
However, by its first revival a couple of years later, HMS Pinafore was regarded as a classic.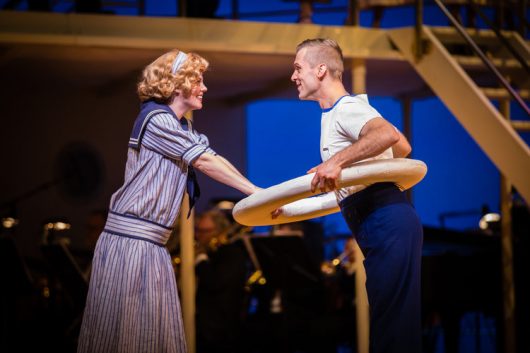 With its new production of the venerable vehicle at the Jubilee Auditorium, Edmonton Opera has pushed the operetta into the 21st Century by gleefully returning it to the 1920s. As signalled by a ringing banjo, it's the poop-oop-ee-doo jazz age, folks, complete with Dixieland, Charlestons, flappers, whiskey flasks and a scorching tango. Rudy Vallee and Bessie Smith drift by.
For those who may be offended at tampering with G&S, director Robert Herriot and arrange-orchestrator Ed Windels have created a minor miracle of Solominic proportions. Not only have they managed to keep the original's sense of jest by having the lower classes jazz up their songs but, exploiting the best of both worlds, the more aristocratic characters usually maintain the Victorian arrangements and sensibilities. Not always. At any moment, you can expect a soulful saxophone to emerge in the middle of a 19th Century love song.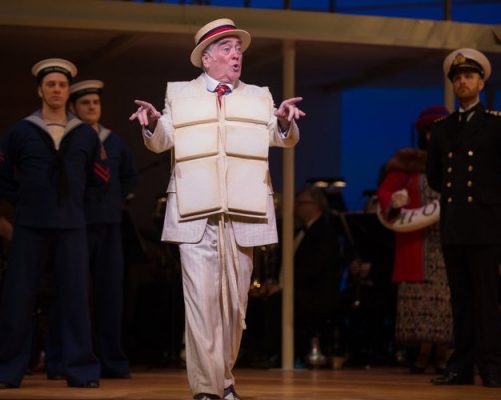 The action takes place completely on board the Pinafore. (For the uninitiated, a pinafore is a garment for women and girls). It's not the ship-of-the-line of the original. Designer Camellia Koo's imposing jazz age 90-foot Cunard cruise ship curves and sprawls all over (and beyond) the Jubilee Auditorium's huge stage. There's even a 28 foot high smoke stack. The ladies are gussied up in Deanna Finnman's flapper-era fashions. while the men are spiffily attired in naval uniforms. Those swingin' cats, the Edmonton Symphony Orchestra (under Peter Dala), perform right there on stage.
Basically it's the same tender tale of forbidden love. Ralph (pronounced Rafe) Rackstraw (the stout-hearted Adrian Kramer) loves the captain's daughter, Josephine (the lovely Vanessa Oude-Reimerink). However, her socially climbing father (Geoffrey Sirett, aristocratic of nature) wants her to marry the fatuous Sir Joseph Porter (Glenn Nelson). She goes along with dear old dad for a while but Sir Joseph's condescending advocacy of the equity of the ordinary seaman encourages the two lovers to overturn the conventional social order, declare their love and elope – tough on a ship at sea. Dad uncovers the heinous plot and things look pretty bad for the lovers but, as in most G&S operettas, a surprise disclosure closes the social gap as "Little Buttercup" (Bridget Ryan) reveals a shattering secret.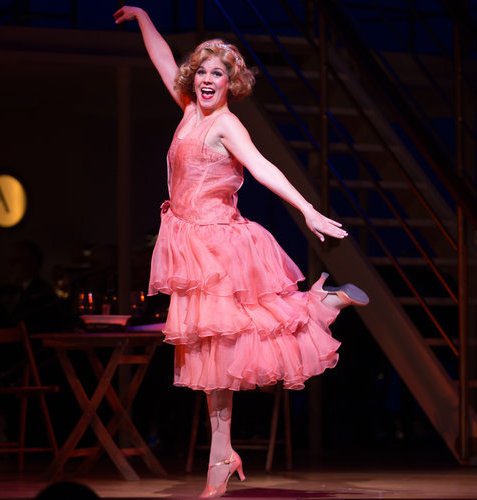 Pinafore may ostensibly be a hearts and flowers love story, but probing behind Sullivan's soaring melodies (For He Is An Englishman) and Gilbert's intelligent and clever lyrics ("Stick close to your desks and never go to sea, and you all may be rulers of the Queen's Navee!)" there's a lot of craft and slyness. It's a hilarious commentary on the British class system, including side swipes at blind patriotism, party politics, the Royal Navy and the rise of unqualified people to positions of authority.
All of which sits happily atop this hybrid musical as if G&S had thought of it in the first place.
The lovers and surrounding toffs and plebs are all in fine voice and the orchestra plays with gusto – and could probably find employment in any local dance hall. The cast is liberally sprinkled with excellent local performers. Of special note is Bridget Ryan's comic take on street costermonger, Little Buttercup, who sings, "I've treacle and toffee, I've tea and I've coffee, soft tommy and succulent chops; I've chickens and conies, and pretty polonies, and excellent peppermint drops" – and shows her years in musical theatre. Ryan sings, she dances, she clowns and she nails the saucy cockney accent. The peerless Glenn Nelson plays his rum-soaked Lord of the Admiralty with the vaudeville verve of a Joe E. Brown. His breathless machine-gun recitation of the patter song When I was a Lad… is a stand-out. Oude-Reimerink, Sirett and Kramer all have operatic voices that are right at home in the comic world of G&S. Ryan Parker's Bill Bobstay, a lively tar and Ralph's buddy, adds considerable show business smarts and pizazz as he threatens to run away with his featured scenes.
Jason Hardwick's ha-cha-cha choreography is infectious and Windel's period perfect jazz additions are welcome modern supplements to the G&S catalogue.
The production I saw on opening night wasn't quite ready. Cues were missed, Gilbert's lyrics were occasionally scrambled, tempos at times ragged and some of the comic bits didn't quite gel. There was little, however, to get in the way of the enjoyment of this fine, fizzy evening and I'm sure that by the next show on Tuesday, Feb. 6 everything will click. It also plays Friday, Feb. 9.
Photos by Nanc Price