Portugal. The Man. Greater. Than. That One Hit.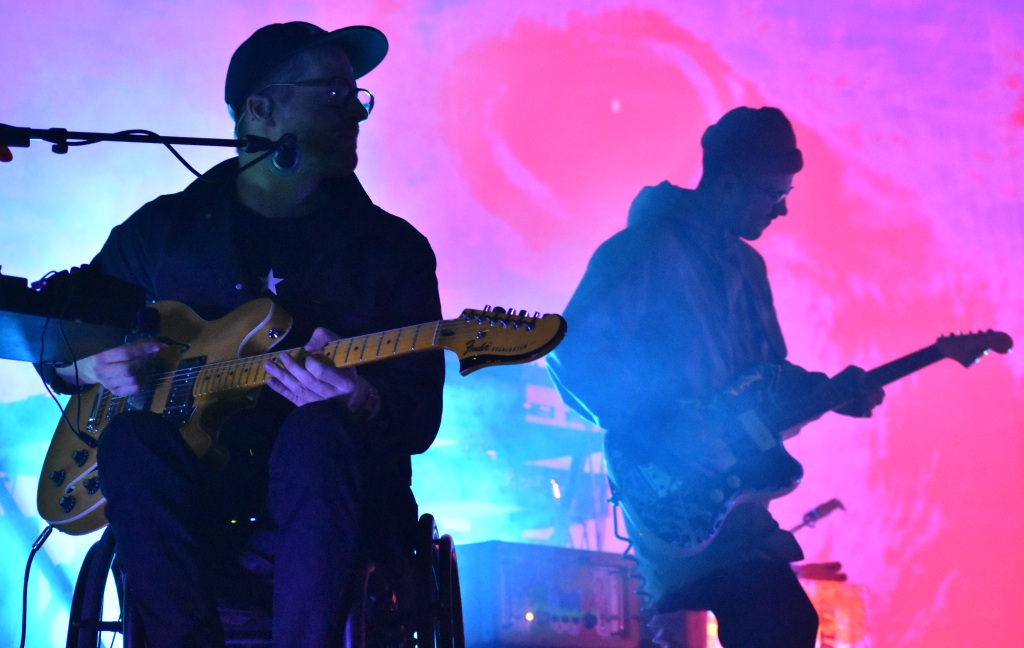 It's always a interesting experience seeing a concert from a modern rock band known in the mainstream for only one massive radio hit. Seems like they're all that way these days.
You never know what you're going to get. They could be a box of chocolates – or as has been witnessed once or twice, they might not be ready for the major leagues, thrust into the limelight before they've paid their proper dues. Awkward. They would've been great in a bar, you might say. But one thing's for sure: You're going to see these hard working and lucky musicians in a bigger building than they ever would dreamed of playing if it weren't for The Hit. People – strangers, casual fans – are listening carefully to see if there's anything more. This is truly the proving ground.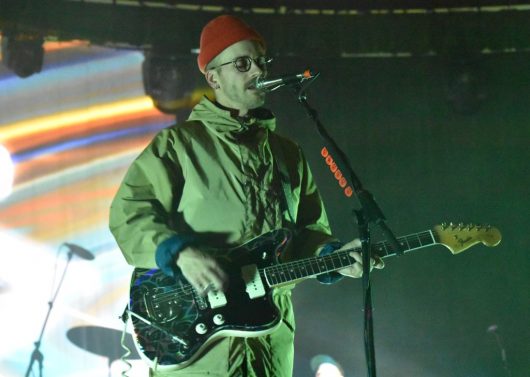 For casual fans drawn to a rock show just because of that one cool song they liked on the radio – and what's the name of the band with that one cool song? Portugal. The Man? What kind of name is that? – there's a lot of fun in being surprised, to hear something you've never heard before.
Portugal. The Man delivered a surprisingly great show at the sold-out Winspear Centre on Monday night. They sounded like the long-lost recently-unfrozen Alaskan love children of Pink Floyd and Iron Butterfly: Heavy, soulful, uninhibited, and very, very trippy. Clearly unconcerned with such mundane matters as "hits," they have depth: Eight albums dating from 2002, wrought in blood, sweat and frozen tears in the bear-infested wilds of isolated Alaska, where there's nothing to do in the winter but work on your music (never mind that they've since moved to Portland) – much like Edmonton. The music shows its originality and eccentricity. It's beautiful.
"We feel right at home here," said frontman John Gourley, a remarkable singer and guitarist who performed in the shadows the entire night, perhaps he is shy, silhouetted by trippy visuals and occasionally illuminated by strobes and laser beams to reveal a regular dude dressed in a toque and jacket. Wasn't he hot? Odd affectation. Like his bandmates, he sure could sing, though. Gourley's falsetto perfectly nailed what sounds like female lead vocals in the band's one big radio hit, Feel It Still.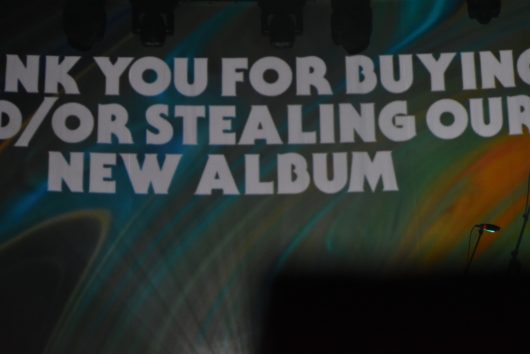 Speaking of which, part of the fun of seeing an alleged one-hit wonder live is wondering: When will they play The Hit? There is that extra trill of anticipation at such events. It's telling that Portugal. The Man severed that albatross around their neck early in the show (usually the bands play The Hit last) after having made jaws drop by mutilating Metallica for the opening, before blasting into Another Brick in the Wall (Part 2) – effectively smelling out their own comparisons. There were moments in the show that were seriously as heavy as Metallica – and in the Winspear Centre, too. Shock and horror and spilled beer!
At stage right of the epic jam was guitarist Eric Howk in his wheelchair, who created rich textures of sound to combine with Gourley's intense guitar work. Topping it all like icing on the cake by keyboard whiz Kyle O'Quin, who often dominated the mix with some kind of new fangled Hammond organ and a battery of fat analog synths for some amazing moments of pure retro psychedelic hard rock goodness. In-A-Gadda-Da-Vida, baby!
There are a lot of instant one-hit wonders floating around out there. It seems to be the way the music business is set up these days. Better a one hit wonder than a no hit wonder, eh? There seems to be a huge disconnect between pop radio and the actual fame – and fortune – of the artists who actually create the music. One sees a concert, often at a multi-band festival, hears the familiar radio song that's everywhere, and exclaims, Aha! So THAT's the band with that one song on the radio. I must hear more!
Such is the value of seeing live music. After this terrific show, Portugal. The Man deserves far more than one-hit wonderment.