FORE! Locals let loose on links in Ladies Foursome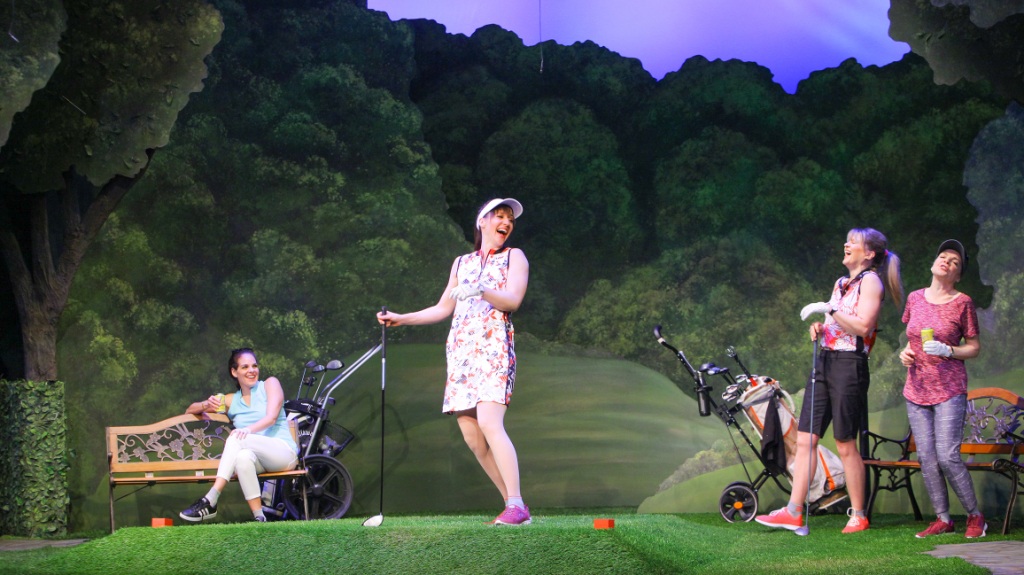 Norm Foster is probably the most produced playwright you've never heard of. For the past 35 years, from his home in Fredericton, New Brunswick, the prolific wordsmith has turned out a stream of comic works that have been produced as far away as Canberra, Australia. Although one of his plays was produced off-Broadway, that was the closest he ever got to the Great White Way. But he has become the darling of dinner theatres, community groups, theatre schools and any organization looking for quick, predictable, rapid-fire laughs in a play.
One of his latest, The Ladies Foursome, is the current production at the Mayfield Dinner Theatre until April 1.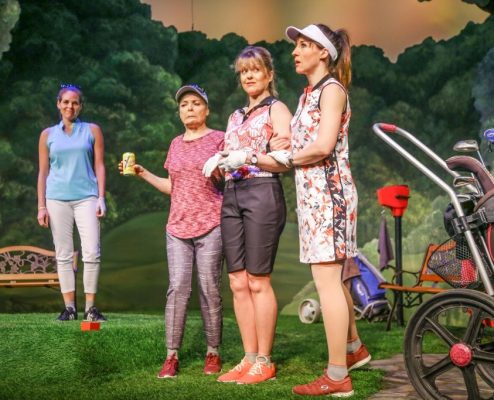 The show, directed by Jim Guido, is a good example of why Foster is so highly regarded – often compared to American playwright Neil Simon (The Odd Couple). Like Simon, the laughs are plentiful and he uses humour to uncover the humanity of his characters – often posing moral and ethical problems. But, unlike his American writing brethren, Foster avoids the sharply pointed, sarcastic approach to his characters that propels much south-of-the-border humour. Foster's players are nicer, more friendly and problems are examined through broad wit. He's … well, he's Canadian.
The Ladies Foursome uses a golf game as a platform for its cozy dialogue. You can see the advantages of that. Golf is a social activity that allows participants the opportunity to discuss the sort of intimate topics that might be off-limits elsewhere. And besides, as the play points out, "Where else can you drink this early in the morning and people think it's normal?"
Four women take to the links in honour of their long-time golf buddy, Kathy, who has just died. She was struck by lightening on top of a ferris wheel – but, hang on, there's more going on here then just a spectacular demise. The three friends are joined by a newcomer who was an acquaintance of the departed. Over the next 18 holes, secrets, anecdotes, laughs and memories are shared but also thought-provoking observations on the nature of friendship and how lives intersect in unexpected ways. Even such weighty topics as God, sexual fulfillment and immortality are touched on, adding a level of gravitas to what otherwise is a very funny comedy.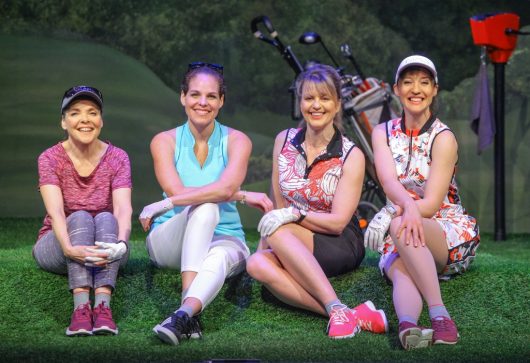 Local director Guido has cherry picked his cast from some of Edmonton's best. Connie (Stephanie Wolfe) is a television anchor who's addicted to casual sex. When she flirts with the cart boy she is chided that he is much too young for her. "I'd love to give him a tumble," she breathes. When it's pointed out that the kid is half her age she purrs, "So, I'll give him two tumbles." Wolfe gets many of the best lines and has a rare old time with them. When asked if she isn't worried about getting a reputation, she snaps back. "At my age I don't worry about getting a reputation. I'm just trying to keep it."
Tate (Belinda Cornish) is a stay-at-home mom. She seems slightly neurotic but on the surface, her life looks idyllic. Margo (Karen Wood) is a straight-ahead business woman who has a short fuse and a new boyfriend; and Dory (Amber Lewis), the newcomer, runs a wilderness resort and may be bringing a few choice secrets and more than just a duffer's swing to the game.
Now that may read as four female stereotypes but Guido and his cast make sure that each has a distinct personality with individual opinions. And each of the performers is given ample opportunity to display their considerable comic strengths. Foster, whose sensitive, light touch is obvious throughout, must have spent some time hanging out at ladies golf tournaments because he sure has a way with how (you might imagine) women would talk when they are away from the boys.
The show takes place on a single tee that stands in for all 18 holes. Let's see now – with 4 participants and 4 drives per tee, that would be 72 tee-off swings. Perhaps Foster feels he has to play the entire course. The evening would be better, funnier and more focused if it was shorter.
This is Dinner Theatre and the idea is to provide light entertainment to go with the roast beef – but in this surprising new play you'll laugh and be touched as four vital, humorous and often hurting women search for meaning and purpose in their lives.
Photos by Ed Ellis