PLAYBILL: Metis Mutt matures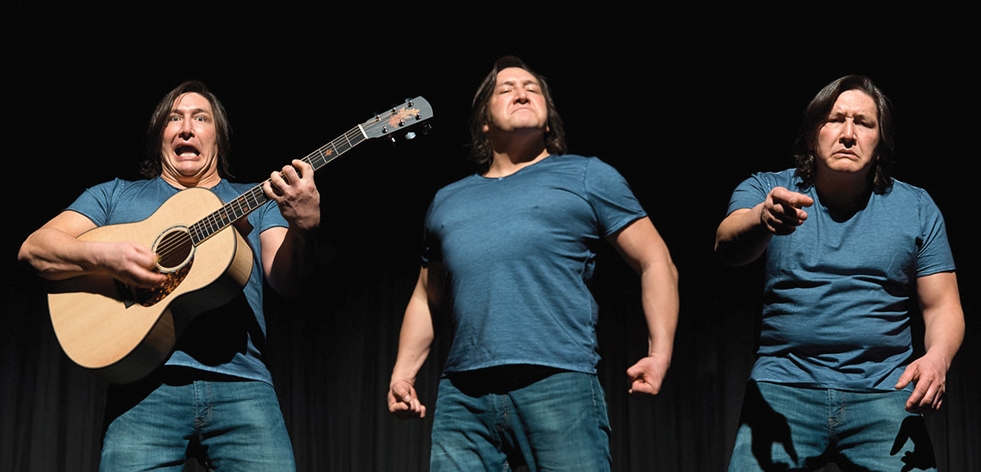 "I am Metis – which means that I'm both native and white. Half of me wants to assimilate you into my culture – and the other half is just too lazy to do it."
Does that joke make you cringe? Yes? Does it make it any better coming from an actual Metis man? No? Well, good. That's the idea. We're making it awkward.
Edmonton actor Sheldon Elter pulls a classic bait 'n' switch in his one-man autobiographical show Metis Mutt, on stage at the Roxy on Gateway Feb. 13-March 4. He opens with racist jokes lifted from his days as a young stand-up comedian who got his start at Yuk Yuk's, making fun of being Metis, but then he starts getting angry – at himself, along with the whole cultural climate that created a breeding ground for such humour. It gets a little deep from there – deep enough for a comic, at any rate – as Elter's life story unfolds in an award-winning play focusing on his personal journey to overcome racism.
Mamma Mia
Who doesn't like ABBA? Don't answer. There are plenty of people who still have the energy to claim to not like ABBA, but sooner or later, you know, you get tired of hating ABBA, and go with the flow of their pleasantly danceable pop gems. Name another 1970s Swedish pop group who's had a bigger impact on the zeitgeist? Can't do it, can you? Ha!
ABBA is so huge that the songwriters Benny Andersson and Björn Ulvaeus never have to work again, though they tease us with reunion rumours. Meanwhile, their music has spawned an entire industry – including the enormously successful jukebox musical Mamma Mia, playing in a full-blown spectacle Feb. 17-March 18 at the Citadel Theatre.
Motown the Musical
Motown blows ABBA out of the water when it comes to cultural impact. At the centre of the perfect storm of talent – Diana Ross, Smokey Robinson, Marvin Gaye, Michael Jackson, to name a few – was Motown Records founder and musical visionary Berry Gordy. It's his 1994 autobiography that forms the foundation of this jukebox musical presented by Broadway Across Canada – on stage at the Jubilee Auditorium Feb. 13-18.
Women on the Verge of a Nervous Breakdown
Said to be part "film noir," part "romantic musical comedy," this play presented by the local company The Janes takes place in 1980s Madrid, Spain, and follows the adventures of a woman searching for missing lover – with all the kooky characters she meets along the way. Starting with the taxi driver. Starring a sextet of local actors including Jocelyn Ahlf, Women on the Verge of a Nervous Breakdown plays at the Varscona Theatre Feb. 15-24.
The Unrepentant Necrophile
Let's just go with the blurb here: "A mortician falls in love with a man as she prepares his corpse for burial. She has three days until the funeral – but three days just isn't enough."
And it's a musical – a punk rock musical, to be precise. Don't expect the ghost of Patrick Swayze to come waltzing in.
In a Kate Ryan-directed production from The Cold Harts company at the Backstage Theatre Feb. 14-18, The Unrepentant Necrophile is said to be "almost too weird for the Fringe" (this won awards at the Orlando Fringe Festival) – to which the producers reply, "It's just weird enough."
It's a fine line.
This edgy play is just one part of the Chinook Series "international high performance arts festival" taking place at the ATB Financial Arts Barns until Feb. 18, with dozens of performances and panels presented by a collab of Azimuth Theatre, Fringe Theatre Adventures, Workshop West, SOUND OFF: A Deaf Theatre Festival and Black Arts Matter. See the whole schedule.
The Ladies Foursome
A quartet of Edmonton's finest actresses are game for a long run of a Norm Foster golf comedy at the Mayfield Dinner Theatre until April 1. Exploring the life of a dearly departed golfing buddy, the entire play takes place during an 18-hole round of golf on the day after the funeral. Let's see: Four participants, four shots per tee – that's 72 shots in all. It makes the play a little long, but then of course this is dinner theatre. Don't their arms get sore?
The Women
At the Walterdale Theatre until Feb. 17 is Clare Boothe Luce's prickly 1936 soap opera about a group of catty New York socialites who discover their husbands are cheating on them. Grounds for divorce, of course – but wait: being 1936, women weren't able to legally leave their husbands – unless they lived in Reno, Nevada. You can see where this is going. Think No Sex In the City.
Wildfire Teen Improv Festival
Rapid Fire Theatre's annual teen improv festival continues at the Citadel's Ziedler Hall until Feb. 24. Shows – competitions, actually – run nightly (more or less, check the schedule), and feature high school improvisers from around Alberta.
Empire of the Son
At the Citadel's Club venue until Feb. 18, we get a different perspective from the usual father-son monologue with a remarkable performance from Japanese star Tetsuro Shigematsu. Intimate enough to admit he didn't cry at his father's funeral and bold enough to recreate the bombing of Hiroshima – with clever projections – the show shares what Shigematsu learned about his dad, and how he's trying to become better dad himself.