Laugh, cringe and think: Metis Mutt a triumph over racism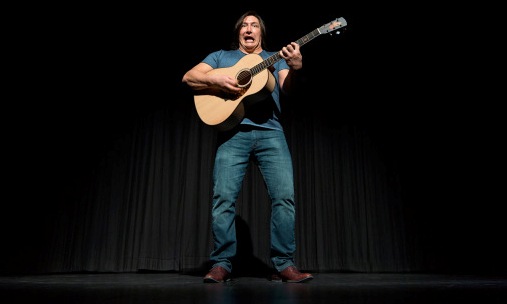 "My name is Sheldon Elter and I'll be your native comedian for the night" – and thus the Edmonton-based actor-musician-comic (and a whole pile of other talents) launches into Metis Mutt, his semi-autobiographical one-man show at Theatre Network until March 4.
Be prepared to be immediately outraged. We live in an age where various ethnic groups are allowed to roast their indigenous backgrounds by using language and situations disallowed to the rest of us – but Elter's distasteful diatribe is beyond acceptable. And what makes the screed even more uncomfortable is the way the audience laughs – even while cringing and groaning. No violent, racist stereotype is ignored: poverty, drugs, spousal abuse, welfare bums. He sings, "On the fifth day of Christmas the government sent to me… five welfare cheques…"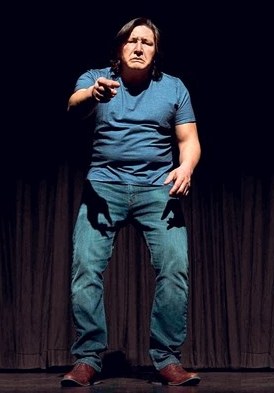 But hold on. Slowly the performer pulls himself away from his own repugnant words and we begin to understand what the canny raconteur is doing. You realize that he is challenging us to question what we are laughing at and why we perceive it to be so funny.
Elter, a powerful and charismatic performer, is using his own life to show us the pain and ultimate triumph of a young Metis boy who overcomes a horrendous childhood, and difficult youth, to find his way out of the destructive cycle that has claimed so many. "Heartbreaking" is a term thrown around to describe many stage presentations that traffic in hurt, and there are few that equal the sight of a very young Sheldon helplessly watching a drunken father beating his beloved mother.
We are quite used to seeing Elter on Edmonton stages – in roles ranging from a superhero (complete with Schwarzenegger style muscles) to the light comic farceur of One Man Two Guvnors – to making it to the finals on Canadian Idol to performing on the ukulele with The Be Arthurs. He uses his myriad personalities and talents to spin his ultimately uplifting tale.
Audiences may remember an earlier version of the show at the Edmonton Fringe back in 2002. It was a huge hit, galvanizing audiences and winning the actor two Sterling Awards. Last year Metis Mutt played to full houses and critical acclaim in Toronto. Over the years, Elter has shaped, refined and focused the show and what we are seeing is the result.
Elter had an alcoholic, abusive father – although he admits to still thinking of him and the enormous affect he had on his life. His mother comes off as much more than a victim of abuse, but as a positive influence bringing love and shelter.
The performer began his show business career as the comic assistant to an itinerant hypnotist traveling around Alberta. The fellow encouraged the kid to use his indigenous roots and tumultuous family life as a basis for his act. It proved to be transformative.
One of Elter's recurring themes is how he has always been caught between his twin heritages. In school, as a Metis kid he was never white enough to play with the white kids nor Indian enough to play with the indigenous ones. His two worlds entangle, drift apart and then twine back together. At one point, he tells us he suffered from a mysterious childhood illness that proved beyond the ability of several Edmonton doctors to diagnose. It magically disappeared after his father took him to see a medicine man.
A natural comic and mime, he's funny throughout, using his humour and multiple characters to give us access to his story – which includes loss, abuse, addiction and discrimination. The comic songs are fun as they move from barroom refrains to a full-voiced and quite lovely classical Broadway power ballad (from his years in the Grant MacEwan Musical Theatre program.)
As the evening progresses, the characters connect, the demons he battles are, if not slayed, at least put to rest and we (and apparently – he) come to feel an understanding as a profound, honest and touching reconciliation is reached.
Elter finishes off with another stand-up routine but this one is a clever reversal of his first few minutes. The performer recently told CBC Radio,"I had to come to terms with what I was saying and the responsibility that I had with saying those words. It's a hard lesson I had to learn."
The welter of impressions, characters and the whipsawing of emotions might have come across as confusing and theatrically unfocused if it weren't for director Ron Jenkins. His fingerprints are all over this one. This is not the production we saw all those years ago, but an experience that has been heightened and amplified. The vignettes are punctuated by short bursts of sound that immediately change emotion and scene. Aaron Macri's subtle music is used throughout. T. Erin Gruber has developed a shifting visual landscape, projected on what looks like an animal skin stretched on a frame (set and lighting by Tessa Stamp), that provides an impressionistic and supportive setting for Elter's words.
The production strikes a precarious balance between making us laugh and exposing the very real pain in a life suspended between two cultures. With a brilliant director and a dynamic performer, Metis Mutt invites us on a powerful journey to self-realization and affirmation.
Photos by Ryan Parker