Mamma Mia! How can I resist you?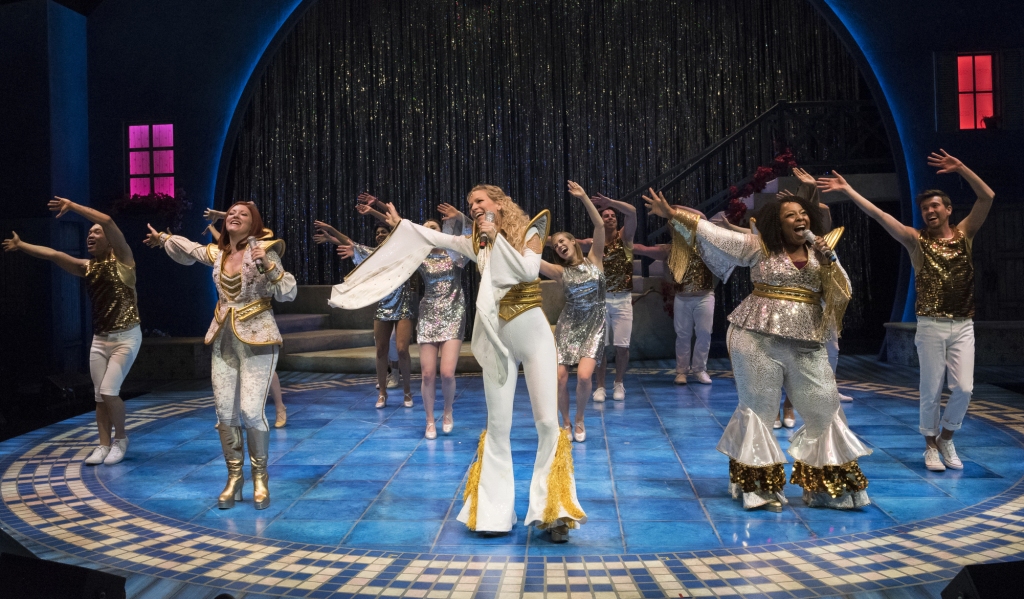 It would appear that we can't get enough of Mamma Mia! Large theatrical productions of the show have played the Jube at least three times now. For a while, before Beauty and the Beast and The Greatest Showman came along, the movie was the biggest grossing musical film of all time.
And, bets the Citadel – where it is the current Maclab production until March 18 – it still has the power to attract the big numbers.
And why not? The Citadel has a rosy track record for not only breathing new life into older vehicles, but in putting its own stamp on the finished product. Not content to merely replicate what has gone before, director Ashlie Corcoran has reinvested in the original. There is nothing tired or repetitious here. She has also managed to maintain the seductive charm and toe-tapping verve that attracted us to the now venerable vehicle in the first place.
Mamma Mia! remains the mother of all jukebox musicals. The songs are catchy and addictive – full of hooks, bridges and ear worm tunes that just don't stop. It's amazing how much emotion and storytelling smarts Corcoran unpacks in each song so they all don't morph into a juke-box blur.
For those of you who were chilling with Luke Skywalker on the island of Skellig Michael for the last Coruscant millennium, here is a plot summery of the story (borrowed from a 1968 Gina Lollobrigida film called, Buena Sera, Mrs. Campbell). Twenty-year-old Sophie (Tess Benger) lives on a Greek isle with her mother, Donna (Patricia Zentilli),  who owns a debt ridden hotel for tourists. Sophie is getting married and wants her long-absent father to walk her down the isle. But who's her dad? She unearths her mother's diaries and discovers that mom was something of a swinger in her youth and, one lusty summer 20 before, had affairs with three men. Not knowing which one is her dad, Sophie invites all three to come to the wedding and the fun begins when all three sperm donors show up. It's not Death of a Salesman but it is an appealing story and a surprisingly sturdy vehicle for a musical.
So there it is, the ultimate feel-good tale, uncynical, sunshine dappled, full of energy and emotional immediacy – a summer party on an alluring Greek Island and the perfect show for someone who says they don't like musical theatre. A mother and a daughter find each other and an old romance is rekindled. The glue that holds it all together is a wonderful pop score that provided the sound track for a generation. Corcoran conspires with songwriters Benny Andersson and Björn Ulvaeus to turn out mini-epics, particularly, The Winner Takes It All, which becomes an emotionally elaborate and musically satisfying power ballad.
Set (and costume) designer Cory Sincennes has provided a simple, open setting – a large white arch that hovers over sky, sea and pure white balcony that could only be Greece. Lighting designer Kimberly Purtell makes sure that the warm Greek sun floods the stage. Director Corcoran is a rising star having directed in many areas – including grand opera. Not only does she manoeuvre the larger numbers with exuberance (Choreographer: Laura Krewski providing some energetic era-appropriate moves), but she makes sure that the individual characters don't get lost in all the high spirits. Her characters remain wide in appeal but still preserve a particular individual experience.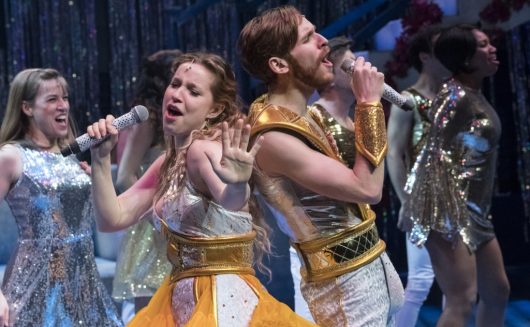 Benger's Sophie is a spunky lass projecting the required charm and virginal vulnerability – as well as a voice as warm as a Santorini summer's day. Edmontonian Zentilli plays Donna as a one-time proto-feminist and free spirit, and her embarrassment at being found out 20 years later is made deliciously awkward. Zentilli combines that with her lifetime of steely resolve to make a life for herself and her daughter and this fine singer-actor gives us a fully fleshed out character. She also sings with a full-throated and crystalline voice. The two performers have some real chemistry which makes the wedding dress scene, as the two celebrate each other, particularly moving.
The three rather confused prospective fathers have their own self-effacing charms – they are John Ullyatt, Leon Willey and Ashley Wright. Donna's friends, and ex-fellow road warriors, are given broadly comic readings by Jenni Burke and Christy Adamson. Don Horsburgh's small but mighty band does full justice to the original ABBA arrangements.
This first-rate Citadel production is an enjoyable romp staged with a contagious playfulness.
Mamma Mia! How can I resist you?