PLAYBILL: La Traviata in Chez Pierre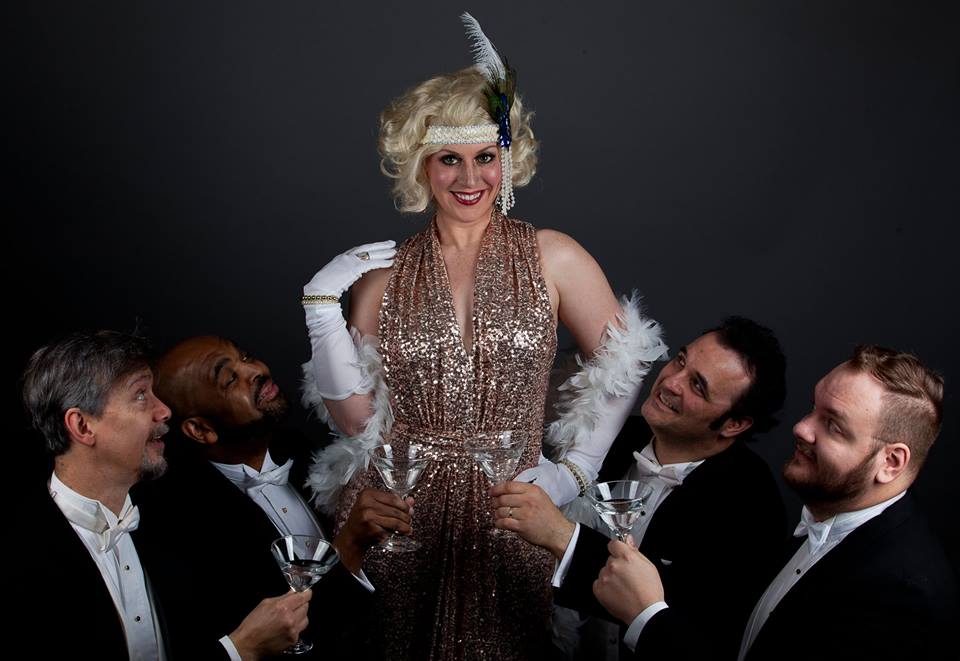 The adventures of Edmonton's "other" opera company – Mercury Opera – often feel like an old Mickey Rooney-Judy Garland movie.
By golly, we've found a barn, you've got some singers, Joe has some lights – let's put on a show!
In the past, Mercury Opera has staged operas in LRT stations, at circus sideshows in New York, under tents in Little Italy, and on a flatbed truck outside the folk fest. For their next show they present Verdi's tragic romance La Traviata at the notorious Chez Pierre Cabaret – Edmonton's oldest continuously running strip club whose "colourful" history stretches back to 1970 and has never once hosted an opera.
Starring soprano Kathleen Morrison, tenor Boris Derow, and a host of other international world class talent, La Traviata plays March 1-3, and March 8-10 at 7 pm nightly, with matinees taking place March 4 and 11 at Studio 96. The story will be set in the roaring '20s – there's been a lot of this lately.
Artistic director Darcia Parada, who does everything including distributing flyers, speaks of insider opera woes: like juggling tenors, and sopranos who unexpectedly turned into mezzo-sopranos, and all the wrangling to took to get the venues – but has pulled it all together one more time. Think of this as grand opera with indie rock attitude. Do it yourself!
The Romeo Initiative
This actually happened: A group of female secretaries in West Germany submitted to psychological tests to determine their "perfect man." No word on whether or not it worked, but that was enough of a hook for celebrated playwright Trina Davies, who has spun a yarn about an East German spy sent to woo one of these women and hopefully uncover state secrets.
Billed as "half romantic comedy, half spy thriller with a tantalizing twist," The Romeo Initiative plays March 1-11 at the Alberta Avenue Community Hall as part of the annual SkirtsAfire Festival, a multi-disciplinary festival that showcases women artists. See the whole schedule here.
Blood of Our Soil
From a sold-out "workshop performance" last March comes a full production of this Lianna Makuch play about the history of the struggles of the Ukrainian people and all the villains that assailed them – from Hitler to Stalin to Putin. Partly based on oral history from the playwright's grandparents, and prepared with first-hand research from a trip to Ukraine in 2017, Blood of Our Soil is told in a combination of narrative storytelling, traditional Ukrainian dance and folk music. With several post-show "talk-backs" scheduled, it runs Feb. 28-March 9 in the Westbury Theatre at the Arts Barns.
The Very-Real Housewives of 1867 (and Beyond)
What did pioneer women do before reality shows? Stand-up comic Barbara North aims to find out on her latest comedy show, at the Studio Theatre at the ATB Financial Arts Barns – one night only, Saturday, March 3.
Mamma Mia!
ABBA is so huge that the songwriters Benny Andersson and Björn Ulvaeus never have to work again, though they tease us with reunion rumours. Meanwhile, their music has spawned an entire industry – including the enormously successful touring jukebox musical Mamma Mia that's played in Edmonton something like four times. That it doesn't get old is a testament to the musical itself, along with a fresh and full-blown production until March 18 at the Citadel Theatre.
Metis Mutt
This should be required viewing for any white Canadian who's ever laughed at an "Indian joke." And you just might. Edmonton actor Sheldon Elter pulls a classic bait 'n' switch in his one-man autobiographical show on stage at the Roxy on Gateway until March 4. He opens with racist jokes lifted from his days as a young stand-up comedian, but then he starts getting angry – at himself, along with the whole Canadian cultural climate that created a breeding ground for such humour. It gets a little deep from there as Elter's life story unfolds in an award-winning play focusing on his personal journey to overcome racism.
The Ladies Foursome
A quartet of Edmonton's finest actresses are game for a long run of a Norm Foster golf comedy at the Mayfield Dinner Theatre until April 1. Exploring the life of a dearly departed golfing buddy, the entire play takes place during an 18-hole round of golf on the day after the funeral. Let's see: Four participants, four shots per tee – that's 72 shots in all. It makes the play a little long, but then of course this is dinner theatre. Don't their arms get sore?