MUSIC PREVIEW: Bahamas or Dwight Yoakam, tough choice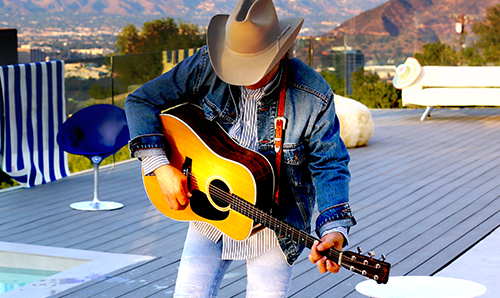 You concert promoters need to get it together. You give us weeks of nothing but sporadic metal and classic rock shows during a usually dead time of year – and then on the same otherwise unassuming first Monday night of March you book two must-see acts in two concert halls at opposite sides of town.
There's no way we're going to be able to see Bahamas and Dwight Yoakam on the same night. What with the traffic.
Age before beauty, bigger building first: At the Jubilee Auditorium (on Monday, March 5), Yoakam is of course a master of all that is holy and pure about traditional country music, the kind of jaunty honky tonkin' fare where you get to "take it to Bakersfield … maybe get a little apartment somewhere" (as Tom Waits put it). It's California country, as distinct a sound as its cousins in Austin, Texas, or in Nashville. Yoakam – the Corb Lund of America – doesn't really fit into the mainstream country scene, nor is he really an "outlaw" in the Haggardian sense. He is his own man, a fine singer, clever songwriter and a naturally gifted actor – perhaps sometimes so talented you think he might just be doing a convincing job the role of a great ol' skool trad-country singer, which is where the fun comes in. Is it an act or isn't it? Judge for yourself upon his return to Edmonton at the Jubilee Auditorium, with opening act Brandy Clark. 7:30 pm, tickets from $51
Also on Monday, meanwhile, Bahamas (aka Afie Jurvanen from Barrie, Ontario) could be accurately described as amazing – and that's about as far as it goes before you start to trip over the genre adjectives: Folk, pop, rock, gospel, country, soul, alternative, experimental, elegant, original, unique, hard to categorize, easy to love – and OK, he sounds a little like Jack Johnson. Bahamas' latest record Earthtones is collecting rave reviews and is sure to be a short-list favourite for the next Polaris Music Prize. The Weather Station opens the show at 8 pm at the Winspear Centre, SOLD OUT
Friday 2
Steve Pineo Trio – One of the finest singer-songwriters from the Calgary area – an alumnus of the celebrated Co-Dependents and writer of a number of country hits for big stars like Paul Brandt – makes a rare trip North for a show at the Uptown Folk Club. A golden voice, smart melodies and heartfelt, honest lyrics combine for a triple treat, at least. 7 pm, $18 members, $20 non-members.
Jack Semple – Here we see a master learning from an even bigger master, as this decorated Saskatchewanian guitar God pays homage and tribute to the late great B.B. King with a full band, including horn section, at Festival Place. Don't expect too many notes. 7:30 pm, advance tickets from $34
READ: Interview with Jack Semple
Harpdog Brown – It's a bluesy weekend in the Big Onion. At Shaker's Roadhouse Friday and Saturday is this Edmonton-born, multiple Maple Blues Award-winning, Juno-nominated harpsmith and shouter, who's busy creating new material to be recorded this year: The Year of the Dog. 9:30 pm, advance tickets $15
READ: Interview with Harpdog Brown
Saturday 3
Enslaved – The Starlite Room seems to be turning into a black metal emporium. No complaints here, as this night features this storied band from Norway – where the land is cold and dark and foreboding, the barren trees twisted into strange sharp shapes that look like heavy metal band logos, and nothing but the fire and your grog to set you dreaming of cruel Gods from a bygone age. In short: Viking metal. Opening the show will be Wolves In The Throne Room, Myrkur, and Khemmis. 6 pm, $32.50 advance
Five Alarm Funk – Talk about a marvelous mash-up. This popular Vancouver octet evokes George Clinton, or maybe Fishbone (badass LA punk-funk fusion band that hasn't been heard from much lately), with its mean melange of supa-funk and rock with a righteous groove so in the pocket it rips a hole in your pants. A little goes a long way. Big fun at the Rec Room South, 9 pm, $20 advance
Vissia – This gutsy local singer-guitarist was voted – by us – as one of the top Edmonton acts of 2017. That's because she released a killer album, Place Holder, and a great dark ballad therein, Night Romancer; and also started her own record label. Imagine Bonnie Raitt with an edge. It's her birthday! At the Empress Ale House, 4 pm, NO COVER
Sunday 4
Brett Kissel – There's a big fun party guaranteed with the appearance of this small-town Alberta hero at the Jubilee Auditorium. "Bro-country" or whatever, it's impossible not to like this guy – for his music, impressive musicianship, and everything else he's done for his community. 7:30 pm, advance tickets from $40