PLAYBILL: Children of God about redemption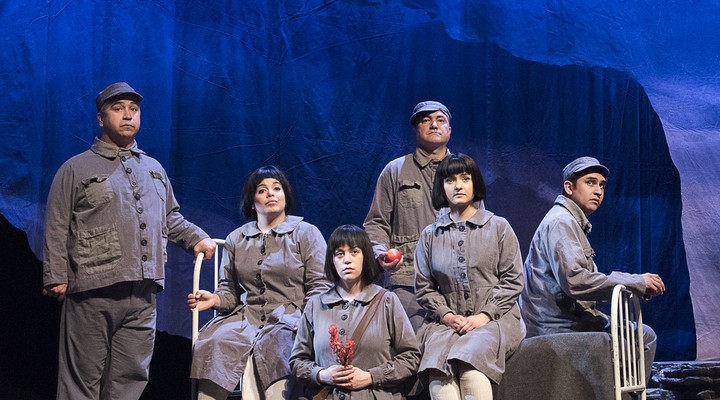 Why the Canadian government thought it was a good idea to forcibly remove indigenous children from their families and place them into what turned out to be thoroughly horrible "residential schools" remains a mystery. Or anyway, "to assimilate them into Euro-Canadian culture" is just not a very good reason. In fact, the act was nothing short of criminal, and it has left a stain on Canadian history. Only recently has there been any education about residential schools, or any talk of reconciliation, and it's about goddamned time.
So the latest play at the Citadel Theatre comes at exactly the right time. In an original musical written and directed by Corey Payette, Children of God deals with two siblings who were taken to a residential school, and their mother who was forbidden to see them. For such an angering subject, the play is said to be about "redemption … a thrilling blend of ancient traditions and contemporary realities, honouring the resilience and power of the Indigenous peoples of Canada."
Children of God plays on the Shoctor stage until March 24.
Outside Mullingar
Set in rural Ireland where the fens run from Glenn to glen and down the mountainside, here we have what appears to be a twee, canny tale of romance between a shy cattle farmer and the woman who lives nearby. Problem is, they're both pushing 40, the guy is so shy he can barely bring himself to talk to a woman, and to make matters worse their two families are embroiled in a land feud. Sort of an Irish Romeo and Juliet meets The 40 Year Old Virgin sort of thing going here, it seems. Written by the Pulitzer-winning playwright John Patrick Shanley (Doubt, Moonstruck), presented by Shadow Theatre, and starring the canny locals Coralie Cairns, Glenn Nelson, Jenny McKillop, and Garett Ross, Outside Mullingar plays March 7-25 at the Varscona Theatre.
The Dada Play
Onion headline: Dada Movement over! "Victory!" cry Dadaists.
Little joke there points out of the absurdity of an art movement dead set on rejecting art itself. But absurdity was the point, protest was the impulse, and social revolution was the ultimate, if unintended, goal.
At Concordia University's Al and Trish Huehn Theatre March 9-19, Mieko Ouchi's The Dada Play explores the origins of Dadaism in Switzerland in 1916, where exiled avant-garde artists gathered for their various showings, cabarets and "happenings" – which were closely watched by a man who came up with some big ideas: Vladimir Lenin, one of the founders of Communism.
La Traviata
Mercury Opera has staged operas in subway stations in Edmonton, at circus sideshows in New York, under tents in Little Italy, and on a flatbed truck outside the folk fest. For their latest show they send Giuseppe Verdi's tragic romance La Traviata to the roaring 1920s at the notorious Chez Pierre Cabaret – Edmonton's oldest continuously running strip club.
Be aware: This is the real opera deal, no community theatre with a penchant for unconventional venues. Starring tenor Boris Derow, soprano Kathleen Morrison, and a host of other world class international talent, La Traviata continues March 7-9 at 7 pm nightly, with one more matinee taking place March 11 at Studio 96.
The Romeo Initiative
This actually happened: A group of female office workers in West Germany submitted to psychological tests to determine their "perfect man." No word on whether or not it worked, but that was enough of a hook for celebrated playwright Trina Davies, who has spun a yarn about an East German spy sent to woo one of these women and hopefully uncover state secrets.
Billed as "half romantic comedy, half spy thriller with a tantalizing twist," The Romeo Initiative plays until March 11 at the Alberta Avenue Community Hall as part of the annual SkirtsAfire Festival, a multi-disciplinary festival that showcases women artists.
In conjunction with SkirtsAfire, Rapid Fire Theatre is presenting the "all-femme" (female, trans, non-binary) improv shows Sphinxes throughout March, starting Saturday at 7:30 pm in the Citadel's Zeidler Hall.
Blood of Our Soil
From a "workshop performance" last March comes a full production of this Lianna Makuch play about the history of the struggles of the Ukrainian people and all the villains that assailed them – from Hitler to Stalin to Putin. Partly based on oral history from the playwright's grandparents, and prepared with first-hand research from a trip to Ukraine later in 2017, Blood of Our Soil is told in a combination of narrative storytelling, traditional Ukrainian dance and folk music. With several post-show "talk-backs" scheduled, it runs until March 9 in the Westbury Theatre at the Arts Barns.
Mamma Mia!
ABBA is so huge that the songwriters Benny Andersson and Björn Ulvaeus never have to work again, though they tease us with reunion rumours. Meanwhile, their music has spawned an entire industry – including the enormously successful touring jukebox musical Mamma Mia that's played in Edmonton something like four times. That it doesn't get old is a testament to the musical itself, along with a fresh and full-blown production until March 18 at the Citadel Theatre.
The Ladies Foursome
A quartet of Edmonton's finest actresses are game for a long run of a Norm Foster golf comedy at the Mayfield Dinner Theatre until April 1. Exploring the life of a dearly departed golfing buddy, the entire play takes place during an 18-hole round of golf on the day after the funeral. Let's see: Four participants, four shots per tee – that's 72 shots in all. It makes the play a little long, but then of course this is dinner theatre. Don't their arms get sore?