MUSIC PREVIEW: The Dears darlings of indie rock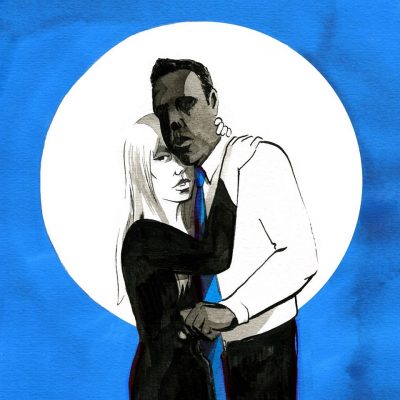 The Dears have been around almost as long as "indie rock" has been a thing, forming in Montreal in 1995 and releasing their debut album End of a Hollywood Bedtime Story in 2000.
Their particular brand of rock music, both dark and orchestral, has found them fans across the continent, and three of their albums have found their way onto various Polaris Prize lists, and also earned them a Juno nomination along the way. The band is led by a husband-and-wife duo: Murray Lightburn as the primary vocalist and guitarist; while Natalia Yanchak plays the keyboards and also performs lead vocals on a number of tracks.
At the Aviary next Wednesday, March 14, The Dears are making their way across the country once more to support their latest effort, Times Infinity Volume Two, a companion piece to 2015's Volume One. Critics thought very highly of both pieces, the material primarily focusing on love and relationships, commitment and devotion. Perhaps not on par with their classic No Cities Left, but the band still has a lot to offer fans, both old and new. Definitely worth a drive over to the Aviary. Or better yet, use transit. Show at 7 pm, advance tickets $20, BUY
Thursday 8
Alan Doyle – After 20 years, the Maritime folk squad Great Big Sea saw its end in 2013, with the departure of Sean McCann. Fellow founders Doyle and Bob Hallett decided to let the band retire, and both Doyle and McCann have pursued solo careers since, but dabble in Great Big Sea material during live tours. Doyle is currently touring to support last fall's album A Week At the Warehouse, and much of its content is co-written by Donovan Woods, another well-known name in the Canadian folk rock spheres. Fortunate Ones are also on the bill at the Winspear Centre, 8 pm, some tickets (but not a lot) remaining for $32.50 and up.
Kim Churchill – This Australian folk rocker is no stranger to this part of the musical universe. He continues touring to support his 2017 album Weight Falls, which reached No. 6 on the Australian charts. His brand of hazy folk with pop undertones has won him fans around the world; the artist actually had the album ready to go, but at the last minute didn't feel right about it, and re-recorded it from start to end in a week, then spent a couple months in a Sydney garage mixing and producing it. One of his previous albums was partially recorded right next door in British Columbia. Christian Hudson opens. Starlite Room, 8 pm, $20. BUY
Friday 9
White Buffalo – Another artist that's no stranger to our prairies, this California native is probably best described as alt-country, though he plays around with a significant number of influences, and grew up listening to punk, country, and classic folk. He's touring to support his late 2017 effort Darkest Darks Lightest Lights. Starlite Room, 8 pm, $23. BUY
Big Little Lions – This fun and affable folk duo of Helen Austin from Vancouver and Paul Otten from Ohio were just in Sherwood Park performing at a sold out house concert at the end of February, and are now back to headline another in the continuing line of amazing shows that the New Moon Folk Club is hosting. The pair met at a conference for songwriters looking to write for music and television, and they hit it off immediately. Their most recent album – Alive and Well – came out in February. St Basil's Community Centre, 6:30 pm, $20. BUY
Tuesday 13
Sean Burns – This Oshawa country-folk artist is touring to support his fourth full-length, Music For Taverns, Bars, and Honky Tonks. Recorded in small town Manitoba, and Nashville, it comes out this Friday. Aviary, 7:30 pm, $10. BUY
Top illustration by Alex Fellows