REVIEW: Santana parties like it's 1969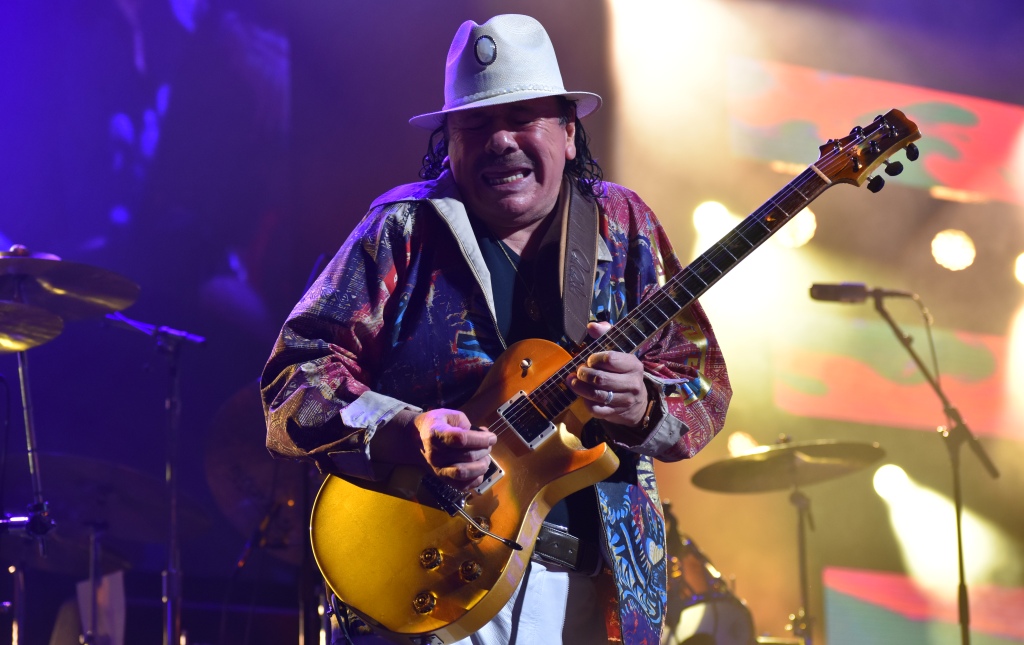 It's been 50 years, or close enough for rock 'n' roll, since Carlos Santana played Woodstock – and you get the feeling it's just been one long glorious guitar solo ever since.
This 70-year-old Latin-rock legend still likes to have fun. It sure looked like Santana and his stellar band were having a blast at Rogers Place on Monday night – and so was a small but loyal crowd.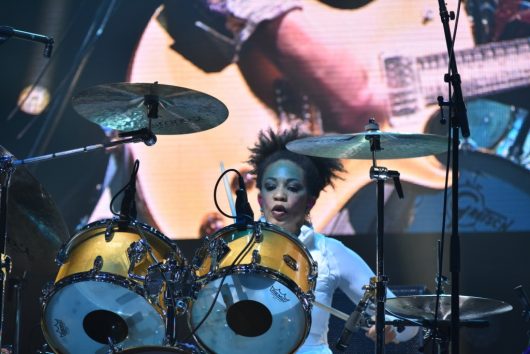 There is no greater joy for a great guitarist than a guitar solo. The supposed sin of "self-indulgence" turns into a superpower for the delight of the masses. Self-indulgence is infectious. If the performer absolutely loves what they're doing, and "indulges" himself, as Santana clearly did once again, that love translates instantly to the audience – and before you know if we're in the middle of a lovefest. Just like Woodstock. Minus the brown acid.
Though at this point he can do "whatever the heck we want to," as he told the crowd, Santana is still the master of the epic guitar solo. There were many were presented at the show. Some soft and tasty; others loud, fast and frightfully distorted. Hooks drip from his fingers, full of heart and soul and passion for the pure form of the fine art of guitar soloing. So distinctive is Santana's soloing that you can tell who it is in three notes – but of course there were far more than that. Thousands. Perhaps millions in a two-hours-and-change concert filled with all the hits we know and love, playfully rearranged and extended into a loosey-goosey jam worthy of the great jam bands of yore.
Of course you need a great band to pull off this level of elegant self-indulgence – and so there was, allowing the star to be as loose as he wants, knowing his expert wingmen (and wingwomen) will react to his merest whim. He shared the spotlight generously. His wife Cindy Blackman Santana (who played with Lenny Kravitz) was a powerhouse behind the drum kit, flanked by two expert Latin percussionists.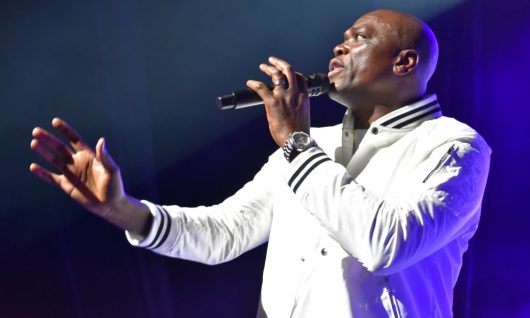 Particularly notable was Ray Greene (right), an impossibly talented vocalist and trombonist who added an explosive force to a rendition of Jimi Hendrix's Voodoo Child (Slight Return). Even more impressive was Greene's captivating vocal intro with When You Wish Upon a Star – mashing into a killer funky full band version of Shining Star by Earth Wind and Fire. Santana said it's only the second time they've tried out the arrangement on their current "Divination" tour. It went over like gangbusters. As did a resort rumba from 2002 late in the show, inexplicably called Foo Foo. Five thousand boomers of Edmonton stood up for that one, and got some exercise by jumping to the beat – as instructed by Greene and demanded by the Afro-Caribbean groove. Super fun.
As expected, there was some political patter. Santana talked about the futility of flags and nationalism, saying, "My only flag is the heart."
The Mexican-born guitarist and songwriter added, "You don't need a wall!" – and here he paused while the crowd cheered in agreement – "You don't need a fence, you don't need division, you don't need stupid shit."
What we do need, he said, was unity, harmony and "above all, compassion and kindness."
It sure is nice to see a rock star who's stuck to his guns for this long.