PLAYBILL: Northern Light shines on Catholic sexual politics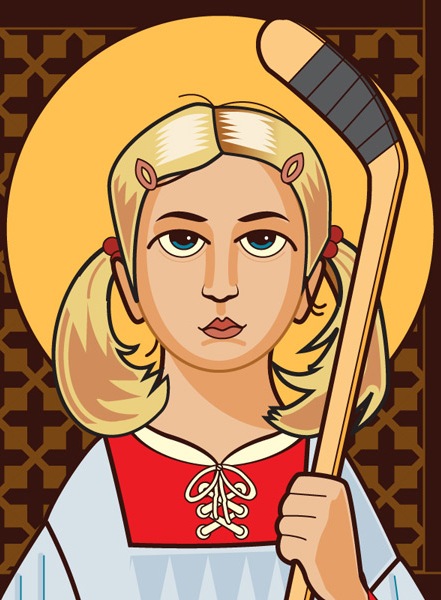 The only girl in a Catholic family longs to be an "altar boy" in the latest offering from Northern Light Theatre – the second of three plays this season exploring the sexual identities of women set against Christian culture.
The last one was heavy: The Testament of Mary, wherein long after the events that took the life of her son, Mary insists that Jesus was not in fact the Son of God.
In Do This In Memory Of Me, at La Cite Francophone March 13-25, we meet a younger, more modern subject: A 12-year-old girl who prays to God to let her become one of the altar servers – even through there's a strict rule that no girls are allowed. In a world premiere of a new work by playwright Cat Walsh, directed by Trevor Schmidt, an unfortunate event sets the drama in motion in 1963 Montreal – which was just about as Catholic as you could get in Canada.
Poison
Speaking of heavy, local actors Amber Borotsik and Nathan Cuckow play an estranged couple who meet 10 years after the death of their son in this celebrated Lot Vekemans play – a huge hit in the Netherlands in 2009. It earned rave reviews upon its recent run in New York, in London – and now in a Wild Side Productions show directed by Jim Guedo, it comes to Edmonton March 15-25 at the Roxy on Gateway – praised as "an extraordinary play about grief, closure, and the awkward dance of going forward."
Children of God
This show is said to be so emotionally wrenching that the Citadel Theatre as set aside quiet spaces in the lobby, and grief counselors are available if you need them. Bring Kleenex, at least.
In an original musical written and directed by Corey Payette, Children of God deals with two First Nations kids who were forcibly removed from their family and taken to a residential school – and their mother who was forbidden to see them. For such an angering subject, the play is also said to be about "redemption … a thrilling blend of ancient traditions and contemporary realities, honouring the resilience and power of the Indigenous peoples of Canada."
Children of God plays on the Shoctor stage until March 24.
Outside Mullingar
Set in rural Ireland were the fens run from Glenn to glen and down the mountainside, here we have a twee yarn by John Patrick Shanley that explores a romance between a shy cattle farmer and the woman who lives nearby. They're both pushing 40, the guy is so shy he can barely bring himself to talk to a woman, and to make matters worse their two families are embroiled in a land feud. Sort of an Irish Romeo and Juliet meets The 40 Year Old Virgin sort of thing going here – all steeped in a rich broth of pure blarney.
Presented by Shadow Theatre, and starring Coralie Cairns, Glenn Nelson, Jenny McKillop, and Garett Ross, Outside Mullingar plays until March 25 at the Varscona Theatre.
The Dada Play
Onion headline: Dada Movement over! "Victory!" cry Dadaists.
Little joke there points out of the absurdity of an art movement dead set on rejecting art itself. But absurdity was the point, protest was the impulse, and social revolution was the ultimate, if unintended, goal.
At Concordia University's Al and Trish Huehn Theatre until March 19, Mieko Ouchi's The Dada Play explores the origins of Dadaism in Switzerland in 1916, where exiled avant-garde artists gathered for their various "happenings" – which were closely watched by a man who came up with some big ideas: Vladimir Lenin, one of the founders of Communism.
Mamma Mia!
ABBA is so huge that the songwriters Benny Andersson and Björn Ulvaeus never have to work again, though they tease us with reunion rumours. Meanwhile, their music has spawned an entire industry – including the enormously successful touring jukebox musical Mamma Mia that's played in Edmonton something like four times. That it doesn't get old is a testament to the musical itself, along with a fresh and full-blown production until March 18 at the Citadel Theatre.
The Ladies Foursome
A quartet of Edmonton's finest actresses are game for a long run of a Norm Foster golf comedy at the Mayfield Dinner Theatre until April 1. Exploring the life of a dearly departed golfing buddy, the entire play takes place during an 18-hole round of golf on the day after the funeral. Let's see: Four participants, four shots per tee – that's 72 shots in all. It makes the play a little long, but then of course this is dinner theatre. Don't their arms get sore?