MUSIC PREVIEW: The Heat is on!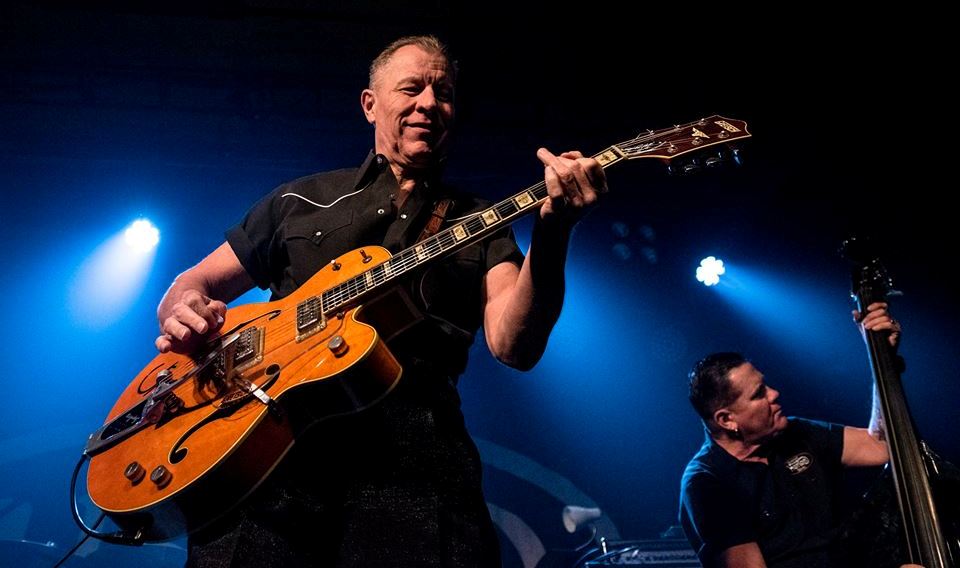 There was a seminal moment in the annals of rock 'n' roll, in some garage somewhere, where rockabilly musicians decided to play punk rock – or maybe it was the other way around.
There may have been a fist fight. Hey, what if I used this upright bass to play Black Flag songs? How dare you, that's unbibical! Pow, smash, kaboom! Oops, broke a string. That's it, I'm forming my own band!
Anyway, an exciting new genre was born: "Psychobilly," combining the propulsive anger of punk with the slappy groove of rockabilly. And it's the members of Reverend Horton Heat who may well have been those originators. Led by the colourful singer Reverend Jim Heath (who could pass for a good ol' boy Texas congressman these days), his band started playing in Dallas, Texas in 1985 – when punk was barely off the ground in middle America and rockabilly relegated to the honky tonks. The band found their full fettle in the Era of Grunge, signed to the influential Sub Pop Records in 1990 and almost immediately became a hit with the alternative rock crowd.
They've been wowing fans with their potent musical fusion ever since, and is touring again for the umpteenth Edmonton appearance where they never wear out their welcome – for a St. Patrick's Day party at the Starlite Room. Opening the show will be Unknown Hinson, and also a band you might have to see to believe: Igor and The Red Elvises, which performs 1950s rock mashed in with Russian folk music. 7 pm, $27.50 advance
Thursday 15
Johnny Reid – He's been called – by us – country music's Rod Stewart, but he's been sounding more like Tom Jones lately. This suave Scottish-Canadian crooner simply cannot hide his brogue with twang nor his love of blue-eyed soul under some sonic cowboy hat – because his latest stuff from his new album Revival sounds more Motown than Nashville. Maybe Memphis. Plus he doesn't wear a hat or sing about trucks. Very confusing for "country" fans, don't you think? But Johnny always puts on a great show – with high expectations for a two nighter at the Jubilee Auditorium Thursday and Friday. Canadian classic rock heroes and not-country band Glass Tiger opens the show. 7 pm, advance tickets from $77
Nelly – Now, like Anthrax a couple of weeks ago, Nelly can add to his lore that he "played a country bar in Edmonton," and laugh about it later. Of course, despite the trappings, the Ranch Roadhouse is just a building, country music isn't really country music anymore, and it's a good-sized room capable of hosting a wide variety of medium level touring stars – like Nelly. Known for such hits as Hot in Herre and Shake Ya Tailfeather and a dizzying number of singles and collabs since 2000, the rapper-singer is on what they're calling the "All Work No Play promo tour." In our experience, a "promo" tour means there might be a short performance to tracks, a lot of DJ music, and for those who pay $100, some meetin' 'n' greetin'. 9 pm, general admission tickets are $35.
Friday 16
Lindi Ortega – Clever arrangements and heartfelt songwriting frame a sweet voice for a result as captivating as it is hard to categorize. Maybe country? This Torontonian did time in Nashville and can sing the hell out of a heartland heartbreak song. Ortega's also got more of a twang in her voice than the country Rod Stewart even if her new Colin Linden co-produced album Faded Gloryville falls into that intoxicating nether region betwixt folk, alternative and pure pop. What is country coming to? Arden Theatre, 7:30 pm, SOLD OUT
Saturday 17
Pennywise – These guys must've been thrilled when the new movie It came out, thrusting the evil clown they named the band for into the spotlight again. Stephen King didn't object to them using the name, since there is no way an evil clown could be mistaken for an old school political punk band that's been going strong for 30 years. Like most everything with punk, it's irony. With singer Jim Lindberg back at the front, Pennywise tours ahead of their upcoming album, Never Gonna Die. Fellow Cali punkers Strung Out opens the show at the Union Hall. 7 pm, advance tickets $35.50