PLAYBILL: A real Cinderella story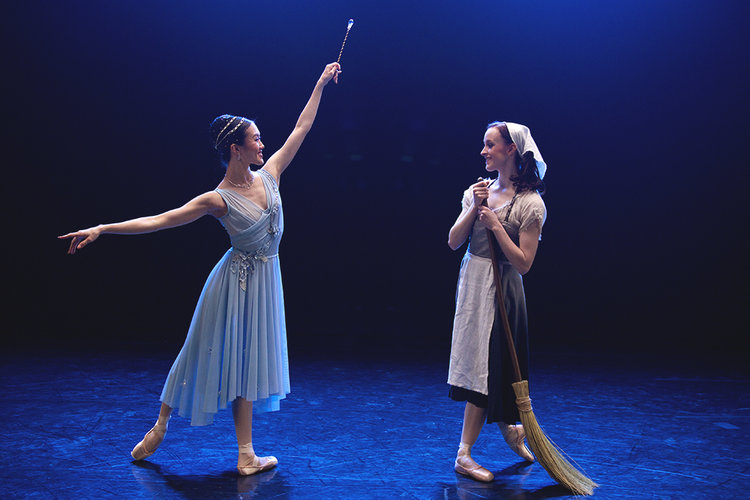 There must be something compelling about the Cinderella story that it keeps being told again and again and in so many ways – more than 2,000 years after it was written.
Following the first example of a tale of a slave girl who marries an Egyptian prince through a series of improbable events, Alberta Ballet takes its story from slightly more recent provenance: the 1697 version by Charles Perrault, which most people take as gospel today – including the glass slipper that the whole romance hinges on. Wait a minute: If the glass slippers were created by magic and then like everything else turned back into what they were at midnight, how did there come to be one left intact? And no one else in the village had her shoe size? Suspension of disbelief, that's why.
At the Jubilee Auditorium March 22-24, the show will feature the sets and costumes created by the late Peter Farmer, famous for bringing fairy tale ballets to life, and the music of Sergei Prokofiev, but the story has been updated for modern times. Prepare for a surprise.
City of Angels
The ambitious almost-ready-for-prime-time players at MacEwan University's theatre program are staging a big spring show: The six-time Tony Award-winning musical City of Angels, with music by Cy Coleman and story (book) by Larry Gelbart (creator and producer of M*A*S*H the TV series).
It's a show within a show that deals with the adventures of a novelist trying to sell his story to the movies in the 1940s, cut in with scenes from the novel itself – a film noir detective mystery. So where does fantasy end and reality begin in this "bittersweet valentine to the Hollywood dream factory"? It's a fine line.
City of Angels plays in MacEwan's Triffo Theatre March 21-31.
Cheech and Chong
Don't be fooled. Despite their "dopey" personas, Edmonton-born Tommy Chong, age 79, and his partner in pot Cheech Marin (71) are still as sharp as ever. Do you think they could write and tour comedy shows (not to mention all those acting gigs) at their age if that was real weed in those blunts? Remember that Dean Martin did a wonderful job portraying a drunk while he drank apple juice on the rocks.
Of course Cheech and Chong know what brings in the green – money, that is – and that's an inspired re-hashing of marijuana material that still delivers a buzz today. At the River Cree Casino for one night only, Friday, March 23, you can expect some new routines about Canada's impending legalization, along with the classics that formed the youth of a large chunk of society's stoneratti.
Do This In Memory of Me
The only girl in a Catholic family longs to be an "altar boy" in Cat Walsh's weird new play: the Northern Light Theatre production at La Cite Francophone until March 25. Do This For Memory of Me centres on a 12-year-old girl who prays to God to let her become one of the altar servers – even through girls are not allowed in 1963 Catholic-ridden Montreal. A series of improbable events (a lot of this going around) sets into motion a tale filled with fantastical scenes and futile conversations with God – along with at least one beheaded saint. He's no help, either.
Poison
Local actors Amber Borotsik and Nathan Cuckow play an estranged couple who meet 10 years after the death of their son in this Lot Vekemans play that was a hit in Netherlands in 2009. It earned rave reviews upon its run in New York, and in London – and in a Wild Side Productions show directed by Jim Guedo, it's in Edmonton until March 25 at the Roxy on Gateway – praised as "an extraordinary play about grief, closure, and the awkward dance of going forward."
Children of God
This play is said to be so emotionally wrenching that the Citadel Theatre has set aside quiet spaces in the lobby, and grief counselors are available if you need them. Bring Kleenex, at least.
In an original musical written and directed by Corey Payette, Children of God deals with two First Nations siblings who were forcibly removed from their family and taken to a residential school – and their mother who was forbidden to see them. For such an angering subject – in a larger crime that was kept hidden for so long – the play is also said to be about "redemption … a thrilling blend of ancient traditions and contemporary realities, honouring the resilience and power of the Indigenous peoples of Canada."
Children of God plays on the Shoctor stage until March 24.
Outside Mullingar
Set in rural Ireland were the fens run from Glenn to glen and down the mountainside, here we have a charming tale by John Patrick Shanley that explores a romance between a shy cattle farmer and the woman who lives nearby. They're both pushing 40, the guy is so shy he can barely bring himself to talk to a woman, and to make matters worse their two families are embroiled in a land feud. Sort of an Irish Romeo and Juliet meets The 40 Year Old Virgin thing going on here – all steeped in a rich broth of pure Irish blarney.
Presented by Shadow Theatre, and starring Coralie Cairns, Glenn Nelson, Jenny McKillop, and Garett Ross, Outside Mullingar plays until March 25 at the Varscona Theatre.
The Ladies Foursome
A quartet of Edmonton's finest actresses are game for a long run of a Norm Foster golf comedy at the Mayfield Dinner Theatre until April 1. Exploring the life of a dearly departed golfing buddy, the entire play takes place during an 18-hole round of golf on the day after the funeral. Let's see: Four participants, four shots per tee – that's 72 shots in all. It makes the play a little long, but then of course this is dinner theatre. Don't their arms get sore?