REVIEW: Robyn Hitchcock still surreal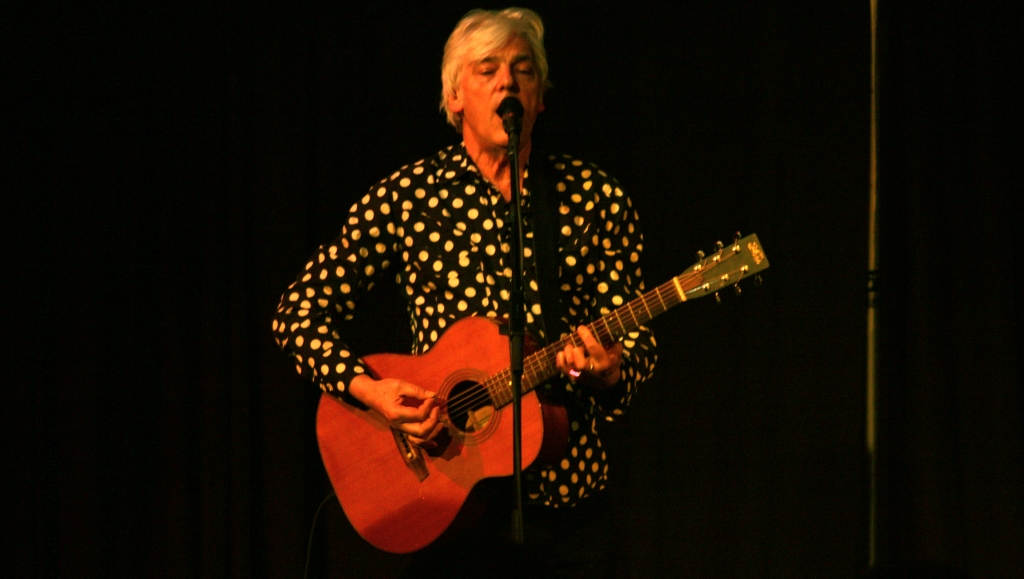 If the name Robyn Hitchcock is mysterious to hit parade stalwarts, don't worry – it's not likely his rabid legion of followers quite "get" him, either.
That didn't stop some 70 devotees of the surrealistic singer-songwriter from trying to unravel the Matrix-like yarns he spun in song and banter on Sunday night in Sherwood Park's Festival Place café room. The psychedelic-influenced Brit was in town to push his latest hardware: a 2017 eponymous release produced in his adopted home of Nashville, with Raconteurs guitarist Brandon Benson. For a crowd anxious to be dipped into Hitchcock's lyrically-rich lacquer, from a man best known for his work with the seminal psychedelic-influenced '80s act The Soft Boys, the 65-year-old troubadour didn't disappoint. New offerings like I Want To Tell You About What I Want, and I Pray When I'm Drunk managed to hearken back to the otherworldly punchiness of Soft Boys classics like I Got the Hots, which Hitchcock obligingly inked into his set list. Sample lyric: "Said the vicar to the waitress: 'The best thing about you is your waist.' She laughed a laugh that echoed 'round the fortress, said 'wait till you see the statues in my bathroom.'"
Wearing his trademark polka-dot dress shirt, Hitchcock set the tone by starting the night with a Soft Boys ditty, Tonight, but then drew from his mineral-rich songwriting well of some 20 solo outings. Hitchcock got huge laughs while strumming My Wife and My Dead Wife, a bizarre love triangle song from 1985's Fegmania. Fancy wordplay in Somewhere Apart, off Element of Light from 1986, kept the house wondering what apocalyptic visions were in store for them. The biggest hand of the night went to Hitchcock's penultimate love song Madonna of the Wasps from 1989's Queen Elvis, showcasing his lightning-fast prowess on the fretboard. His superlative abilities with a six-string notwithstanding, Hitchcock is most notorious for his frequent drifting in the otherworldly ether that punctuates his songwriting. He has a knack for channeling the arcane and processing it into notions still lost among those opting to tread on familiar dimensional paths. Madonna of the Wasps is the best example, in which he equates romance with the lives of insects – both beautiful and ugly.
Accenting the night was his between-song banter – a rare skill among live performers in all genres. Take this request he made to the in-house soundman, for instance, which became a running joke throughout the show: "Can you make my guitar sound like someone broke into a cave only to find that Pink Floyd was already there?"
Hitchcock was also at no loss for words weighing in on pop culture. "Keith Richards gets high in his 70s so the rest of us don't have to," he said. On international relations: "Canada is perched on top of the US like a moose on a volcano." And even poking fun at himself: "This only sounds out of tune if I play it slowly." He riffed frequently about Canadian experiences, quoting Robertson Davies and sharing anecdotes about his buddy, Canuck songwriter Ron Sexsmith, whom he met and toured with back in 1994.
The patter bordered on overkill at times, cutting heavily into his two-hour show, but the pearls of jocular wisdom were worth the wait. So was his venture back to Earth at the end of the set, which recalled his strongest influences – namely encore performances of The Beatles' Dear Prudence and Bob Dylan's Ring Them Bells. For those still wanting to get inside his head to find out what makes him tick, Hitchcock's take on the two legends offered a foundation of clues from which to start – before he gravitated into Syd Barrett-era Pink Floyd and other arcane work to became so "surreal."