MUSIC PREVIEW: Geoff Berner stays on message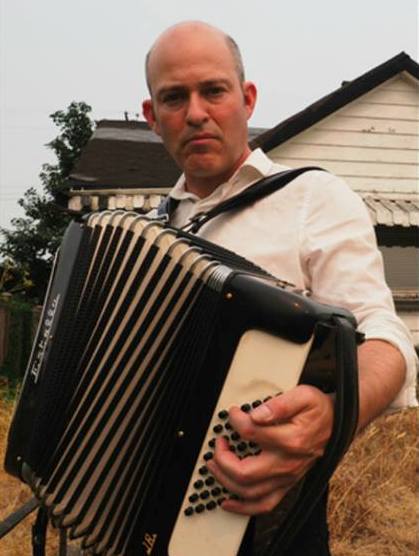 Rachel Notley is on the record for being a "huge" fan of Geoff Berner.
"I love his sense of humour, his angles on issues, he's very cutting, he's very witty," the Premier of Alberta told GigCity in 2016.
And Geoff Berner – the klezmer-loving accordion-squeezing political folksinger from B.C. – is on the record for his opposition to the new Kinder Morgan pipeline in his province.
Well, this is awkward.
Sure, there's been a lot of water under the burned bridge since 2016, which was a more innocent time. Berner, who's touring on the back of his new album Canadiana Grøtesquica, reiterated his position recently, "I respect her as a person, but pipelines are about expanding the tar sands and oil production over the next decade, when we should be talking about our plan for phasing it out." He added, "If people stood with the people of Standing Rock, stopping Kinder Morgan is the same thing."
Might we expect Notley to attend Berner's two-nighter at the Sewing Machine Factory this weekend, like she did at his last gig? Don't count on it.
Berner will be joined on stage by Winnipeg singer-songwriter Richard Inman. Show at 8 pm both Saturday and Sunday, tickets $17 in advance, $20 at the door.
Thursday 29
Lights – It isn't kosher to make fun of people's names, but when you find out that this Canadian alternative popster's real name is Valerie Anne Poxleitner, you can understand why she chose a stage name. Besides, Lights fits her music – airy, positive, catchy, slick, happy-sounding songs that can be heard over four albums since 2009, when she was awarded "best new artist" at the Juno Awards. Dear Rouge and DCF open the show at the Winspear Centre. 8 pm, advance tickets from $29
Shinedown – With another good name – we could use a little light around here in the Winter Held Over Due to Unpopular Demand – this radio-friendly hard rock band from Florida perhaps best known for the 2009 power ballad Second Chance headlines the annual "Thaw at the Shaw" – whose very title is a mockery! Also on the bill at the Shaw Conference Centre will be In This Moment, One Bad Son, and 10 Years. 6 pm, advance tickets $60
Friday 30
Video Games Live – A nerd-out of the highest order is promised at the Jubilee Auditorium on this night. If you've never truly appreciated the artistry and effort that goes into video game soundtracks – or maybe you play with the sound off – it's worth checking out some of the most popular game music performed by a real orchestra, accompanied by visuals for what is promised to be an "immersive" experience. 8 pm, tickets from $40
Frigs – This Toronto quartet evokes the intense lo-fi coolness of acts like Pavement or PJ Harvey – the latter comparison certainly due to the singer and songwriter Bria Salmena, whose mood-swinging echoey vocals contrast nicely to the edgy jangle of the band's guitar-driven grooves. Frigs are on tour behind their second album, Basic Behaviour. Opening the show at Bohemia will be Calgary's Dri Hiev. 8 pm, $10 advance
Slaughterfest – FACT: The more frighteningly unreadable the band logo, the heavier the band. For the blackened Albertan bill at the Forge on Whyte, you can hardly make out the names of the featured bands on the poster, though they are helpfully spelled out elsewhere: Numenorean, Silent Line, Arctos, Sadistic Embodiment, Train Bigger Monkeys and Decrepitation – six bands, each heavier than the last, and all for just $15! How could you go wrong? Short of permanent hearing loss. Show starts at 7 pm, advance tickets here
Saturday 31
Carlos del Junco – Fans of the mouth-organ, tin-sandwich, Mississippi-saxophone, lip-fiddle or whatever other words you want to use to describe the deceptively simple "harmonica" will not want to miss the return of this award-winning Cuban-Canadian harpsmith who's released nine albums since 1993. He can play circles around most other harmonicists – and with fewer notes, too. Amazing. Festival Place, 7:30 pm, advance from $31
Ministry – Legend has it (and some stories are too good to be ruined by fact-checking) that Trent Reznor got the name for his band Nine Inch Nails not from a reference to the spikes used to crucify Jesus, but off a quote from Ministry's Al Jourgensen. Of his own band he said, "Listening to Ministry is like having a nine inch nail hammered into your head like a hole." A better description of these industrial metal mentors has never been uttered. After a wee break, Ministry is back in action again, somewhat angry, to judge from a new album called AmeriKKKant, and a tour that lands at the Union Hall in Edmonton. Chelsea Wolfe opens the show. 7 pm, advance tickets $45
Whitey Houston – Is this a man or a drum 'n' bass rock 'n' roll band? Could be both. Whitey Houston is the stage name for one Lyle Bell, who's been in a number of notable Edmonton bands: Shout Out Out Out Out, The Wet Secrets, and Mollys Reach, to name three. With his wingman "Gravy" on drums, Bell will thump the bass for an overall quirky Black Stripes-meets-White Keys sort of an effect. A two-piece can do almost anything they want. Bud Frazier and the Electric Razors, and Solid Brown will open at the Aviary. 8 pm, $12 advance