REVIEW: Ministry shoots easy targets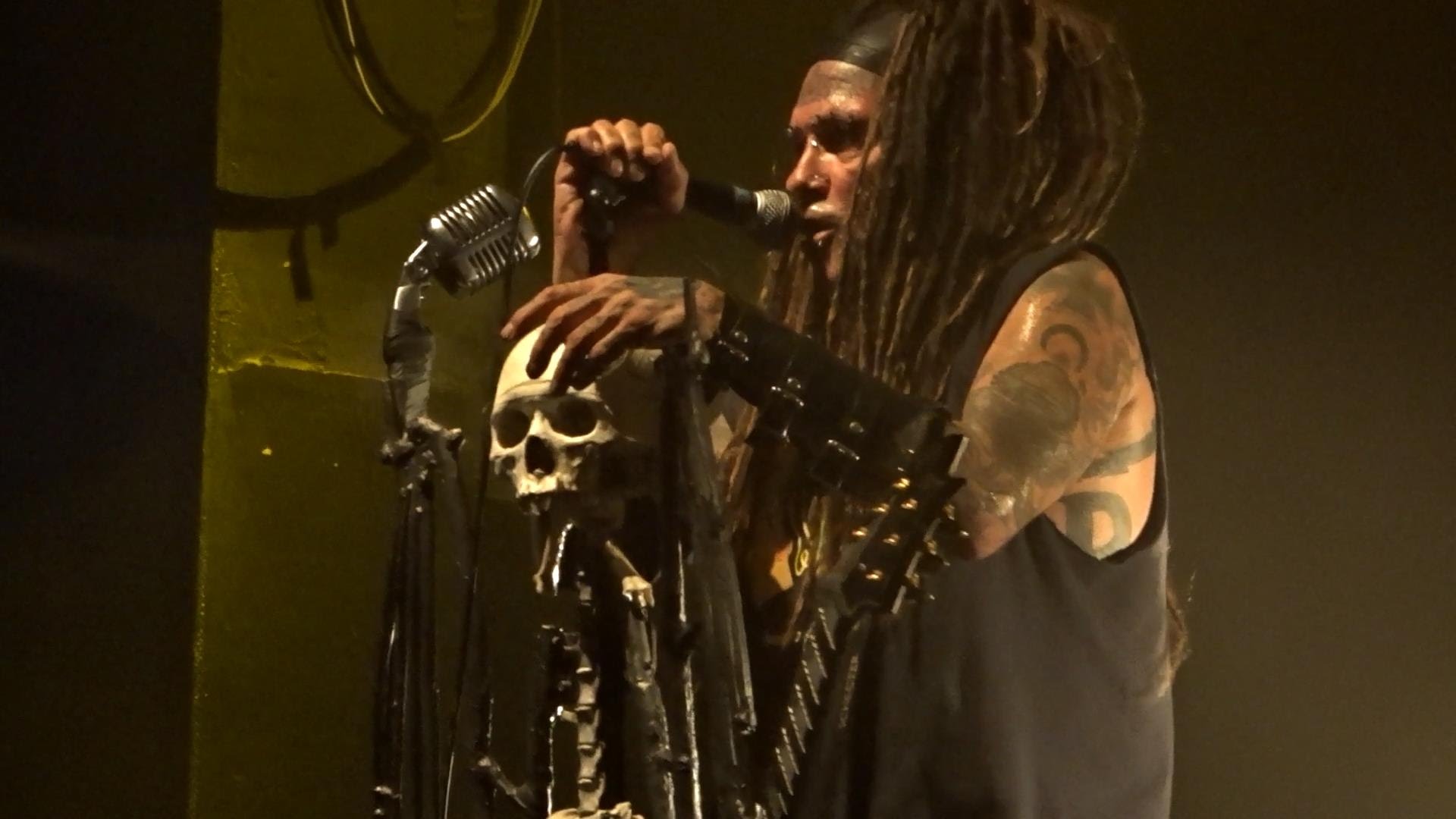 Al Jourgensen is "tired of it" – a sentiment emphasized on the song of the same name taken from AmeriKKKant, the latest album by Ministry, the industrial band he's led on and off since 1981. But you never would have known it when the seven-piece leftist congregation entertained a rabid following of some 900 strong, who thrashed with devil-horn frenzy in a sardine-packed Union Hall in Edmonton on Saturday night.
The April Fool's Eve lash-fest drew a cross-section of aging hipsters and more impressionable youngsters hankering for a fix of Ministry's high-decibel political rage. They were fashionably united via their noir-ish wardrobe, the only way to tell them from the red-clad security staff on the premises. And they were all hungry for Jourgensen's raspy railing against the fire and fury of Donald Trump – the night's favourite adversary.
Right from Ministry's opening walk-on with a recording of I Know Words before launching into Twilight Zone and Victims of a Clown, all off Amerikkant, Jourgensen delivered his venomous left-wing-good-right-wing-bad sermon from a skull-laden pulpit, while flanked by giant, inflatable doughboy replicas of the current Commander In Chief. He saved a few haymakers for Punch in the Face, from Ministry's From Beer to Eternity, a piece that employed the song title for the bulk of its lyrics, while background images obligingly altered visages of The Don on receiving ends of rapid-fire Everlast gloves.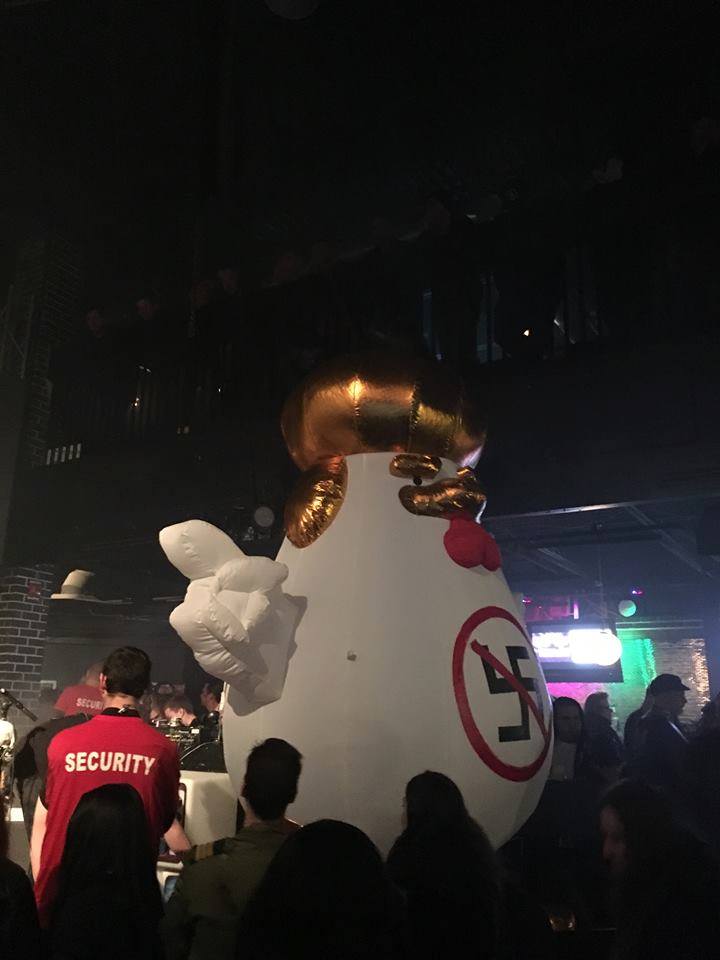 From Reagan and both Bushes to Trump, it's too bad that Jourgensen picks such easy targets for his ferocity. And it's surprising that more politically neutral fans have withstood these over-the-top aural attacks to the point of ambivalence, especially when pop culture Trump-bashing is already old hat these days. Unlike the percussive anarchy of predecessors like German industrial pioneers Einsturzende Neubauten, Ministry has a knack for delivering catchy, hook-laden pieces that straddle the border of metal and industrial genres. Jourgensen's pedestrian prose almost undermines those efforts.
To their credit that night, guitarists Sin Quirin and Cesar Soto, bassist Tony Capos and drummer Derek Abrams kept Ministry tight with their no-nonsense delivery that could effortlessly segue from a straight-ahead rock attack into a high-velocity punk paradiddle with the drop of a high-hat. Keyboardist John Bechdel and scratcher DJ Swamp accented those executions with additional riffs that vaulted the band into overdrive, while guest vocalist Burton Bell added more vocal gravel to the proceedings.
At any rate, Jourgensen was in fine form with a vocal style that morphs Tom Waits with Motorhead's Lemmy as he chose to pepper nearly half of Ministry's 15-song set with material from the new album. Getting a huge hand was the newly-minted Antifa, a tribute to the global anti-fascist movement. Naturally, Jourgensen emphasized the more militant elements of the organization, wailing "We're not snowflakes, we are the Antifa!" If anything, it may have left a few cynics wondering whether reactionary loudmouth Ezra Levant was right about pegging Antifa as a terrorist group after all.
Also getting huge, supportive shouts of recognition were Psalm 69 nuggets Just One Fix and N.O.W. and the ska-laden So What from the best-selling The Mind Is a Terrible Thing To Taste, which concluded a set clocking in at roughly 70 minutes – and most disappointingly, no encore.
Jourgensen's failure to reappear was a sad gesture from a veteran who's carved out a reputation for connecting with an angry following that's been demanding some sort of political change for nearly four decades. As an unrepentant socialist, Jourgensen might be forgiven for disregarding the trappings of the monetary machine that his cultish following poured into his coffers for an audience with the musical activist, especially when fans parted with their $45 to gain admittance and splurge a few extra sawbucks for all that Ministry merch.
On the other hand, maybe Jourgensen was just tired.
Opening the show, a big surprise was dark ambient dirge kill-meistress Chelsea Wolfe, who cleverly blended an endless array of surrealistic loops to bridge her brooding neo-folk, with some extra clout from her backup band. Pushing her latest release Hiss Spun, the Californian songstress hearkened murkier descants by the likes of Nick Cave and Siouxsie Sioux with jangly nods to the discordance of Sonic Youth. She ventured close to the lip of the goth pit, but a band that provided straight-ahead rock-oriented disciplines kept her from falling into that abstract abyss.
The most interactive act on the bill was the first band: New York trio The God Bombs, which fused old-school punk with analog synths and lyrical self-abuse, most evident on a song called Castrate Me. Fortunately lead singer Justin Symbol managed to finish the set with his anatomy intact, but the bombast was lost in a waft of tininess that could have used a load of bass. Considering the group has only a singer, guitarist-keyboardist and a drummer lacking a kick component, adding a four-stringer would have helped.