PLAYBILL: Women rule Edmonton theatre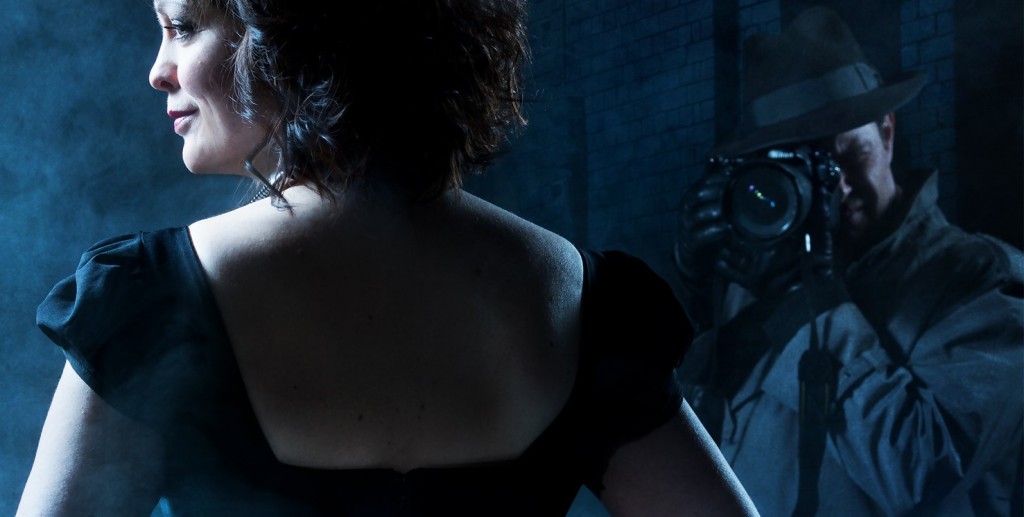 The only thing that's missing from the new interactive murder mystery at the Citadel Theatre is the murder.
Spoiler: It's not a real murder.
Also missing is any notion that the improvisational crime thriller Undercover (A Spontaneous Theatre Creation) is going to be your usual audience-interactive murder mystery – because in the hands of the master actor and improviser Rebecca Northan, it could be anything. Literally. She's famous in Canada and elsewhere for her Blind Date shows, in which a willing male participant is set up for an interactive faux-romantic encounter. Every show is different, and almost always fascinating, sometimes shocking, to judge by many glowing reviews. This is improv as psychology.
In Undercover, at the Citadel's "Club" venue April 4-29, Northan and her co-star Bruce Horak select one audience member to come on stage and help solve a murder. Everyone in the audience is a suspect.
As with Blind Date, the show will begin in the lobby before the curtain, as the cast mingles with the audience to find a worthy sleuth. Participation is not mandatory – but remember, once you're in, you're in. This is the golden rule of improv theatre.
Slut 
The last show in Northern Light Theatre's trilogy of plays dealing with women's sexual identity at odds with cultural rules is a one-hander about nosy senior citizens who maybe go a little too far – they have their promiscuous neighbour arrested for running a brothel. Brenda McFarlane's play takes place entirely in the police station, where Matilda, played by Michelle Todd, "runs the gamut of emotions: joy, regret, remorse, anger, despair and love," according to the press release – and with comedy, too! Sometimes that's the best way to deal with this sort of mishap.
Slut plays April 5-14 at the Studio Theatre in the ATB Financial Arts Barns.
Going to St. Ives
Patricia Darbasie and Belinda Cornish star as two cultured ladies who meet over tea and scones in a quaint British village – but it's not tea and scones they're talking about. One is a doctor, and the other happens to the mother of a brutal African dictator. Without giving away spoilers in what is said to be a remarkable play by Lee Blessing, what ensues is often highly political, with some discussion about what must be done to repair the damage done by the British Empire, and help bring peace to the world. Let's take a good hard look at how well colonialism worked out, shall we? These days, the sun sets on the British Empire at exactly 7:34 pm GMT.
Going to St. Ives plays April 5-14 at the Varscona Theatre.
Blue Stockings
What was that somebody said about Edmonton theatre being a male-dominated scene? Not so much anymore. Let's review the new plays this week: We have a show produced by and starring a woman at the Citadel; a one-woman show by Northern Light; and a two-woman show at the Varscona. And now the venerable Walterdale Theatre steps in with a play about sexual inequality in the Victorian era, as four female college students brave the patriarchal climate of Cambridge University. That there are no women's bathrooms is the least of their worries.
Blue Stockings plays April 4-14 at the Walterdale Theatre.
Cleave
Edmonton playwright Elena Belyea's new play is centred around an intersex high school kid named Aaron in a different sort of high school drama. It takes place on the first day of school. One of the characters is excited about becoming head of the cheerleading squad, one guy is looking forward to "open season," and others are suffering under their family's desperate secrets. The play's cryptic press release ends with this line: "Like a surgeon's knife before a first incision, the scalpel is poised and ready to slice."
Cleave, a co-production of Tiny Bear Jaws Theatre, runs until April 7 at the Backstage Theatre in the ATB Financial Arts Barns.
The School for Scandal
This 250-year-old "Comedy of Manners" deals with a group of outrageous high society snobs who live and die on gossip, rumour and innuendo. Sound familiar? Alas, yes. Today, where Facebook is the final social arbiter, enforced conformity the norm and TMZ is the major news source, we live in a world where gossip is a form of social control – and we all exist in terror that our secrets will be exposed. Clear your browser history!
A production of U of A's Studio Theatre, The School for Scandal runs until April 7 at the Timms Centre for the Arts.