Going To St. Ives a powerful conversation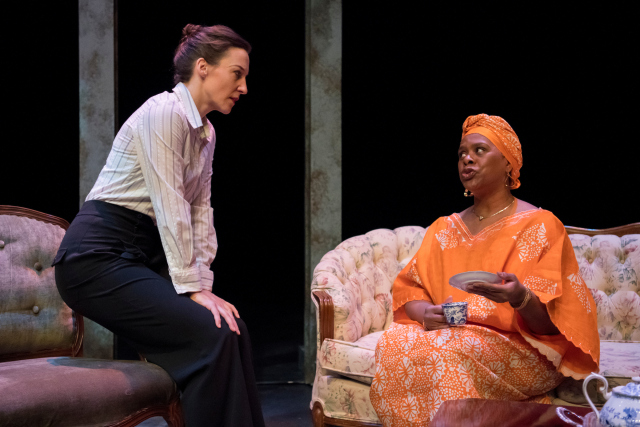 Lee Blessing is an American playwright who specializes in minimalist works with small casts that encompass such universal problems as guilt, moral responsibility, personal ethics and political attitudes. If you remember his Citadel hit from a few years ago, A Walk in the Woods, he does so in a fluid, thoughtful way that renders the most complex problems theatrical, amusing and dramatically gripping.
One of his later works, a challenging two-hander, Going to St. Ives, is currently in production from Atlas Theatre at the Varscona Theatre until April 14. It is a remount from the same company (with the same cast) of a notable hit from the Fringe a couple of years back.
May N'Kame (Patricia Darbasie), a commanding presence in her colourful African robes, as she arrives for tea in the tasteful home of Dr. Cora Gage (Belinda Cornish) in St. Ives, a small village near Cambridge.
"Ah tea," N'Kame observes acerbically. "The essential body fluid of the British."
Dr. Cage is an ophthalmologist and the visit is ostensibly to discuss May's upcoming eye operation.
Their meeting begins in a civilized enough manner, but it's not long before N'Kame, a brusque, no-nonsense woman, brands her host a "liar."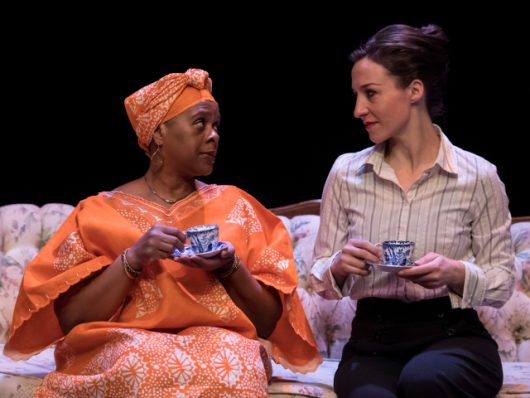 "How refreshing," replies Dr. Gage, taken aback. The dialogue veers into the spiky as elements of the violent legacy of colonialism, the responsibility of the West to confront the butchery rampant in Africa and the moral imperative inherent in sacrificing one life to save many are served up with the crumpets.
The darker elements of the visit begin to appear like rocks in a roiling sea. May is the mother of a man described as "a monster" – the self-styled emperor of a rogue African nation. Dr. Gage has decided to ask May to help in the release of four doctors who are being held by her son for treason. The reason: They have refused to resuscitate near-death prisoners so their torture can continue. Gage brings her own emotional baggage to the discussion. She is haunted by the shooting of her seven-year-old son after she demanded that her husband drive thorough a dangerous neighbourhood to save time. The African mother has her own ulterior motive – she has grown to despise and fear the grotesque excesses of her son. She, in anguish, confesses to the love she still bears for him but describes it as "a burnt-out forest."
In Act 2, the scene shifts to Africa where tea is once again the catalyst for another meeting. The discussion deepens as the ramifications of their first encounter take on a sharper focus – this time the results are more immediate and the atmosphere is urgent and fraught with danger. The two women have been profoundly changed by their earlier meeting. Although they never become what you would call friends – they do arrive at a difficult emotional and moral bond.
Director Julian Arnold has chosen his cast well. Darbasie is a local actress who gives her character a calm, imperious demeanour of someone who might well have been elevated to high position by her maternal bond with a central African despot. She gets some of Blessing's best writing, including a riveting monologue where she describes her son's descent into his heart of darkness, and her feelings of complicity in his savage rule.
Before Dr. Gage impressively begins to crack and then shatter, Cornish plays the classic Englishwoman. She projects an aura of brisk authority, and her plummy accent effectively depicts upper-class reserve. Her chiseled features have a brittle crockery-like beauty. (English ceramics play a fairly important role in plot and character development.) They are superb actors, but you are never aware of it. They reach beyond the bounds of craft, even beyond Blessing's admittedly powerful text, to locate the reality and beating hearts of two exceptional and deeply wounded women. There is compassion here – and urgency and immediacy and more than ample personal spark between them.
Obviously a sympathetic director, Arnold skillfully charts the play's full range of emotions. They rise and fall, always moving toward a climax so powerful that it leaves one sitting in stunned silence.
Photos by Marc J. Chalifoux