MUSIC PREVIEW: From one Sloan to another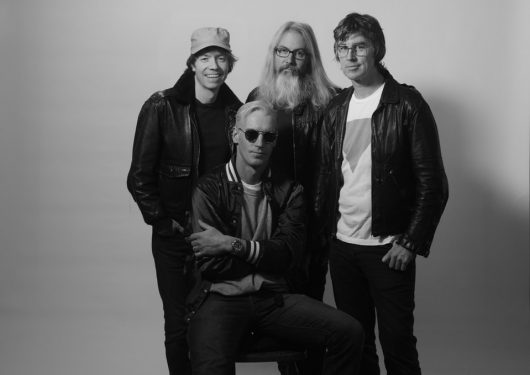 Here's a tonsorial shocker: One of the guys in Sloan – Patrick Pentland – has gone full-on Greg Keelor.
The guitarist's suddenly hairy visage contrasts sharply with the rest of the guys (Chris Murphy, Jay Ferguson and Andrew Scott), and with the image of the freshly-scrubbed college pop-sters they used to be when they released their debut full-length Smeared in 1992. That record marked a Canadian nexus of the grunge revolution, though Sloan is hardly grunge, more like the Beatles than Nirvana. They also came up with one of the greatest rock 'n' roll observations of all time, succinctly contained in one line from the 1994 hit Coax Me: "It's not the band I hate, it's their fans."
Hey we've all been there, right? "I liked [my favourite band] a lot better before they got so popular," is a common complaint.
And now we have the surprising beard. It's a small but significant reminder that Gen X is getting old, and that Sloan forges on, same four guys, same distinctive sound, same candy-dipped melodies expressing the frustrations of disaffected youth. Their latest single Spin Our Wheels is no different. It deals with "ennui," that vague feeling of discontent many of us feel, yet had a hard time describing until the French came up with the perfect term. The song lyric goes, "There's only so much time we can kill here before we start to spin our wheels." We've all been there, too.
Sloan is touring now on the back of their 12th album, which is called 12, and play an "Evening With" show (meaning no opening act) at the Starlite Room, 8 pm, tickets from $25
Read more about the effect of beards on musicians HERE.
Friday 13
Electric Six – This Detroit band is on the road a lot, and they seem to be a particular favourite in Edmonton. The band that puts the sex in sextet with 16 studio albums since 2003 (more than one per year) will bring its fricasseed fusion of disco, funk and rock 'n' roll to the Forge. Opening the show is a local proggy rock band called Hewson Grey, which has just released its new single Waited All Night – a game attempt to compress an art rock epic into a three minute radio single. It can be done! 8 pm, advance tickets $20
Beerfest – You've no doubt heard a band use this phrase, "The drunker you are, the better we sound" – but the acts at this annual festival of beverages fizzy and hoppy or micro-brewed hardly need help sounding good. At the Shaw Conference Centre Friday and Saturday, acts include King of Foxes, Tallest to Shortest, and Amy Hef. All locally brewed! General admission passes from $19.
Air Supply – From being the butt of a joke, Rick Astley got a nice career boost after he became the subject of the widely-circulated prank of "Rickrolling," wherein his famous hit Never Gonna Give You Up appears unexpectedly – to the horror (delight?) of the victims. This is an example of the "Irony Event Horizon," a phenomenon that happens when something that started off being ironic becomes real. So why couldn't this happen with Air Supply and All Out Of Love? Huge band, same basic soft rock sonic territory, and hit songs that some people like to enjoy ironically. You could call it getting "Airsupplied." Just a thought. Meanwhile, Air Supply, with the two original members Russell Hitchcock and Graham Russell, play at the River Cree Resort and Casino. The show is SOLD OUT. Yes, it's real.
Saturday 14
Wilfred Kozub and Jamie Philp – Got all excited there with rumour that one of Edmonton's '80s star bands, Wilfred N and the Grown Men, was going to be at the Black Dog today. Turns out it's just N, aka Wilfred Kozub, with his partner Jamie Philp. Just. There's about 100 years of musical experience between these two. After early band days, Kozub and Philp became teachers in the MacEwan University music program, in composition and recording arts, respectively. Kozub sired a musical son Nick, aka Nik7, who's a local record producer and musician, a member of Shout Out Out Out Out and also Wilfred N and the Grown Men – which doesn't play live much, but is still recording, and as mentioned was big on the Edmonton scene in the '80s. History! Free show today at 4 pm at the Black Dog Freehouse.
Rebuild/Repair – A slap in the face, a punch in the nose, a dunk in icy cold water … are a few of the sonic metaphors you can hurl at this ferociously angry local hardcore band whose pointed songs include Suicide Fence and Burn Edmonton To the Fucking Ground. It's metaphor. Their true message is right there in their name. A rare gig from these guys is worth checking out – at Bohemia this night. Opening will be Me the Guts, Re-form and A New Rhetoric. 8 pm, $10 at the door
READ: Interview with Rebuild/Repair
Rellik – This award-winning local indigenous rapper has been mashing it up for years, and on his new album Signal From Earth you can hear acoustic guitars, banjos and blues harps mixed in with the beats and the rhymes. Takes a little getting used to. CD release at Fargo's Capilano. Also on the bill are RC Sindicate and Boosh and the Dip. 8 pm, advance tickets $10
Miesha and the Spanks – Fans of The Runaways, Blondie, Siouxsie and the Banshees or other fine examples of Women Who Rock won't want to miss this popular power duo from Calgary. Miesha (last name Louie) and the Spanks (drummer Sean Hamilton) are touring on their latest album, cheekily titled Girls Girls Girls – literally no relation to Motley Crue. All Hands on Jane and Spells will open the show at the Sewing Machine Factory. 9 pm, $10 at the door