PLAYBILL: Robin Hood flower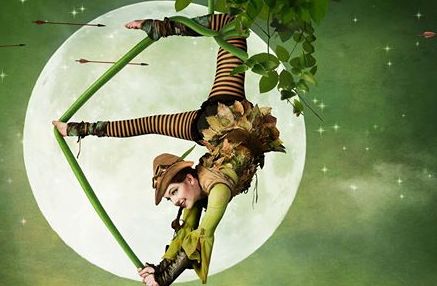 In a world premiere mix-up of the classic tale, Robin Hood is a woman, the story is by the acclaimed Edmonton playwright Mieko Ouchi, there's music by the great Canadian songsmith Hawksley Workman, and the performers are doing aerial acrobatics. Also, Citadel Theatre artistic director Daryl Cloran is directing the show himself.
It's hard to see how you can go wrong with The Silver Arrow – a spectacle suitable for the whole family (age 5 and up) – at the Citadel April 21-May 13.
Infinity 
Ryan Parker is one multi-talented fellow. He's a professional photographer, one of the Edmonton theatre scene's favourites, and he's an actor, too – one of three in Theatre Network's new production Infinity, at the Roxy on Gateway April 19-May 6.
Now what's this yarn all about? According to the press release that Play-Bot has been programmed to rewrite in its own words like some Grade 6 student doing a Social Studies essay on Greece and then misplacing the "G" of the World Book encyclopedia, it appears to be a love triangle. Perhaps it is an isosceles triangle, or is Playbot being obtuse? – for it is between a musician, a mathematician, and a theoretical physicist.
Every musician knows that music = math. Theoretical physicists also often ponder ideas that cannot be proven – much like religious scholars. How ironic.
Hannah Moscovitch's new play also deals with a "new theory of time" – and there's nothing like a good time travel tale.
Company
This Edmonton theatre company calls itself "Foote in the Door" because they are drawn from the alumni of the Citadel Theatre's Foote Theatre program for young people – since then famous for a wide variety of grown-up productions.
At L'Unitheatre April 20-28, they present Stephen Sondheim's 1970 tale of a 35-year-old bachelor – at a time when 35-year-old bachelors were assumed to be gay, simply called Company – filled with numbers like You Could Drive a Person Crazy, Have I Got a Girl for You, and Marry Me a Little. Very suggestive.
Pretty Goblins 
Heavy, edgy stuff here from Workshop West: Estranged twins reunite under bizarre circumstances in a Beth Graham play. Says the blurb, "Lizzie's sudden appearance loosens Laura's grip on reality, sending the sisters on a journey of tragic discovery." Sounds like at least one of the sisters might be a ghost. Spoiler!
It's worth plugging the soundtrack guy: Jason Kodie – whose delightfully Acadian accordion-folk stylings have made him this town's go-to guy when one needs a touch of Francophonian mojo. Accordions can sound evil, too.
The play runs April 18-29 at the Backstage Theatre in the ATB Financial Arts Barns.
All Shook Up
One of the things the Mayfield Dinner Theatre does very well is the dependable "jukebox musical." This is due mainly to artistic director Van Wilmott – a hardcore music and gear geek, songwriter, performer, arranger and producer who's been active in Edmonton's music scene for at least 40 years, many of them working hard at the Mayfield, staging one sensational jukebox musical after another.
Van picked a winner this time in All Shook Up, playing until June 10 – because you can't go wrong with Elvis Presley. FACT.
The story here – written by Joe Dipietro (I Love You, You're Perfect, Now Change; and the Tony-winning musical Memphis) – centres around a small town girl in 1955 who meets a guitar-playing stranger who of course turns out to be Elvis. More than 20 of His iconic songs provide the soundtrack for the show, featuring a large cast and the usual gang of crack area musicians.
READ REVIEW
Don Giovanni
To cap an adventurous season that saw one of the first gay operas, and also a wild jazz take on Gilbert & Sullivan, Edmonton Opera's stages Mozart's famous Don Giovanni. Starring acclaimed baritone Phillip Addis as the titular anti-hero, the show appears to be a straight take: no tweaks, tricks or creative anachronisms whatsoever – except it seems to be set in Spain, not Italy.
Don Giovanni continues April 17 and 20 at the Jubilee Auditorium.
Bonfire Festival
It could be that all of life is an "improv festival" – since we're all just making it up as we go along. On the other hand, it is said that there is a time and a place for spontaneity. That time is this weekend, April 19-21. The place is the Citadel's Zeidler Hall, where Rapid Fire Theatre continues its annual festival of improvisation. A who's who of the city's finest performers, plus guests from elsewhere, will either astound you with amazing feats of improvisational magic, or make you groan when they completely fall on their faces – which in the right hands is itself amazing feat of improvisational magic. It's a win-win situation.
Undercover
Speaking of improvisational magic, this crime thriller is not your usual audience-interactive murder mystery – because in the hands of the master actor and improviser Rebecca Northan, it could be anything. Literally. She's famous in Canada and elsewhere for her Blind Date shows, in which a willing male participant is set up for an interactive faux-romantic encounter. Every show is different, and almost always fascinating, sometimes shocking, to judge by many glowing reviews. This is improv as psychology.
In Undercover, at the Citadel's "Club" venue until April 29, Northan and her team, including Bruce Horak and Mark Meer, select one audience member to come on stage and help solve a murder. As with Blind Date, the show will begin in the lobby before the curtain, as the cast mingles with the audience to find a worthy sleuther. Participation is not mandatory – but remember, once you're in, you're in. Such is the golden rule of improv theatre.