Mayfield production leaves reviewer All Shook Up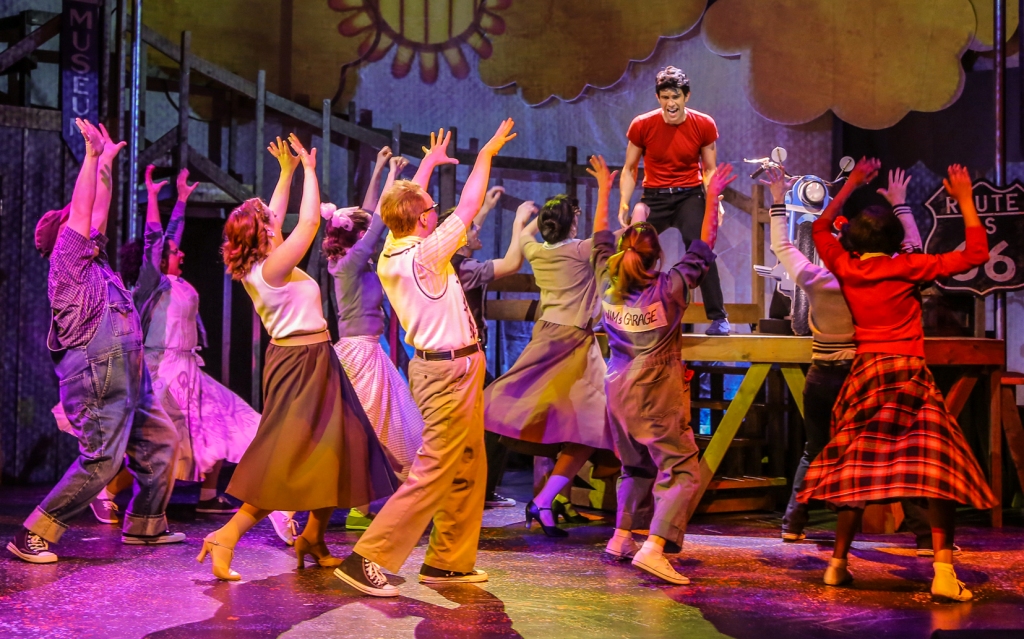 All Shook Up is a hunka, hunka burnin' love set to the music of Elvis Presley. All air-brushed, gussied up and de-sexed, the music that once drove parents to lock up their children (metaphorically, I hope) has been transmuted into a bright, easy-listening, Broadway-style pop entertainment that is a light year away from The King's surly, lip curling, pelvis gyrating, libidinous delivery.

That said, through the skillful direction of Kate Ryan and a singularly well-chosen cast, you can't help fallin' in love with this glitzy Mayfield Dinner Theatre production.

Unlike the original template for all these jukebox musicals, Mamma Mia!, – All Shook Up doesn't worry about the songs fitting Joe Dipietro's gag-laden book. Generally, Broadway musicals use their songs to advance the character and plot. In this one, since the songs are floated in from another entirely different medium (and lack the dramatic structure of the ABBA oeuvre), everything just stops as the songs are thrown at the skimpy plot. The only Elvis song that survives the treatment with something of its original intent is Jailhouse Rock, which is given a riotous, foot-stomping reading by the exuberant cast right off the head. Even the staging (choreographer: Cindy Kerr) is felicitously borrowed from the film.
In fact, taken in all, All Shook Up comes off as slick, engaging and entertaining.

Dipietro is an old hand at this sort of thing (he was behind the recent Mayfield hit I Love You, You're Perfect, Now Change) and has devised a plot that manages to encompass a bewildering number of influences. You might find it fun to list them in your mind as they go by – Footloose, Hairspray, Grease, Bye Bye Birdie, The Wild One and, forsooth, even Twelfth Night, A Midsummer Night's Dream and The Winter's Tale. In Mamma Mia! there was an effort to provide a degree of believability to the characters – here, they are all constructs, easily identifiable and 2 dimensional (but given a degree of life by the amiable Mayfield cast).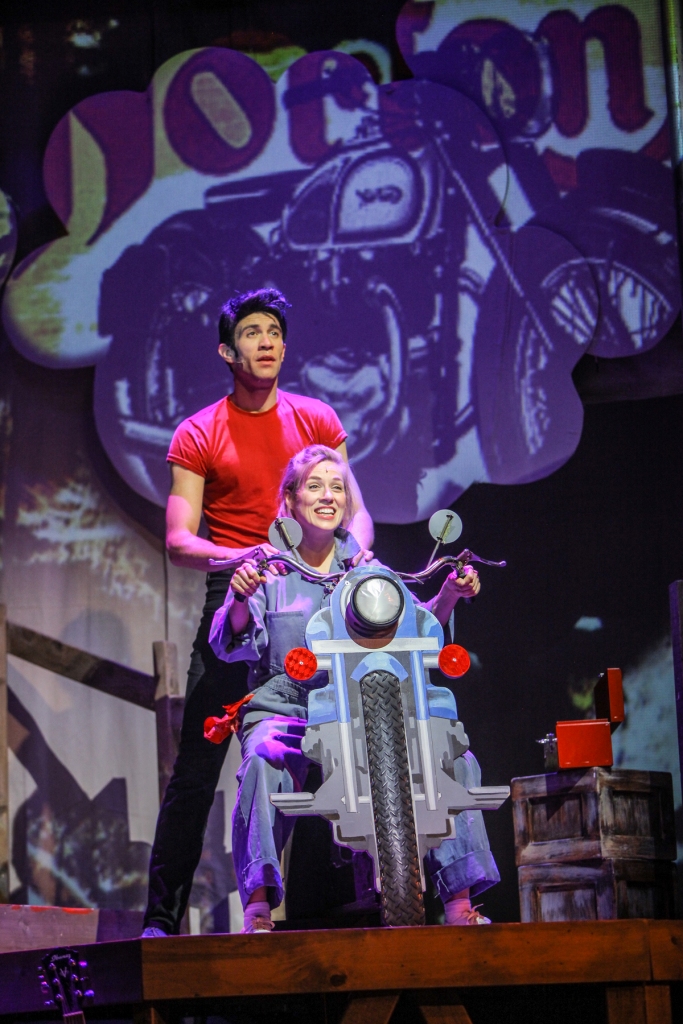 Chad (Robbie Towns) is a road-show Marlon Brando clone, (leather-clad except, of course, for the blue suede shoes) who rides into an unnamed town (easily identifiable as Bomont – the berg in Footloose) on a motorcycle. The town is smarting from a "decency proclamation"  (possibly borrowed for the occasion from the cantankerous Reverend Moore in Footloose). The place, (dubbed, "the most depressing town in the world") has the requisite uptight Mayor (Kendra Connor) but Chad, ignoring the town decree, brings the gospel of Rock and Roll – and a little free love on the side. Rampant lust breaks out as Natalie (Melanie Piatocha), a budding young grease monkey, and Jim, her lonely widower Dad (Paul Morgan Donald) are, uh, aroused – as are most of the locals. Piatocha (Oh, the life-force is with this one, Luke) is suitably burning with virginal desire for the macho animal charms of Chad but has to vie with the va-va-voom local museum curator, Miss Sandra (Melissa MacPherson). The local nerd (Jason Hardwick) is, of course, in love with Natalie. For modern audiences, there is a joyous celebration of interracial love and, in a turn as old as theatre, a macho man falls for another man – who is really a woman in disguise.

The surprise is not in the songs – you'll know all of them – but in how the creators of the show were able to find in the 33 (awful) movies Presley made that there were some fine, intimate ballads – like Love Me Tender, Someone Like You and There's Always Me.

If the rangy-tang twang of Memphis rock is lost in all those burnished Broadway-style arrangements it is well balanced by the cast-wide singing of the players. They all have big, bright voices that often lift mediocre songs into the stratosphere. Towns exhibits an open-road charisma that could indeed turn on a whole town – male and female. And boy, has he got the Presley moves down.  Piatocha, a Mayfield regular, burbles and bubbles all over the stage with enough personality to light the whole carnival where the second act takes place. Hardwick, our own Rick Moranis, is the local go-to guy for everything nerd and he sings and dances up a storm. There is an ingenious pairing of Hound Dog and Teddy Bear that not only is musically intriguing but radiantly delivered by the four leads. Jenni Burke, with her great timing and earth-mother delivery, is hilarious throughout and surprisingly poignant in her big solo, There's Always Me. Connor's Nazi-like Mayor finds true love and comes apart like an IKEA bedroom suite, finally unleashing that big voice of hers with a showstopping high note in Devil In Disguise.

You can always tell a Kate Ryan musical production from the subtle (and sometimes blatant) touches that always distinguish and elevate her work. Kerr's choreography is highly energetic and time appropriate for the Elvis epoch.  T. Erin Gruber's crayon coloured sets are serviceable and her accompanying video projections open up the whole production.

And, as usual, the ace five piece Mayfield house band rocks.

Are You Lonesome Tonight?  Well, if so you'll be All Shook Up by this tuneful, family-friendly, funny and captivating show running from now through June 10 at the Mayfield Dinner Theatre.

And there's not an Elvis clone to be found.