Soul sisters, rock legends, Heart returns to Edmonton in March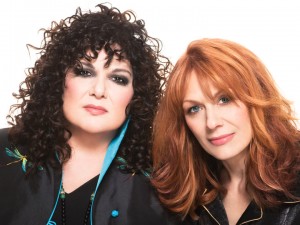 Hot on the heels of the glorious "Rush" of Canadian nostalgia comes news of another legend of Rock 'n' Canadiana: Heart – whose unforgettable songs were the soundtrack to many a gladly wasted youth around these parts.
The band plays Monday, March 11 at the Jubilee Auditorium. Tickets go on sale Oct. 12.
The soul sisters Ann and Nancy Wilson – Seattle based, but forged in Vancouver B.C. because Ann's boyfriend and band manager was a draft dodger – have been a going concern for nearly 40 years, producing a remarkable body of work through all their ups and downs. They're touring across Canada with a new studio album produced by Ben Mink (k.d. lang), called Fanatic, in stores Oct. 2. Also in stores is what is claimed to be a "definitive" biography of the Wilson sisters: Kicking and Dreaming: A Story of Heart, Soul and Rock and Roll, with noted Seattle music journalist Charles Cross. There's a lot of history in Heart – and it's all going to be on stage at the Jube, an intimate venue that does wonders for this venerable rock band.