Cuba's only hardcore band to make North American debut in Edmonton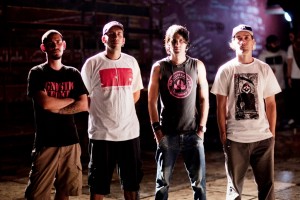 The Cuban music scene is rich enough beyond the Buena Vista Social Club that there's room for at least one hardcore band – but Arrabio may be the only one in Cuba, at least according to the band members.
"Talking about Hardcore in Cuba there is no other band, it is only Arrabio playing Hardcore on the island," writes band member William Garcia in an e-mail interview. "There are a couple of other bands that call themselves Hardcore but they play Metalcore or stuff like that."
OK then. That he can split punk hairs like this (and name a number of Cuban punk bands you've probably never heard of: Akupunktura, Adictox, Gatillo, Limalla and more, he says) is indeed evidence there's much more to the Cuban music scene than salsa, son and samba.
Arrabio is about to get some hardcore company as the band makes its North American debut Friday, Oct. 5 at the Artery right here in Edmonton, along with Knucklehead, Vicious Cycles and Nervous Wreck, for the launch of a short punk package tour heading West. It's part of the Solidarity Rock organization's program of musical exchange between Canada and the Latin American country – and in fact, they say, the first time any Cuban hardcore band has played anywhere in North America. It's hard to check this sort of thing, so we'll just have to take their word for it.
On the content of the band's music – in Spanish no more difficult to understand than any typical hardcore lyrics shouted in English – Garcia writes, "The songs of ARRABIO mostly talk about social problems world-wide, problems of their societies. For example 'Edad Media' talks about how the people are submitted by governments and they follow the rules and orders without discussion.  It is a critique about how people can be so blind and follow rules that do not serve them."
To the questions of whether Arrabio gets any trouble from the Cuban government, or has ever been censored in any way, the answer may be surprising coming from citizens of a supposedly totalitarian regime – "never."
Garcia says, "We do what we do since around 11 years ago and we have played shows in lots of places in Cuba and never had any problem with that."
It's easy to pinpoint the inspiration for all the great Cuban folk music we hear – just walk the music-filled streets of Havana, apparently, and you are guaranteed total immersion – but where the heck do Cuban punk rock musicians get their inspiration? One probably doesn't hear much hardcore on the local radio, nor attend many hardcore shows outside of this one band. Arrabio cites Cuba's biggest punk band Eskoria, along with other Latin American bands like Puya, but offers a long list of Anglo influences: Agnostic Front, Sick of it All, Biohazard, Hatebreed, Slayer, The Ramones, The Clash, and many more. Garcia says there is "no way" Arrabio would ever incorporate traditional Cuban music into their own on purpose, "but there will always be traditional Cuban flavours and touches in our music."
Even so, hardcore fans should take note: Arrabio sounds quite similar to any hardcore band from anywhere in the world, adding to a truly global scene that smashes flat political borders, language barriers and cultural differences and so doing is apparently stronger than ever. They must be doing something right.