WEEKEND MUSIC PREVIEW: Too many CD releases? Not enough CD releases!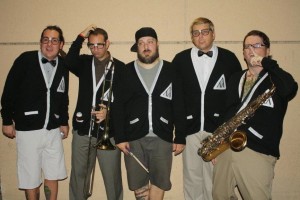 With such an eclectic sound, Less Than Jake has never found incredible success on any charts, but the Florida ska-punk act's longevity is certainly proof enough that the concept can work, and perhaps even makes a case for sonic experimentation.
Playing Sunday night the Edmonton Event Centre, the band has survived more or less intact since its first release in 1995, originally formed as "Good Grief" when singer Chris Demakes, bassist Roger Manganelli and drummer Vinnie Fiorello were still in high school. The group briefly broke up after Demakes moved to attend the University Of Florida, but the musicians wouldn't stay apart for long, and now also includes a trombonist (Buddy Schaub) and a saxophonist (J.R. Wasilewski).
Since 1995's debut "Pezcore," the group's released another seven studio albums, including this fall's "Greetings and Salutations." The most memorable songs may be from the band's 2003 release "Anthem," which included "She's Gonna Break Soon," whose video featured Alexis Bledel of Gilmore Girls fame, in a performance that involved destroying her bedroom after a nervous breakdown.
The show gets underway at 7pm. Tickets are $36.
The remainder of the weekend finds a plethora of release parties both Friday and Saturday night, as well as a music documentary of note playing on the CBC Saturday morning. Yes, morning.
Friday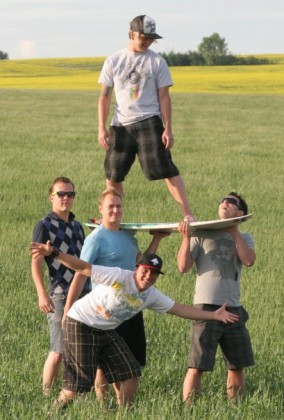 Aidan Knight – This Victoria native, who has also performed with The Zolas, Hannah Georgas and Dan Mangan, has also been busying himself with his own project since 2008. He's an accomplished guitarist, songwriter and vocalist, and has also created his own record label, Adventure Boys Club, whose first release was Knight's debut album "Versicolour" back in 2010. Friendly Friends also perform. Avenue Theatre, 8 pm, $18.
Soulicitors (right) – One of the city's busiest bands is back at it again, with a release party for its newest CD, "Move." The Whytes and Random Falter also perform. Pawn Shop, 8 pm, $12.
Scythia – One of the more interesting mixes of sounds you'll hear for some time, this Vancouver band combines metal with folk melodies. Mongol and Mortillery open. Rendezvous Pub, 8 pm, $10.
Give 'Em Hell Boys – Speaking of local bands that are regularly on a stage somewhere, this alt-bluegrass act is playing the Elevation Room on Friday night, along with Jey Witten and The Young Albertans. 8 pm, $8.
Sonorous Odium – Headlining an evening of metal acts at the Starlite Room, along with This Is War and Oceans On Fire, this six-year-old band leans towards melodic death metal. 9 pm, $15.
Saturday
"What Happens Next?" – Fans of Canadian indie music may remember a documentary that was aired on CBC a while ago about Vancouver's Said the Whale called "Winning America", directed by Brent Hodge. His newest offering, called "What Happens Next?", follows Dan Mangan when he sold out the Orpheum Theatre in Vancouver last November. CBC-TV will air the documentary at 10 am on Saturday morning.
Seven Suns – After you finish watching the documentary, you'll want to head over to the Black Dog Freehouse, where no cover Saturdays continue with a local progressive rock act, with a heavy dose of jazz blended in, called Seven Suns. Currently working on its third album, the act, fronted by Erica Van Drunen, is influenced from acts ranging from Tori Amos to The Cranberries. 4 pm
Nuela Charles – One of the genres you don't hear a lot about locally is R&B/soul. That may change soon enough, with the release of "Aware," the sophomore release from this Edmonton artist. Darren Frank also performs. Elevation Room. 8 pm, $12.
Short Of Able – Apparently it's THE weekend for release parties, with yet another local act headlining a gathering celebrating its sophomore album. These folk-popsters have performed throughout the prairie provinces since their first album was released in April 2011. The Marquee and Cadence and Nathan are also on the bill. Avenue Theatre, 8pm, $18.
Falklands – Yep, another release party. This local act was founded in 2009, and has since made a name for themselves with their frenzied live shows combined with a heady melodies and vocals. Previous Tenants also perform. Wunderbar, 9 pm.