MUSIC: Adam Cohen, son of Leonard, embraces the family business
One so rarely gets a chance to talk to the child of a musical superstar that the famous parent tends to become the central thesis of every story about them – including this one about Adam Cohen – or at the very least the elephant in the room that gets tiptoed around.
It's such a rare situation that fans are fascinated. You could count on two hands the truly "famous of the famous" who have gone into the family business, with even fewer, if any, who have equalled the success of their legendary parents. Name one, seriously. Miley and Billy Ray don't count.
Adam, son of Leonard Cohen, has learned to live under his father's formidable artistic legacy, and over the years given serious thought to how one measures success. Hit songs? Legendary status? Groupies? Money? These are all the wrong reasons to get into the music business, he realized.
"My preoccupation was with green rooms and pussy and accolades and living a piece of the myth," Cohen puts it in a recent phone interview, "and now my preoccupation is just being good. I should've been preoccupied with that a long time ago."
He's too hard on himself. Cohen was good when we first heard him on his self-titled debut back in 1998, establishing the Son of Len with a voice and songwriting style distinct from his father's. Cohen returns Monday to perform at the Myer Horowitz Theatre (his father plays Rexall Place on Nov. 18) with music from his new album, "Like a Man." There is no hiding the homage to Cohen Senior, who, after listening to his son's latest music for the first time – Adam says he didn't want to be around to see the reaction – suggested the title. It was perfect.
Dad wrote him "an incredible letter," he says. "He said the record had taken him to a place where nothing else mattered, and that I had world class love songs. It meant more than just a compliment."
Like a Man, he goes on, "In many respects is a homage to my father, paying deep recognition to the traditions I grew up with that I had not entirely embraced up to now. The main thing is that it's a coming out party, an affirmation of my belonging to the family business. I've always been in the family business. But I've never aspired to occupying such an honorable post. This is my proudest achievement yet."
The challenges of famous musical progeny are manyfold. You consider both genetics and upbringing in whatever they do. If you're a fan of the parent, chances are you'll at least give one listen to the music of the offspring, and naturally compare accordingly. Complicating matters is the prejudice that success is just automatically handed to, or purchased for, these famous musical kids. However, Cohen says, while a lot of doors may get opened, "The rest is my responsibility."
He says he'd been disillusioned, "living in half light and anonymity," dizzy from being signed to a record label and then dropped, signed and dropped, again and again to the point of despair. In this respect, he's not alone. Plenty of recording artists who don't have famous parents suffered these trials as the record business underwent some, well, let's just call them "corrections."
It took a resurgence of father's career to inspire the son, Cohen says.
"I was left with a left deeper admiration of what he'd accomplished at the height of his powers, at the twilight of his career, and becoming a father myself I was strongly compelled by the responsibilities I felt to my name, and to my son, who could someday consult my work, as I consulted my father's."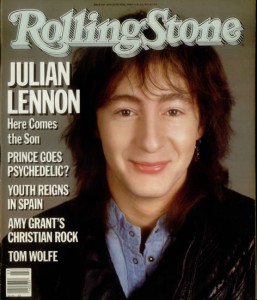 Other cases are worth a brief look:
Frank Sinatra Jr.
The son named Junior by an egotistical father struggled with his own identity throughout his career, even admitting in a recent interview, "I have made no mark of my own creation." He was just here at the River Cree Casino, mining the Great American Songbook like a champ, just like his old man – but he didn't do "My Way."
Dweezil Zappa
Came out as an accomplished guitarist, more recently achieved some success on the road with his popular "Zappa Plays Zappa" shows. If someone's going to do it, there is no one better than Zappa's son.
Julian and Sean Lennon
Poor Julian was not only blessed with his father's looks, but his voice. Effectively abandoned by the great John Lennon when he was five, Julian has aired considerable bitterness towards his father – even being omitted from the will – but came to terms with it eventually. Sean, John's second son with Yoko Ono, meanwhile, became immersed in New York's bohemian arts scene and surfaced briefly as a collaborator with the Japanese electro-pop duo Cibo Matto. Neither of John's sons have been heard from much lately, mainstream culture-wise.
Jakob Dylan
Neither has much been heard from the Son of Bob's band the Wallflowers, though songs like "One Headlight" (1996) have managed to ascend into the realm of "classic rock." The joke was that because Jakob can carry a tune and write lyrics that make sense, he lacks his father's talent.
Ziggy Marley
No guesswork here. Ziggy and most the rest of the Marley clan are eager proprietors of the family business.
Rosanne Cash
Being the performing daughter of a famous father – or vice versa – is easier than it is for a son, for obvious reasons. Just ask Nancy Sinatra.
Arlo Guthrie
Another proud carrier of the family torch, Arlo was just here at the folk fest for an extensive homage to his father, the late Woody Guthrie. Let's just not mention Alice's Restaurant. Oops, too late.
Enrique Iglesias
A rare example of a son finding his own voice under shadow of a legendary father, while at the same time carrying the name proudly. Julio Iglesias Jr.? Not so much. Hey dads: Quit it with the "Junior" name, OK? Julio has a huge family. The prolific singer, last we checked, was still busy making little Iglesiases. There will be more where Enrique came from.
Tal Bachman
Oh, to have been a fly on the wall in the Bachman household: All those guitars, all those songs, all that music, all wrapped up neatly in a family-friendly Mormon package. After scoring his one and only hit (so far) with "She's So High" in 1999, Tal left the Mormon religion, which the Mormons tend to frown upon, and hasn't done much musically since. Coincidence, you say?
Hank Williams Jr.
This family is an interesting case, and more evidence that genes play a role in talent. Hank Jr. has carved himself a niche as a beer-drinkin', truck drivin', g-droppin' good ol' boy that's so distinct from the desperate and lonely muse of his father that he can't help but stand tall on his own. Hank Williams III, meanwhile – "Jr." names are lame, "III" has cachet – has rebelled by playing heavy metal. And yet he's also covered his grandfather's songs, recently heard on the compilation album Long Gone Daddy. It's the classic Beloved Grandfather Syndrome, the same phenomenon that helped propel the renewed popularity of Leonard Cohen that Adam was talking about earlier. It's the cycle of life.