SCARY TIMES: 13 Halloween events for grown-ups who don't want to grow up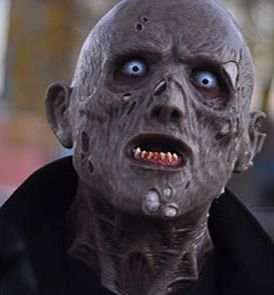 It's no mystery why Halloween has been completely co-opted and dominated by grown-ups – it's because many modern grown-ups have failed to grow up.
Joe Flaherty – SCTV's Count Floyd, so he ought to know about this sort of thing – complained that many of the adult students in his improv classes back East were obsessed with superheroes. He said that back when he was a kid, "We had Superman comic books, but we kind of grew out of them, you know?" He also said that Star Trek is "lame." Ooooo, scary! Dare to say that to the 12,000 grown-up kids who flocked to the Edmonton Comic and Entertainment Expo last weekend. Or tell it to the 170 million Americans planning to celebrate Halloween this year, a record number, according to the National Retail Federation, an American trade association – and expect comparable numbers in Canada. Citizens will spend more than $8 billion this year on costumes, decorations and, of course, Halloween candy to give to the kids.
The night itself, Wednesday, Oct. 31, is an anticlimax, really. Most Halloween celebrants should just be getting over their hangovers by then.
The myriad of local adult Halloween entertainment offered this weekend is more proof that, at heart, we just don't want to grow up anymore:
1: The Bear's Halloween Howler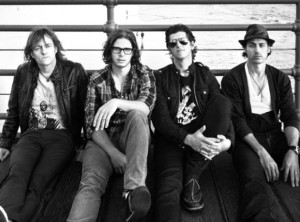 It is widely known that there are few things scarier than a '90s Canadian rock band that has three words in its name – and there are two of them at the Bear radio station's 20th annual Halloween bash at the Shaw Conference Centre on Friday night: I Mother Earth and Our Lady Peace (right). Boy, does that take us back. One of the main attractions to this annual ritual/drunken blowout is the costume contest where thousands of dollars in prizes will be awarded. Tickets are $62.50 and on sale online here.
2: Halloween Theatresports
Mark Meer, a grown man who loves monsters and comic books, and in fact has a swell gig doing the voice of a superhero in the video game Mass Effect, is just one of the actors in this Friday night comedy-spookfest at the Citadel Theatre. "It does sometimes seem like adults are taking over the holiday more and more – especially since trick-or-treating among children is on the wane. Maybe it has something to do with the willingness of the current crop of adults to embrace things they enjoyed when they were kids," says Meer, who will play the role of Cthulhu (ancient alien evil in H.P. Lovecraft novels). The show will feature such Halloweenie improv games as Zombie McDonalds and the Kielbasa Interrogation. Tickets to the show – Friday at 7:30 and 10 p.m. – are $15, online here, or at the door.
3 and 4: Bands as Bands
There are actually two events this year where rock bands will impersonate their favourite presumably more-famous-than-they-are rock bands. The first is at the Pawn Shop on Friday night, with Victoria's Power Clown (to name them is to know them) in a tribute to Iron Maiden, Cocaine Moustache as ZZ Top, and more, some verging on the obscure to the point you may wonder who's spoofing whom. Tickets are $12 in advance, on sale here. And on Halloween night, the Starlite Room features 17 area bands, including the Canyon Rose Outfit as the Grateful Dead, Heaviside as Aerosmith, Black Mastiff as Black Sabbath, White Lightning as KC and the Sunshine Band and The Orchard as Sonny and Cher. Scary! Advance tickets are $15, on sale here.
5. The Cabinet of Dr. Caligari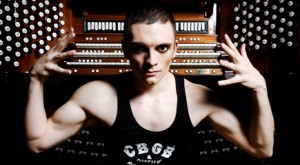 Organist Cameron Carpenter – the Ozzy Osbourne of classical music – will fire up the giant Davis Concert Organ at the Winspear Centre on Halloween night for his original soundtrack to the 1920 silent horror classic. There is, as everyone knows, nothing scarier than a rafter-rattling pipe organ playing Bach's Toccata and Fugue in D Minor (the scariest of all keys), or anything else, for that matter. Pre-concert attractions include a ghoulish sideshow in the lobby. Even the press release contains a sinister note, by classical crowd standards, at least: "Costumes are encouraged and recommended." Tickets to the 9:30 p.m. show start at $29 and on sale at the Winspear box office.
6: Halloween Massacre III
"Metal as fuck" is the dress code for this costume contest, though giving a prize for "most metal" seems redundant since every day is Halloween for these guys. Other prizes will be awarded for "best dressed stoner" (a giant bong and a bunch of candy), "most gruesome" (tickets to GWAR at the EEC Nov. 14) and, for ladies only, "sexiest costume" (bottle of Grey Goose vodka). The bill at the Alberta Avenue Community Centre (9210 118 Avenue) will plumb the depths of the variegated distinctions between "black" and "death" metal, with the bands Cleanse Kill, Argent Strand, Silent Line, Those are Them and Negation. Advance tickets are $15.
7. The Weir
Conor McPherson's spooky one-act play, at the Walterdale Theatre until Saturday, deals with four Irishmen whose nightly pub visit takes a strange twist when they are joined by a mysterious young woman. Tickets to the 8 p.m. show are $12-$18 and on sale at Tix on the Square.
8. Halloween in Space
Blue Goat, one of Edmonton's weirdest bands, whose shows are more like performance art happenings than rock concerts, hosts this sci-fi themed Halloween show at the Avenue Theatre on Saturday night, also featuring Uncas closing the evening. Tickets are $20, on sale here.
9. Freaky Geeky Halloween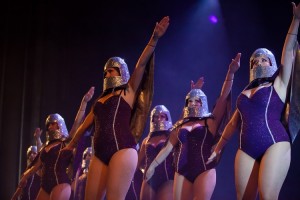 You have to wonder how the Capital City Burlesque troupe would've gone over during Edmonton's pioneer days, maybe for a stint at the Pantages vaudeville emporium? Pretty good, probably – but who's this Darth Vadar fellow everyone keeps talking about? New acts – and naturally, fabulous new costumes – are promised for this special Halloween performance at the Starlite Room Saturday night, also featuring the California cover band The Rolling Blackouts. Yes, there is a costume contest. Tickets are $15 advance, $20 at the door (780.428.7827)
10. Halloween Rap Battle
It would be interesting to see how the hip hop crowd – like the metal crowd – dresses up for Halloween. In this case it's superheroes. What were we just saying about superheroes? The Hip Hop in the Park people are throwing a good, old-fashioned, old-school rap battle at Eddie Shorts (10713 124 Street), pitting Batman vs. Spiderman, Superman against Wonderwoman, that sort of thing. It's an open mic deal. Cash prize for the winner. Admission is $5 at the door.
11. Dia de los Muertos!
Halloween gets an extension as Day of the Dead falls on Nov. 1 this year, and an even greater holdover with this industrial electro-rave – with Mexican influences! – happening the Day After the Day of the Dead, Friday, Nov. 2 at the Temple (one of the Starlite Rooms), hosted by Silence Be Damned. As with many shows featuring "DJs as performers," you might not be sure whether Silence Be Damned is the name of a production company or a DJ, though in the end it doesn't really matter. What's really important is that there's going to be costume contests! Maybe candy, too! Tickets are $5 at the door.
12. Monstrous Baroque Refinery
It stretches Halloween to ridiculous lengths – and hey, why not, they're already advertising Christmas concerts – to plug this event, happening Saturday, Nov. 17 at the Art Gallery of Alberta. Participants will celebrate the current exhibit "Misled by Nature: Contemporary Art and the Baroque," by making their own corpses and monsters inspired by the superstitious artists of yore, for whom every day was Halloween. The refinery party is sold out, but you may want to pop by the exhibit to get you "in the mood" before heading off to your grown-up Halloween fun. Regular gallery admission rates apply.
13. Halloween 3-For-All
The Union Hall is promising a Michael Jackson Thriller tribute performance among other live entertainments to go with its obligatory Halloween-themed evenings this weekend, plus a costume contest (click the link for details) – and you'll find every bar in town will have a Halloween theme. Even the Arden Theatre is billing its blues show on Oct. 31 as "Halloween blues" from "supernatural talents," while the Metro Cinema is screening the Rocky Horror Picture Show at midnight on Saturday. Is it possible to get sick from too much Halloween treats before it even gets here? In that respect, it's beginning to look a lot like Christmas.