Shakespeare's words replaced by body language in Alberta Ballet's Othello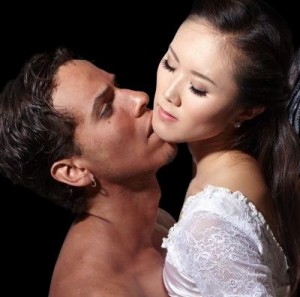 It's going to take some serious body language to render Shakespeare without words – as the cast of Alberta Ballet's production of Othello should know well by now. That's the ballet for you. No dialogue. What would Shakespeare have thought about such a thing?
Playing Friday and Saturday at the Jubilee Auditorium, Othello stars Kelley McKinlay as the villain Iago. The Fort Saskatchewan-born dancer was last in town portraying Elton John in Love Lies Bleeding. He says people didn't think he was up to the task of playing the bad guy because he'd never done it before, but when started slithering around on stage as the man who basically ruins the lives of Othello and everyone in his vicinity, "it just flowed out of me," he says, and jokes, "What does that say about my personality?"
Whatever it says, it says it without words. There are some heated exchanges between Othello and Iago in this wordy Shakespeare tragedy that required some particularly clever moves from choreographer Kirk Peterson.
"It's how to have a very aggressive conversation with each other on stage, but literally just using movement," McKinlay says. "It's very aggressive, very physical, at times it shows Othello's strength over Iago, and Othello is this dominant male and how Iago is this little weasely, snake-like character add that really comes across in the choreography. There is a dialogue of steps that come in and out."
Ballet dancers are trained to play a number of different characters, he goes on, sometimes several in the same show. He'll do four in The Nutcracker. Physically, Othello is the most demanding yet. McKinlay speaks as an athlete (ballet dancers are athletes, too, of course), having been trained as a soccer player before he went into dance. He had even – "auditioned," he starts to say – "tried out" for a number of advanced teams. He's not sure what pushed him into dance. He says it could've been just rising to the challenge of people saying he couldn't do it, for a number of reasons that included "massive quads," but that he's "never looked back." He's never been more challenged, either.
"The dancing I'm doing now is way harder than running around on a field of 90 minutes," McKinlay says. "I guarantee it. Othello as a ballet is to date the hardest ballet I've ever had to do in my career."
Ballet leads are treated rather like starting pitchers at a baseball game in this respect – or starting centres, or whatever, in soccer. McKinlay will perform on Friday night, while his costar David Neal takes on Iago for the Saturday night performance. Doing this kind of word-less communication of a play whose very fame is due to words can be very tiring.
Édouard Lock of La La La Human Steps had something interesting to say about communication without dialogue: "What makes a language interesting or in some cases beautiful is not so much the meaning of the words, but in the way the structural elements of the language come together: the movement, certain steps next to others, the phrasing, the rhythm – those things all also define choreography."
McKinlay agrees, "I think that's why dance has withstood time. It's been going on for Centuries and people understand it."