CONCERT REVIEW: Wiz Khalifa show goes to pot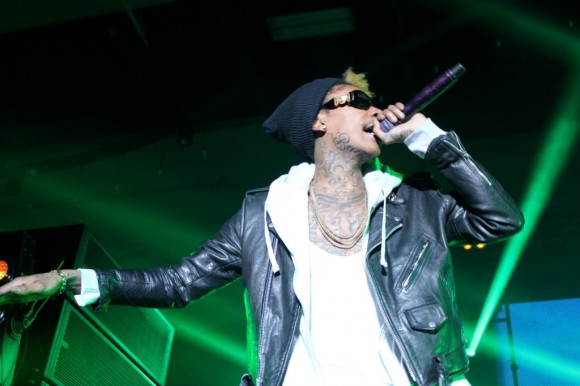 If not for the security and police presence at the Wiz Khalifa concert Sunday night, you wouldn't even know it was Movember.
Nary a soul in the Shaw Conference Centre crowd of 4,900 could grow more than a zit on his or her upper lip. The facial hair was limited to the pencil 'stache on the 25-year-old Pittsburgh rapper and the beefy authorities sprinting and jostling in every direction.
I asked my cousin, Ali, who happened to working security, what was up: "A lot of marijuana."
Obviously. This is the rapper whose most successful album to date is called "Rolling Papers," who released a mixtape called "Kush & Orange Juice," who was arrested for trafficking marijuana during his 2010 "Waken Baken Tour." For Chong's sake, the green press pass I was forced to adhere to my Banana Republic sweater had a pot leaf on it. Do you know how long it's been since I wore weed on my clothes?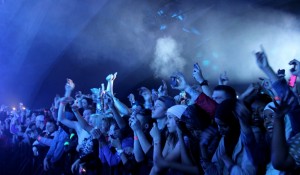 When I did, puffing pot at a rap show was as perfunctory as putting your hands in the air and waving them carelessly. It seemed like nothing had changed at Wiz Khalifa when the first of several hardly-known openers sparked the mic and, in return, the fans did their joints. Patches of smoke puffed from the crowd like little volcanic eruptions, but very quickly were they extinguished. This, after all, was an all-ages show.
Seeing all those kids ushered out seemed like it was an elaborate bust. For the most part, they were good kids. When one had a seizure, her peers immediately begged the security to help with the kind of strained voices you reserve for your parents when your baby brother knocks his head on the coffee table.
Security, in return, kept them hydrated by pouring pitchers of cold water down their throats like baby birds. And these good kids had come to see a good kid, too. Wiz Khalifa is a skinny rapper who could pass as an art school student if it weren't for all the tattoos creeping up to his face. He has good intentions. Fun intentions. A live and let live kind of guy, opting out of one of the three hip-hop vices – sex, drugs and violence – to instead focus on the first two.
In concert and in between songs, he spouted an inspirational message or two, like the one he offered before "Rise Above": "Whatever you want to do, that's cool as fuck."
Like a crooner, the lackadaisical performer mostly stood at the mic stand, whether his live band and extraordinary drummer were supplying upbeat party beats or low-fi head-nodders. After rapping The Weeknd assisted "Remember You" from his forthcoming album, O.N.I.F.C., he told the crowd, "If you make a baby to that song make sure you show me what the baby looks like." Just like grandma.
So what if he occasionally lifts his shirt, strokes his crotch and gestures for camera lenses to zoom in on it? And so what if offers the worst investment advice ever — "I be in Detroit, where they getting' paid" ("M.I.A.")? Wiz is the life of the party, and weed is the toga robe of that persona.
From the moment he wrapped up his first song, "Cabin Fever," a dedication to "bad bitches," he was asking the crowd, "Whose got the best weed here?" Or daring them to "smoke some God damned weed." Or teasing them with tracks like "Still Blazin'."
The taunting reached a summit when a mascot joint and lighter joined him on stage, dancing awkwardly with floating arms like, well, adults in marijuana costumes. As he started to burn through his songs, rapping one verse of each, it was apparent that the night was winding down. The Visine came out. The teens that were left (over 200 were kicked out, almost entirely for weed, said my cousin the security guard) took out their phones and tapped their fanfare: "@RealWizKhalifa #2050tour best concert of my fucking life!!! #wetrippymane #TGOD," tweeted Sebastian Bernier. "Wiz was siiiickk too good of a night," chirped Heather Baker.
When they reached the top of the Shaw Conference Centre stairs and stepped outside, a busker making balloon animals for change awaited them, but the only people interested were the drunk guys who were too old for this concert anyway.
(Photos by Omar Mouallem)