WEEKEND MUSIC PREVIEW: Wintersleep comes to Wintertown
Posted on November 8, 2012 By Michael Senchuk Music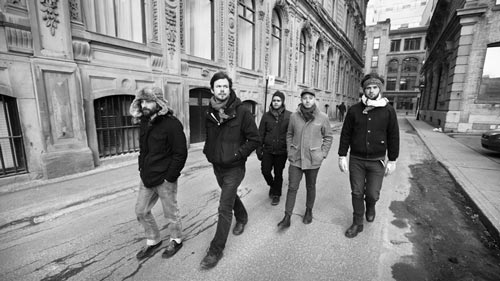 There's a bit of a lull in the major act schedule – at least until Alice Cooper hits the Jubilee Auditorium next Wednesday – but that's just fine. It'll give us a chance to dig out from the winter storm that smashed into the city. The weekend's biggest name, yet still relatively unknown, is Wintersleep, accompanied by Elliott Brood, performing two shows at the Starlite Room, Saturday and Sunday.
Friday
Jo Thrillz – One of this weekend's release parties, this rapper will share the bill with Daphutur and DJ Tron. Yellowhead Brewery, 8 pm, $10.
Wilderness Of Manitoba – Continuing with bands named for prairie provinces, but residing out of Toronto, this alt-folk band has plenty of facial hair to go along with their emotive yet rural aesthetic. Except for vocalist Amanda Balsys, of course. Haven Social Club, 8 pm, $10.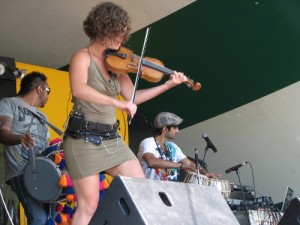 Delhi 2 Dublin – It's hard to paint this Vancouver act (right) into a genre corner. Equal parts rock, folk, Celtic, and urban, their shows are always spectacularly frenzied and anything but subtle. More like a slap in the face, really – but one you'll reminisce about for months. Starlite Room, 9 pm, $20.
Saturday
Rose Cousins – This Halifax singer-songwriter may not be known as well in these parts, but she is highly respected on the East coast for her spectacular voice and extraordinary songwriting ability, and for having worked with such renowned performers as Joel Plaskett, Jill Barber and Meaghan Smith. The Artery, 7:30 pm, $15.
DJ Jazzy Jeff – Half of the once-famous hip-hop duo, the other half being Will Smith, is in town for a show at Edmonton Event Centre. Though Jeff Townes never really went on to superstardom like his partner did, at least he stayed with the music side. 8:30 pm, $21.62 plus service charges. Buy here.
Wintersleep – These indie rockers from Halifax (top picture) are no stranger to the cold tundra of the Canadian prairies, having been through the city a number of times on previous tours. Despite critical acclaim, especially for their most recent album "Hello Hum" – expect it to take home some trophies during the next round of award shows – the band remains relatively unknown outside its core audience. Another popular Edmonton draw, Elliott Brood, is opening. There's a show Sunday night too if you can't make this one. Starlite Room, 9 pm, $25 plus service charges. Buy here.