Eight surprising things about Paul McCartney in Edmonton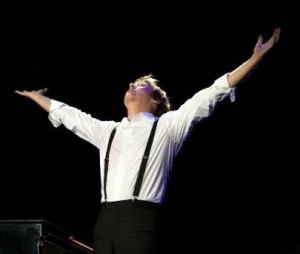 Never let it be said that Paul McCartney didn't have the element of surprise on his side for his historic first appearance in Edmonton. He played the crowd at Rexall Place like a violin on Wednesday night – kept his fans guessing from start to finish. Here's a quick look at some of the surprising things Sir Paul did (spoiler alert if you're going to Thursday's show).
1. Stamina! This 70-year-old man played bass, guitar and piano, rocked hard and sang like a champ for nearly three hours, no break, no water, just hit after hit after hit. After hit after hit. After hit. Attendees are expected to have Beatles brain worms for days.
2. Rumour has it that the deal maker for Sir Paul coming here was that the Mayor would declare it Paul McCartney Week in Edmonton. It would've happened anyway. We didn't have anything better to do.
3. The recorded music chosen to play before showtime says a lot about a headliner's personality. The Red Hot Chili Peppers favoured obscure R&B. Leonard Cohen chose avant-garde jazz. Paul McCartney? He played Paul McCartney songs. At least they were Paul McCartney songs as recorded by someone else.
4. Pyromania! There were only a few random wisps of fog for the first two hours – certainly no hint of the conflagration of explosions, flares and fireworks that erupted suddenly during Live and Let Die. The entire arena and everyone's clothes reeked of gunpowder afterwards.
5. Bagpipes! As the Celtic-flavoured Wings ditty Mull of Kintyre amped up its jig during the encore, a squad of bagpipers in full regalia marched onto the stage – members of the Pipes and Drums of the Edmonton Police Service. They has as big an impact on the crowd as the pyro.
6. Guitar face! Paul and the band pulled out Foxy Lady, giving him the chance to wail a Hendrix guitar solo. That he didn't quite nail it only made it more charming, especially when he told the story of Jimi once asking Eric Clapton up on stage to tune his guitar.
7. After a rousing rendition of Back in the USSR, he told a story of meeting the Russian Defense Minister, who said his favourite Beatles album was "Love Me Do."
8. In a bit of a jarring segue, A Day in the Life suddenly turned into Give Peace a Chance. Earlier, Paul asked the crowd to give John Lennon a big hand, which we did for a good 30 seconds, before doing a solo version of "Here Today." He did not, however, perform Imagine – though he certainly could if he wanted to.