WEEKEND MUSIC PREVIEW: This Lund is your Lund
Posted on December 6, 2012 By Mike Ross Music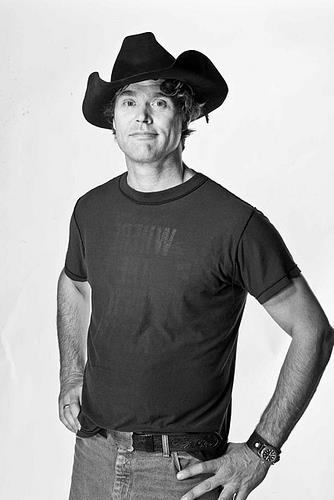 Pop quiz: Can you …
Break a horse? Light a fire? Gut a fish? Read the sky? Track the deer? Dig the well?
If you answered yes to at least four of the above, then you may just have a chance to be a lucky survivor when the oil runs out and there's a "rip in the social fabric," according to Corb Lund's song "Gettin' Down on the Mountain." Of course they're all rhetorical questions, so don't worry. There's LOTS of oil left.
You don't often hear ideas like this expressed in ordinary country songs – and, as it has been said before, Corb Lund is no ordinary country singer. There are more thought-provoking notions like the above in his latest album, Cabin Fever. He sings about religion, gun control, murder, goth girls, drunk preachers, what it means to be a real man, and the joys of driving fast on a German motorcycle, you name it, all infused with the rich sounds of the roots music and the culture of a typical die-hard Alberta country boy raised in a rural, ranching, rodeo-riding, Mormon household. Who thinks too much. Simultaneously as "country" as the Alberta summer day is long (or winter night, depending) and as alternative as a parallel universe where Dwight Yoakam is more celebrated than Garth Brooks, Lund has brought sense of intelligence and critical thinking to a form of music most people imagine is all about beer, women, cows and trucks. But here's the thing: he's got songs about beer, women, cows and trucks, too! They're just, you know, smart songs. (Read interview here.)
Lund plays Friday at the Edmonton Expo Centre, with Turnpike Troubadours opening. Tickets are available here.
Friday
The Fab Foursome – Do you Baby Boomers still have Beatles brain worms running through your heads in the wake of last week's Paul McCartney concerts? Sometimes the only way to cure an infection is a re-exposure to the original virus, or close facsimile. The Fab Foursome is one of TWO Beatles tribute bands in the area this weekend – coincidence? This one plays Shell Theatre at Fort Saskatchewan's Dow Centennial Centre on this night. The second – the "Fab Four: The Ultimate Tribute" – is at the River Cree Casino Saturday night. Too much Beatles, you say? Not enough Beatles!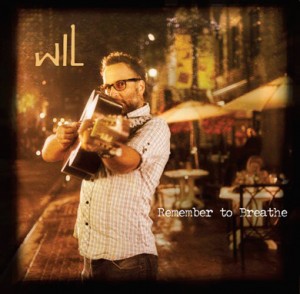 Wil (right)– Comparisons abound: John Mayer, Bon Iver, the Flaming Lips, Death Cab for Cutie, but let it be said that this Calgary-bred artist has set his own standard for sensitive singer songcraft, helped by a series of gorgeous music videos produced by Travel Alberta. To break the sensitive-singer-songwriter stereotype, Wil Mimnaugh is decidedly unwimpy on stage – his website isn't called ibreakstrings.com just because it sounds cool. Touring behind his new album, Remember to Breathe, he plays at the Artery, with Ryan McMahon in support. SOLD OUT
Mother Mother – Sorry, Edmonton Journal, we have to call bullshit on the idea that this Vancouver B-52s-meets-U2-like band is the most hated band in Canada next to Nickelback. Seriously? Mother Mother is the anti-Nickelback, smart, sexy and known for songs that aren't about getting drunk at a bush party – not that there's anything wrong with getting drunk at a bush party. There is room for both in rock 'n' roll, but it seems no matter which way you go, people are going to complain. Tickets are still available for Thursday night's show at the Edmonton Event Centre, Friday is SOLD OUT
Rock for Santa – Poor Santa, always getting overlooked at this time of year. Or wait, that's Jesus. Anyway, this fifth annual Santa's Anonymous benefit features a local bill of hard-rocking goodness: Looking East, Oldbury, Furia, Silo and Keep 6. Brixx Bar & Grill, 8:30 pm, $10 advance, $15 at the door, plus toy donation.
Saturday
Geoff Berner – This Vancouver accordion-squeezing klezmer artist says he's representing the "radical left-wing" side of Judaism – so what a treat he's in Edmonton to play the first day of Hanukkah. He's touring with politically-charged new material from his ironically-titled album, Victory Party. Read interview here. With openers Jill Pollack and Smokey, he plays the New City Legion, 9 pm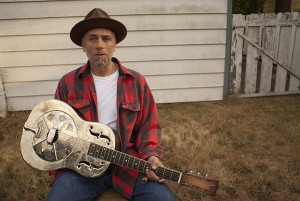 Kelly Joe Phelps (right)– To see one guy who sounds like two or more guitarists playing at the same time is a rare treat indeed, especially when major concert acts (like Coldplay) regularly employ canned rhythm guitars. Washington D.C. folk-slash-jazz artist sings and writes wonderful songs, too, a true triple threat. Haven Social Club, 8 pm, $20 advance, $25 at the door.
Paul Richey and the Fusionauts – A little electric Chick Corea Rhodes piano mojo can be heard with this local act, whose name describes the chosen genre: "Fusion," which in jazz refers to a combination of straight jazz and rock 'n' roll – pioneered by people like Miles Davis – or almost anything else, for that matter. The door is wide open. Yardbird Suite, 9 pm, $14 members, $18 non members
Audio/Rocketry – Just imagine, if you will, if all the oil did run out and punk rock musicians were left with nothing but acoustic instruments and odds and ends to bang around with. The result might sound something like this local band, sort of a City and Colour-like jug band – on speed. Today's early show at Wunderbar begins at 4 pm with openers Salinas and Stepmothers. Later on at 8:30 pm there's another bunch of cool bands, topped by electro-rock-experimental act Brazilian Money.