TRUE MEANING OF CHRISTMAS: Toys, candy, family, four ghosts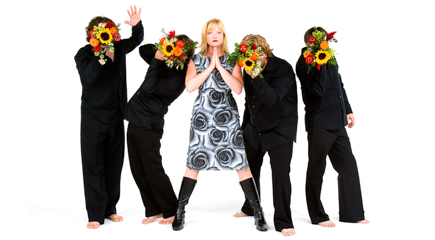 If you haven't found the true meaning of Christmas by now, you're probably not going to find it in a Christmas show – but that doesn't stop them from trying.
Edmonton sees the same set of Christmas shows every year, year after year, in one similar form or another, and people keep flocking to them to experience the true meaning of Christmas. Maybe the true meaning of Christmas is just thinking about the true meaning of Christmas.
The Nutcracker
It's hard to imagine that this flopped when it came out in Russia in 1892. Tough room, probably. Or perhaps it just needed some "tweaking," more toy soldiers, more true meaning, because it's been huge ever since the Coca Cola company popularized the red suit for Santa. Nutcracker characters are so popular they get made into Christmas decorations. Name another Christmas show where that happens. Also, the music's pretty good, too. The Alberta Ballet production runs Friday through Sunday at the Jubilee Auditorium. G for general audiences
The Nutcracker Unhinged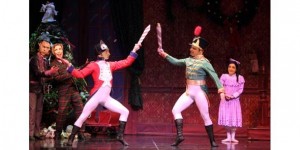 The Sugar Plum Fairy, the Nutcracker Prince and other characters from Tchaikovsky's famous ballet are "set loose" in Old Strathcona in this "what if?" scenario written by Stewart Lemoine and starring "The Teatro Gang," as they have come to be known. Running through Saturday at the Varscona Theatre, the show will be rounded out by another short Lemoine play – Christmas in Patagonia – along with fireside readings, carols and comedy. PG
A Christmas Carol
You will be visited by three ghosts! Three ghosts? Well, four ghosts, including me, but after me – don't you recognize your old partner? – then three more ghosts! Four all together! Just so we're clear … Make all the jokes you want, but it's hard to go wrong with the Christmas classic at the Citadel Theatre through Dec. 23. It ain't broke so they don't fix it, save for a fresh Scrooge every now and then. This year, Canadian actor James MacDonald plays the Dickensian antihero who learns the true meaning of Christmas even though his very name remains a byword for, well, Scrooginess. G (recommended for ages 7 and up)
With Bells On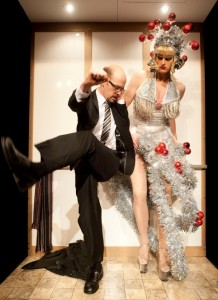 Darrin Hagen, Edmonton's biggest drag queen in more ways than one – he's 6' 7" in heels – wrote this heart-warming tale of a drag queen late for a gig who is trapped in an elevator with a mild-mannered accountant who's finally getting back on the dating scene after a nasty divorce. He doesn't know she is not a woman, at first, and sparkles fly. Together, they must get past their differences, find a way to escape, learn a valuable lesson and find the true meaning of Christmas. The show plays through Dec. 23 at the Roxy Theatre. (Read review) PG
Snow Globe Festival of Children's Theatre
Of the three plays being put on at the C103 Theatre (formerly Catalyst), only one could properly be billed as a "Christmas" show: Babes in Toyland, which deals with Mother Goose characters trying to find the true meaning of Christmas, which we all really know is getting toys. There's also a treatment of Robin Hood, and an all-new original play written by festival producer Ellen Chorley based on a true-life experience: Birdie on the Wrong Bus. The festival runs Dec. 18-22. Tickets here. G
Sharing Christmas: Rita MacNeil and Frank Mills
More concentrated wholesome Christmas musical goodness cannot be found anywhere else on a cold and dark Monday night in Edmonton. These two Canadian treasures perform together at the Jubilee Auditorium on Dec. 17, not for the first time, and not for the last time, and not for hope that attendees won't get a little taste of "Music Box Dancer" along with as much true meaning of Christmas as a human being can possibly stand. G
The Best Little Newfoundland Xmas Pageant … Ever!
You'll be able to cut the Newfoundlandian accents with a sharp knife in this Maritime take on a mossy old tale of a Christmas show about to go horribly awry when a family of misfits shows up for the auditions, whereupon they – and everyone else – learn the true meaning of Christmas. It plays at the Varscona Theatre December 20-23. G
A Celtic Christmas with the McDades
Perhaps the true meaning of Christmas can't be expressed in mere words, so there's this musical show at the Winspear Centre Dec. 21-23, an expanded version of an annual tradition from this remarkable Edmonton family (top picture). These Juno winners will once again mine the deep tradition of the Title of Their Show with the help of the Greenwood Singers and the Edmonton Symphony Orchestra – so you could say that the music's going to be pretty good, too. G