Alexisonfire to host its own Celebration of Life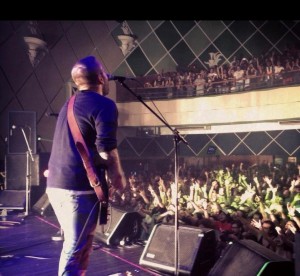 A rock band is the only living entity that can be present at its own wake. If only human beings could enjoy such flowers at our own funerals, to witness the outpouring of love and adoration from friends and family and fans that disbanding rock bands experience on farewell tours. One last time.
The Last Tour of Alexisonfire – coming to the Shaw Conference Centre on Wednesday – is among the band's most successful, drawing frenzied crowds and lots of press attention around the world. It's more than there would've been if they weren't breaking up. Last show headlining in Edmonton, in 2010, the band was at the smaller Edmonton Event Centre. This time they sold out the Shaw for almost triple the crowd. There's going to be a lot of love at this Celebration of Life.
There have been rare instances where such surprisingly successful farewell tours make the band members change their minds about killing themselves, or at the very least draw it out as long as possible for an extended run of goodbye shows. Cher did it for more than 10 years. It's not likely to happen in this case. More plausible in future years are a series of scattered one-off "reunion" shows. Alexisonfire is one of the clearest cases of "artistic differences" you can see in any Canadian rock band since the Guess Who.
Fans know well the story: Emerging in 2001 from St. Catharines, Ontario, Alexisonfire set a rebellious punk rock cred agenda with its very name: Taken from a performer billed as the "world's only lactating contortionist." Well, that's just gross. Musically, the band helped introduce a sub-genre of a sub-genre of music that came to be known as "screamo," basically like "emo" for its personal feelings rendered in a punk rock, but with screaming. Some fans called it "post-hardcore," and you'd have to really know your subgenres to understand.
Doesn't matter. Screaming in rock is nothing new, but there were rules in this newer form: You usually had to have a guy who could sing to contrast with the guy who could scream convincingly. Neither is easy. Sometimes it's the same guy, as in the case of Billy Talent, which dallied with the screamo sound for a time. Good melodies are critical, and having a "real" singer serves to make the screams more meaningful and also to differentiate from the bands where they scream all the time, and who wants that? Nobody but a death metal band. Alexisonfire, which was never accused of being a death metal band, grew popular from their distinctive brand of melodic post-hardcore music, a few songs that bubbled above the alternative rock charts, and the bracing contrast between singer Dallas Green and screamer George Pettit. That's really what made them interesting, even if you didn't happen to be into melodic post-hardcore.
Was it too much contrast? It turns out Green's gift for euphonious vocals matched his talent for sensitive songwriting. On a lark, a whim, a side project with no goals beyond just doing it, he recorded a song called Save Your Scissors in 2005 – (sometimes misheard as "save your sisters"). It's a heartbreaking break-up song if there ever was one, and it didn't sound anything like Alexisonfire. Any female of any age who heard it instantly melted, and if you've followed pop music at all, you'll know that where the women go is where the money is.
It is cruelly ironic that Green's song came out the same year Alexisonfire won a Juno for "new group of the year," which has long been called the "kiss of death" award. That was the beginning of the end for the band, even if they didn't know it at the time. Save Your Scissors, and Green had a lot more where that came from, turned the singer into a far bigger deal than the main band could ever aspire to in their current form. This sort of thing happens all the time: The mellowest, most sensitive ballad from an otherwise hard rocking band becomes its biggest hit, a musical albatross around their necks for all time. Sometimes, said band breaks up as a direct result.
While Green assembled new musicians to tour behind his solo project and called it City and Colour, he at first vowed to keep Alexisonfire going, too, but no man is a superman, and sustaining two major acts eventually took its toll. There was tension between screamer and crooner, understandably. It would be improper to regurgitate the sometimes unpleasant back-and-forth quotes at this rock 'n' roll obituary, but Pettit puts it nicely in a statement announcing the goodbye tour: "I think that there was a lot of doom and gloom surrounding the last Alexisonfire tour. Now that the dust has settled, and everyone has gone down their separate paths, I think it's important to get proper closure on 10 years and share it with our fans. After this we can leave Alexis in our rear view and remember it fondly, not as something we had to escape."
Rock bands get to talk at their own funerals, too.
(Top photo: From show in Sao Paulo, Brazil Dec. 6, 2012; photo by the band)