McDades speak out: You will practice your fiddle and you will love it!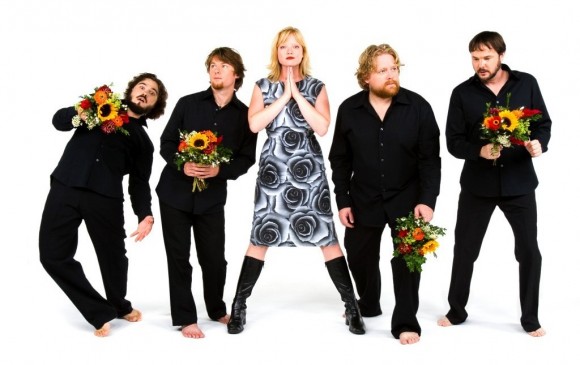 It must be hard to rebel against your parents when your parents are folk musicians. It's pretty much the most rebellious form of music known to man outside of punk rock, which is really just folk music writ large.
But rebel one must. As a teenager, Solon McDade actually experienced a crisis of fashion that helped lead him away from the family band that had been the McDades bread and butter as long as he can remember. Longtime fans may recall they used to perform in "pioneer" attire. Solon was playing gigs when he was eight years old.
"We wore these costumes with moccasins and sashes and stuff. My brother would wear a coonskin hat," Solon says. "I hated that. It drove me crazy."
Yep, the '80s were embarrassing for everybody. Solon says he identifies strongly with the film "A Mighty Wind," which contains a scene where the new guy in the successful family folk band has to earn the right not to wear a hideous vest on stage. Points off for singing bad notes.
"We weren't that indoctrinated," he says. "But it was a job. If we had a gig on the weekend, we dressed like that. It was a big part of what we did, especially in the summertime."
There's been a new family band since the mid-'90s, called simply the McDades, featuring Solon on bass, sister Shannon Johnson on violin and little brother Jeremiah on a whole bunch of other instruments. They'll be performing three nights of "Celtic Christmas" in the Winspear Centre Friday through Sunday, with the Greenwood Singers and the Edmonton Symphony Orchestra, the McDades' first appearance with the ESO. They'll be drawing material from their 2011 Christmas album with father Terry, Winter Rose, the first since the Juno-winning 2007 album Bloom.
The McDade family, including Terry, who's into harp these days, will also finish up a run of Candlelight Christmas shows at the rustic John Walter Museum on Sunday, totally unplugged, and the audience sits mere feet away from the performers. These have been sold out for the last 20 years, Solon says.
The McDades seem to be onto something here.
Hereditary gift?
Exploring a musical family is always interesting, because it's such a rare and curious thing. In many famous cases, genetics conspire with upbringing to create a powerful legacy of music that stretches across generations. This doesn't happen by accident. Terry's parents weren't musicians, but his grandparents were, farmers in Alberta and Saskatchewan. They had lots of kids. At this point, it would be hard to assemble all the musical McDade uncles and aunts and cousins on a single stage.
Music was ever-present in the McDade household, Solon remembers. He took cello lessons at the age of four, switched to violin at eight and settled on the biggest axe he could get his hands on, the double bass, a few years later. His parents had an "amazing" record collection that spanned Ravi Shankar to Bill Monroe.
Music was the family business. It was a passion, but it was also a chore, Solon says.
"You never stop loving it. You love music. You play it, you get good at it, but it's like being forced to eat your peas. Later in life you realize, oh, peas are great. I love peas. I've loved them all along. But you still have mixed feelings."
After leaving the McDade Family Band at around 17, Solon played the blues – way to rebel. But when he saw all the respected old guys barely scraping by on the road, he realised it wasn't his thing. He had the chops to do more. He also studied two years of jazz at Grant MacEwan, and four years at McGill University in Montreal, where he currently lives. The depth of talent and experience in his siblings is comparable. Shannon Johnson is a local folk fixture and producer, longtime musical partner of fellow Juno winner Bill Bourne; and Jeremiah, who also went through McGill, had been in the McDade Family Band since he was five.
These kids could go any direction.
"We label it as Celtic music, but it's really not," Solon says. "We're some sort of hodge-podge of other things. We approach solos and harmony in a different way. They really don't have solos in Celtic music. We like to have solos."
The McDade Family Band is likely to be around for at least another couple of generations. Solon has a two-year-old daughter with another baby on the way. On the question of planned musical education, he says, "It's already started. Dad showed up with a little harp on the day she was born. It's a real one, scaled down, with 20 strings. She plays it every day. She plays harmonica, too."