NYE MUSIC PREVIEW: Should old gigs be forgot and never brought to mind?
Posted on December 28, 2012 By Mike Ross Entertainment, entertainment, Music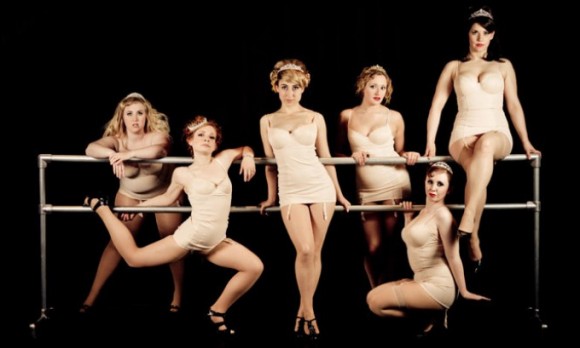 New Year's Eve is a weird gig.
Traditionally for musicians it is the highest paying job of the year, but it's a party more than a concert, and the musicians are expected to be entertainers more than the artists they are the rest of the year. It's also the one show where you're playing second fiddle to the occasion. You have to do the damned countdown, and at least an attempt at Auld Lang Syne. All before is anticipation, all after is anti-climax. Moreover, attendees are usually way too drunk to remember anything on New Year's Day, so few people will rank a New Year's Eve show among their favourite or most memorable of the year, never mind the confusion over what year to put it in.
But that doesn't stop the bands, of course. Here's a selection of this year's local New Year's Eve gigs not to remember:
Tudor Queens (above) – Burlesque is back! You heard it here first. This spectacle of comely vixens cavorting in skimpy garmentry designed to display their naked ankles promises to titillate area manfolk and gentlewomen alike, whilst causing consternation to the local clergy, and there's a story, too. This show is a teaser for an upcoming play by Ellen Chorley (opening at C103 Jan. 24) that deals with the six wives of Henry VIII who have been forced, for some reason, to perform a nightly burlesque show in purgatory. The night will also feature music by the fun band the Frolics. New City Legion, 8 pm, $20 advance, $25 at the door, buy here.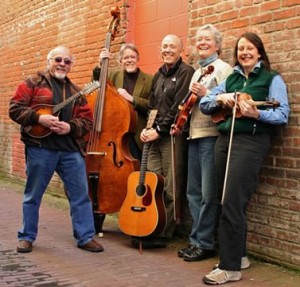 Back Porch Swing (right) – Are they jazz-trained bluegrass musicians or bluegrass-trained jazz musicians? By midnight it won't matter. A rootsy, trippy "happening" is promised with this free all-ages show at the McDougall United Church. The Command Sisters and Breezy Brian Gregg – who once ran for mayor – will open, among others. 7:30 pm. Food bank donations accepted.
Chilliwack – Gone, gone, gone, she been gone so long … but in truth this venerable Canadian classic rock band is a favourite of Edmonton fans and plays here often enough not to be rued as being gone so long. Century Casino, $70, 8 pm, buy here.
Shout Out Out Out Out – Setting the agenda for the local crest of the electro-rock wave, the flagship band on the Nrmls Wlcm record label manages to inject humanity into a form of music often criticized for being cold – despite the "Cylon" vocals. With opening acts Renny Wilson and Wild Ways, the Nmrls Wlcm New Year's Eve dance party happens at the Garneau Theatre. 8 pm, $30, buy here.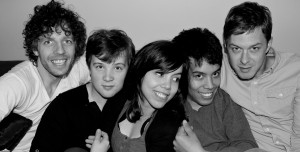 Yes Nice (right) – Another expansive, genre-busting, art-rock orchestra that seems to be all the rage these days holds court at the Artery for what promises to be a sweaty New Year's Eve. They sort of sound like Bedouin Soundclash times 10. Darren Frank and Mitchmatic will open. 8:30 pm, $15 advance
Mad Bomber Society – Looking forward to a ska version of Auld Lang Syne? You just might hear it from these local veterans of the ska trade, backed up by the Raygun Cowboys and Whiskey Wagon – the names alone portending a particularly non-rememberable good time at the Pawn Shop. 8 pm, $25.
Hey Romeo – Part of Churchill Square's annual frosty family-friendly New Year's Eve event, this highly CCMA-decorated Edmonton band is actually in the minority as one of the rare "hot country" acts among a slew of Canadiana "alt-country" bands in town. Preceded by a variety of entertainers and dancers, the band plays at 11 pm. Admission is free, fireworks at midnight.
The Rault Family Band – Of all the renowned family bands in town, this one is the bluesiest. Lionel, brother Ron and the kids Michael and Emily – with Grant Stovel on drums; he's like a close cousin – will rock in the new year at the Blue Chair Café. 7 pm, $100 includes dinner.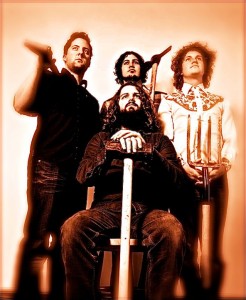 Canyon Rose Outfit (right) – This roots-rock band that draws from a Band-like, CCR-ian, Little Featish vibe entertains – yes, entertains – at the Haven Social Club. 8 pm, $15 advance, $20 at the door
The CJCA Chessmen – The who and the what now? This band of old-time rockers is staging a one-time only, 50 year reunion at the Sands Motor Hotel – yes, the old Sands at 12340 Fort Road. It's a real-life Edmonton re-enactment of the famous line from American Graffiti: Where were you in '62? Freeway and Gary Donnelly will open. 7 pm, $65