POLL: Canadians want PM's powers limited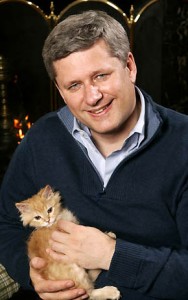 Canadians believe the law should place greater restrictions on the powers of the Prime Minister and other legislative leaders, a new national survey suggests.
The Harris/Decima Research poll was conducted on behalf of the pro-Democracy lobby group Your Canada, Your Constitution (YCYC). The survey asked 2,013 Canadians ages 18 or older whether they agreed or disagreed with writing down the currently unwritten constitutional "conventions" that cover decisions such as: when the Prime Minister and premiers can open and close parliament; what measures can be included in bills such as budgets; whether a government has lost a vote that should cause an election; whether an election should be called at the choice of a Prime Minister or premier and; which political party, or parties, will be the government after an election.
Across the country, 80% to 90% of Canadians of all types wanted constitutional rules clearly written down and made enforceable. Only 7% to 12% disagreed.
"For the past decade, arbitrary opening and shutting down of parliament by the Prime Minister and premiers, snap elections, omnibus budget bills, questionable votes of confidence, and questionable pre- and post-election moves by various political party leaders across Canada, have caused huge controversies that have been left unresolved, with constitutional experts arguing about whether the unwritten constitutional conventions were followed or violated," said YCYC spokesman Duff Conacher.
"Will the Prime Minister and premiers, and party leaders across Canada, respond to this national consensus and finally write down these key democratic government rules, as most countries in the world already have, to ensure that everyone knows the rules and can be clearly held accountable if they violate them?"
In most countries in the world, including Britain, Australia and New Zealand, political powers are clearly defined and restricted, and the rules can be enforced by the courts or through other enforcement processes, he said.
Poll: http://ycyc-vcvc.ca/wp-content/uploads/YCYCPollSummDec2012.pdf