WEEKEND MUSIC PREVIEW: RC Sindicate raps for Emergency Relief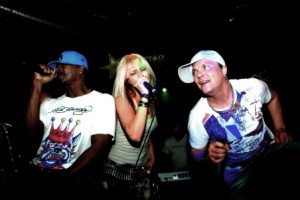 If you ever plotted live gigs on a bell curve – you remember bell curves, right? – the peak would obviously be on Fridays and Saturdays. It's just what everyone expects.
Well, you probably also remember those rare tests that completely messed up the bell curve. This week is like that. With two incredible shows on Wednesday night – Tragically Hip and Arkells at Rexall Place, and All Time Low at Union Hall – the rest of the week just can't live up to that.
Regardless, this weekend yields some intriguing choices to check out. A hip-hop-ska-funk-rock band named RC Sindicate performs at the little-used Chicago Joe's venue on Saturday; and Oceantree, a local experimental rock band, performs on Friday. And of course, local fan favorite Del Barber (above) will also be performing that night, his alt-country-folk sounds cascading through every nook and cranny of St. Albert's Arden Theatre.
Friday
Oceantree – This local quintet is an experimental rock group, a mentioned, not a common genre to be found in the city, but worthy of your attention none the less. They're headlining an evening of music at Avenue Theatre, and will be joined on stage by Luna and Meet Terra. 6 pm, $15.
Del Barber – This Winnipeg-born roots artist will be performing songs off his trio of albums, one of which was nominated for a Juno. His bevy of influences have created a sound that traverses folk with rock with country with even more eclectic melodies. Ben Sures will be performing alongside Barber for this show. Arden Theatre, St. Albert, 8 pm, $30 plus service charges.
Forester – Melodic thinking man's rock – that phrase probably sums up this local band best. Founded in 2011, they released their debut EP "The Prison Leader" last summer, and continue to hone their craft through various live gigs around the city, and through an official video (see below). The Canards, The Archaics, and Tanner Gordon also perform. Pawn Shop, 8 pm, $10 advance.
Saturday
Big City Supreme (right) – Oft-compared to such rock stalwarts as the Red Hot Chili Peppers and the Beastie Boys, this high-energy rock act has already made a lot of waves in the local music scene, including opening for Limblifter, and in a Sonic Band Of the Month showcase. Not bad for a band that played their first live gig just eight days after forming. Thompson Highway, Aphesis, Innertwine, and Boy Rambler also perform. Studio Music Foundation, 8 pm, $15.
RC Sindicate – Speaking of rare musical genres seen here in the city, this act is one of the very, very few full-piece hip hop rock bands in the province. Add in ska, funk, dance, and reggae influences, and you have what can only be called an epic conflagration of sound. This show is a benefit for victims of the Westlawn Village fire, proceeds to the Edmonton Emergency Relief Society. Chicago Joe's, 9 pm, $15.