COMEDY: Kathleen McGee's act is a life examined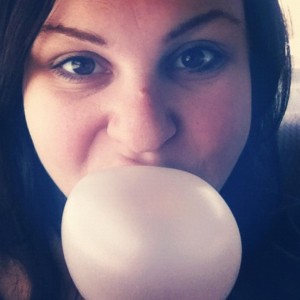 Oprah's truck balls, tweets of people's genitals, Al Roker telling everyone he pooped his pants in the White House, Facebook status updates of breakfasts that look like poop – these are a few of our favourite things!
We live in a world where the phrase "whoa, too much information!" is uttered by no one ever. Not anymore. And it's the brave stand-up comedians we can thank for breaking down the walls of secrecy and forging a new paradigm of total honesty. Thanks a bunch, stand-up comedians.
There are few fields of the arts where the artist is a naked and vulnerable as in professional stand-up comedy. Most modern practitioners become successful because they are lonely iconoclasts for whom nothing is sacred. They are expected to be brutally honest about everything they experience and observe, including the intimate details of their own lives. Turns out that the truth is HILARIOUS.
So is Kathleen McGee – just to use an example because she's from Edmonton and has a headlining show at the Black Dog on Tuesday before heading back to her new home in Hollywood because "I'm willing to start at the bottom again."
Her life is effectively her act.
"I'm pretty honest on stage," she says. "I'll say things that I would say to a therapist, if I were going to one."
The Internet has been a boon to honesty and comedy, she agrees. Even the older comics post their jokes online. Twitter is perfect for one-liners, Facebook for longer bits and pictures of your food. Not only do you get instant feedback from followers, but you have a permanent electronic record of the exact date you came up with the gag – just in case someone steals it later.
McGee vows to never again read YouTube comments – regarded as the most free you can get on the Internet – after getting reamed from her video routine about "Men vs. Food," which stands close to 30,000 views. She talks about everything she does almost all the time, on every digital platform available, "and I'm sure people think, oh, she needs to shut up. But I've got way more followers now. This is what I do. I get money to observe and to share my outlook on life."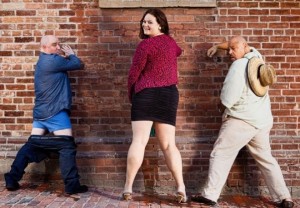 Getting her start eight years ago following a painful break up, whereupon she threw herself into a comedy career with a passion, McGee is what is known in the trade as a "dirty" comic. She was heckled in her early days for being "filthy." She follows the legacy of people like Darren Frost, "Frosty," she calls him, who was a mentor to McGee (along with Kenny Robinson when all three went on the XXX-rated Beauty and the Beasts tour together) – a guy who works so blue he sometimes cringes at his own jokes.
Asked to deliver the dirtiest joke that pops into her head, McGee doesn't hesitate, "There's one people kind of get grossed out at and I love that: I sometimes I feel like I have a hard time dating because I'm a little chunky, but I always thought it was good to look three months pregnant because then guys know they can come inside of me."
Did you just groan there? It's the bane of the dirty comic – the "tight" crowd. People like Frost and McGee cross the line of good taste all the time, and it doesn't always go over like they wanted. Depends on the audience.
"Frosty gets mad when people groan," McGee says. "I've adopted that. When people don't laugh at one of my jokes that usually does well, I tell them, you guys grow up, you're adults, these are jokes, just try to have fun."
Oprah's truck nuts provided an interesting look at the "line" we're not supposed to cross, or cross, as the case may be. Before the queen of talk's appearance in Edmonton on Jan. 21, Global TV's Carole Anne Devaney presented her what appeared to be giant chrome testicles of the sort area rednecks hang on their trailer hitches (it turned out to be a purse) which Oprah brandished with a big smirk on her face as she made her entrance. Local reaction seemed to be equally divided between indignant outrage and good humour. Edmonton is a laughing stock either way.
"I think it's funny," McGee says, unsurprisingly. "I think it shows our sense of humour and that we like to have fun. Who cares? When people get all uptight about stupid little things, I just want to say, just stay at home, don't go out in public. Or maybe that's me. I have a very dirty sense of humour, and I think stuff like that is funny. I think political correctness has ruined society."
As McGee starts to make a name for herself in Hollywood, earning the support of fellow Canadian comics like Russell Peters, she says she's actually trying to "clean" up her act. Not like, "Hey, ladies, don't you hate it when your husband leaves the toilet seat up? What's up with that? I don't want to do that kind of stuff," she says. "But I'm trying to push myself to be a little bit smarter and not always write about sex or crazy things – but when it comes down to it, those are the things I find funny. You just write what you know, right?"
Know thyself, as someone once said. Just Google it.
(Greeks. The answer is the Greeks.)
Kathleen McGee will be hosting Sunday, Jan. 27 at the Comic Strip (with Colin Kane headlining) before her Black Dog show on Tuesday, which will also feature Sean Lecomber, Keith Sarnoski, Jon Mick, Jason Cooper and Mike Robertson. Admission is "pay what you can.