The Dead live again at Winter Roots Roundup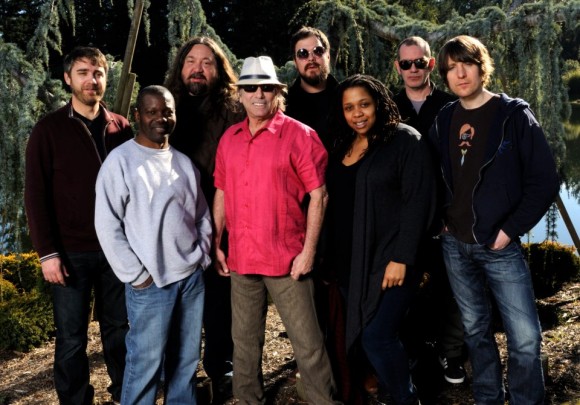 It's more than just a touch of grey – it's an entire head of whatever hair is left, a Grateful Dead kind of weekend.
The centrepiece of this year's Winter Roots Roundup at Festival Place will be Mickey Hart, one of the two drummers – the "rhythm devils" – of the Grateful Dead. He and his band (above) perform Friday and Saturday. Thursday night's kickoff show is Edmonton's own legendary Tacoy Ryde playing what is described as a "respectful" tribute to the Dead. There may be more Deadly connections, for the tendrils of this band are spread far and wide across the North American musical landscape, as are their fans, the notorious "Deadheads."
Only one question remains: The Grateful Dead was a roots band?!
Apparently so, according to producer Peter North.
"The roots of the Grateful Dead are deep into the folk traditions," he says. "Jerry Garcia was a bluegrass banjo player, Pigpen was a dyed-in-the-wool blues cat and Bob Weir was a young folk singer when they all got together, and it all came full circle years later with the Garcia band Old and In the Way and Weir writing with Willie Dixon. The list goes on."
North, a veteran roots music expert and CKUA personality who says he saw the Dead live in Vancouver "way back," is mindful of not presenting what some might fear is just a museum of folk music, although Smithsonian Folkways Recordings is one of the key partners in this fourth annual event. Hart in particular has ranged far beyond his own roots since the Grateful Dead dissolved with Garcia's death in 1995. For these shows, Hart is sharing the stage with the African Showboyz, from Ghana, sure to be a folk-world fusion on par with anything seen at the Edmonton Folk Music Festival.
"Mickey's thing is a total fusion," North says. "Amazing instrumentalists from pop, rock, world music camps and a singer with Broadway experience, plus a master African drummer. It draws on so much and it seems to envelop more sounds with each passing month."
The festival will be rounded out with film components – including a screening of the 1992 documentary "Grateful Dead: Backstage Pass" on Thursday – along with shows from people like 80-year-old musician and photographer John Cohen, whose Grateful Dead connection came when Garcia and Robert Hunter wrote a song about him, "Uncle John's Band." There will also be workshops and live presentation of CKUA's popular Roy's Record Room with Roy Forbes. This year's "Women of Folkways" night will be on Sunday, Feb. 24 with Maria Dunn, Shannon Johnson and Ellen McIlwaine.
One major change from previous years: Festival Place in Sherwood Park is now the only venue for the four day festival.
"With Festival Place having three spaces, it can be one stop – from the theatre to the multi-purpose room to the 60 seat workshop room all under one roof," North says. "Free parking right outside the door as well. As much as I appreciated all the venues in the past it was tough having the program spread out so much."
Tickets to all events are available at the Festival Place box office.
Schedule
Thursday, Feb. 21:
Grateful Dead Night with Tacoy Ryde and guests
Film: Grateful Dead: Backstage Pass
Friday, Feb. 22:
Mickey Hart Band with African Showboyz
Film: Worlds of Sound, The Ballad of Folkways Records
Saturday, Feb. 23:
John Cohen with Byron Myhre and Matt Hotte
Percussion lecture and demonstration by Ghana's African Showboyz
John Cohen Film Festival
Panel Discussion with Mickey Hart
Mickey Hart Band with African Showboyz
Sunday, Feb. 24:
Women of Folkways
Ukrainian bandura workshop with Julian Kytasty
Roy's Record Room
Film: The McDades