WEEKEND MUSIC: Pop sisters still the indelible indie twins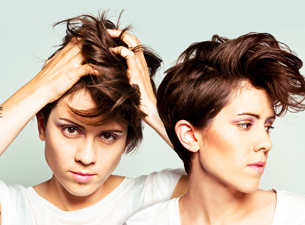 They may be famous now, but Tegan and Sara remain the indelible indie pop twin sisters from Calgary. They parachute into Edmonton on Sunday night for a show at the Shaw Conference Centre.
The girls began playing guitar and writing songs together at the age of 15, and, now, almost twenty years later, have amassed a fanbase that stretches across the continent, thanks to such incredibly catchy songs as "Walking With a Ghost", "The Con", "Northshore", and more recently from their 2012 album, "Closer" and "I'm Not Your Hero," all of which have been staples of modern rock radio stations throughout the nation, into the United States, and even on top-40 radio. The twins have an incredible talent for assembling an indie rock sound and vibe, but with pop-style melodies and hooks that leave you singing their songs for days after hearing them.
The two no longer live in Calgary, of course, with Tegan residing in both Vancouver and Los Angeles, while Sara splits her time between Montreal and New York City. Their live shows, besides being filled to the brim with their incredibly captivating music, also includes lots of lively stage patter, including stories from their childhood, politics, and their lives as musicians, which includes collaborations with an incredible array of other acts, including DJ Tiesto, Theophilus London, Sara Bareilles, Jonathan Coulton and Astronautalis.
Doors on Sunday open at 7 pm. Tickets are still available, $49.75 includes service charges.
Friday
The Once – A folk trio out of St. John's, Newfoundland, this act features a bevy of instrumentation new and old – all with an East coast flare. Festival Place in Sherwood Park, 7:30 pm, $28 and up.
Reuben and the Dark – Led by Calgary's Reuben Bullock, this folk-rock quartet specializes in emotive harmonies and melodies; band member and multi-instrumentalist Scott Munro has previously performed with Chad van Gaalen and Ghostkeeper. Jordan Norman and F&M also perform on this night. The Artery, 8 pm, $14. Buy advance tickets at YEG Live.
Saturday
Sarah Slean – Apparently Festival Place is the venue to be at this weekend, as the Sherwood Park theatre also hosts this phenomenal Ontario singer-songwriter on Saturday night. She's multi-talented, also a poet, visual artist and occasional actress – and has released six studio albums to date, including 2011's excellent "Land & Sea." 7:30 pm, $36 and up.
Monday
Trust – This duo takes over the musical scene on Monday over at the Pawn Shop, featuring their dark and mysterious synthpop sounds. Their debut album – "TRST" – was released by Arts & Crafts, one of the preeminent indie labels in Canada, almost exactly a year ago. Also performing with Trust on this night is the equally dark and mysterious Eraas, and local electroband Cygnets. 8 pm, $13. Buy advance tickets here.