P!nk comes to Edmonton in October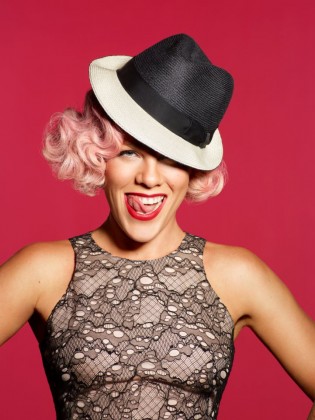 What did we say about 2013 being the Year of Young Women following 2012 being the Year of Old Men?
That it would be the Year of Young Women, er … that's what we said. Every action has an equal and opposite reaction.
Anyway, P!nk has been on our wish list for a long time, and she's finally making it to Edmonton – performing Wednesday, Oct. 23 at Rexall Place. Tickets go on sale Saturday.
Edmonton was lucky. Due to what was said to "overwhelming demand," six new Canadian dates were added to an already stuffed world tour behind the singer-songwriter-superstar's latest album, The Truth About Love, currently underway. The 33-year-old singer, known for forthright and very catchy pop songs that are sometimes riddled with s- and f-words for extra impact (and that sometimes don't get bleeped from top-40 radio), will pull material from seven studio albums released since 2000. One heck of singer who does her own stunts and writes (or cowrites) her own material, P!nk has also mounted an elaborate Madonna-like, Cirque du Soleil-ish stage tour geared to show off her many remarkable assets, singing, dancing, acrobatics, flying through the air while saving small puppies, you name it. Her fans, naturally, should expect no less from a pop diva of this calibre. This is a classic case of "high expectations."
Next on the wish list for the Year of the Young Women: Nicki Minaj, Carly Rae Jepsen, Selena Gomez and Avril Lavigne. Parents of teenage daughters are advised to save their money.