WEEKEND MUSIC: Four horsemen of Canadian rock
Posted on March 21, 2013 By Michael Senchuk Entertainment, Music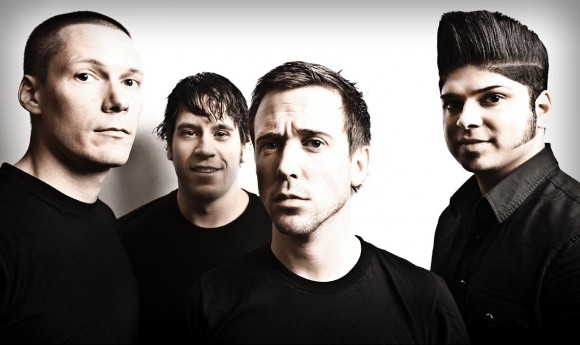 Talk about bang for your rock 'n' roll buck. While it was a bummer that Bob Seger had to postpone his Thursday show due to the crappy weather, any of the four bands playing at the Shaw Conference Centre on Friday could be a headliner – maybe not at the Shaw, grant you, but somewhere.
The top of the bill is of course Billy Talent, not a person, but a little band from Toronto with far more mainstream appeal than its punk roots might suggest. Local radio listeners will doubtless have heard many of their affecting, passionate rockers over the years, including "Devil In a Midnight Mass," "Rusting From the Rain", "Devil On My Shoulder," and the more recent "Viking Death March." Could be a theme. The Mississauga quartet has been plugging away at the since 1993, and much of their success has come in the last few years.
Speaking of punk, speaking of Ontario, Sum 41 can and has headlined then big rooms in this town. While their most recent album, "Screaming Bloody Murder" in 2011, had disappointing sales, the band's previous resume included hit after hit after hit, including "Little Know It All" (featuring Iggy Pop on vocals), "Pieces", and "Underclass Hero." Two of the founding members remain – drummer Steve Jocz and, of course, frontman and Avril ex Deryk Whibley.
Like Sum 41, Hollerado also tends to tour incessantly, and like Billy Talent, Hollerado's had some significant success over the last couple of years. If you know any music by these guys at all, and even if you don't, you'll probably instantly recognize their track "Juliette." The band's most recent album, "White Paint," was released just a few weeks ago.
Playing first but not least is Indian Handcrafts. The noise rock duo just headlined the Pawn Shop earlier this month as part of a warm-up for supporting this tour, and from all accounts nearly blew the place apart.
Go early and make sure to catch all of these incredible bands. Tickets are going fast, with doors opening at 7 pm. $49.50 plus service charges. Buy at Ticketmaster.
Friday
J.D. Edwards – No, not the enterprise software company that was bought by Peoplesoft in 2003. This is a folk rock sextet out of Winnipeg whose members first met at a bowling alley in the Manitoba capital. It was on lane 27, to be precise. Michael Dunn and the craftily named The Moanin' After open. Haven Social Club, 8 pm, $10. Advance tickets at YEG Live.
Dieuponaday – Don't metal bands have the best names? This Edmonton act performs at the Avenue Theatre, along with another local group, Negation, and Gravesend, from Bonnyville. Yes, Bonnyville. 8 pm, advance $15.
Sister Gray – This local act hosts a record release party for their new album "Analog Truth," a poignant, retro-flective work that both compliments and builds upon prior releases. Noisy Colors opens, which is also releasing a new album, along with the Marquee, at the Pawn Shop. 9 pm, $8.
Saturday
Born Ruffians – These Ontario indie rockers will be releasing their newest album, "Birthmarks," on April 16, so expect plenty of new material which even their most ardent fans haven't heard yet. The Elwins open. Avenue Theatre, 8 pm, $22.
The Stanfields – One of the country's most iconic party-folk bands returns to Edmonton to perform at the Pawn Shop. Fresh off two East Coast Music Award victories, the quintet is touring to support their most recent album, "Death And Taxes", which was released last September. The Whytes, whiskey wagon, and The Misery Mountain Boys also perform. 8 pm, $15.
Death By Robot – This local electro-rock-sci fi act will be headlining the basement-dwelling Brixx in celebration of the digital release of their newest EP "The Life Machine".  Matt Machete opens. Early show with doors at 7 pm, $5.