WEEKEND MUSIC: Order from k-os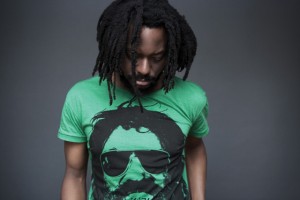 With buzz from both urban and modern rock radio, k-os's sold out show at the Avenue Theatre Friday night promises to be to be one hell of a party. Unlike many rappers, he prefers to perform with a live band – so that helps.
The genre-crossing artist's most recent single "The Dog Is Mine" can be heard on local airwaves from the Bounce to Sonic. K-os has done this sort of thing before with "Holy Cow", which also charted well on modern rock radio, as well as "Sunday Morning", "Man I Used To Be," and the hit that effectively launched the Toronto artist's career, "Crabbuckit." It's a song that could been seen as a comment on the Canadian music industry with its talk about crabs in the bucket trying to pull each other down as they scramble to get up.
K-os's sound may be an interesting blend of rap and rock, but is also tremendously influenced by funk and reggae. His most recent release, January's "BLack on BLonde", is a double album, the first hip hop ("BLack"), and the second rock ("BLonde"). Guest musicians range widely: Emily Haines from Metric, Sebastien Grainger from Death From Above 1979, Sam Roberts, along with fellow hip-hop artists Black Thought and Shad. The best elements from both sides are highlighted in k-os's frenetic live show. He's not the only Canadian artist working both sides of the street, either. Classified, behind his new self-titled album, is also receiving generous airplay on both urban and modern rock radio. The Halifax rapper plays two shows next Wednesday and Thursday at the Starlite Room – again, sold out.
Opening for K-os will be Halifax indie rocker Rich Aucoin, whose only album to date, 2011's "We're All Dying To Live", was long-listed for the Polaris Music Prize in 2011. The Herculean release included over 500 guest musicians, many of whom are known throughout Canadian music circles as well. Aucoin's live show is also extremely energetic and always a grand time.
Friday
Doug Hoyer/Slow Down Molasses – Doug Hoyer is an indie pop singer-songwriter from Edmonton whose newest album "To Be a River" will be released May 28th. Slow Down Molasses is one of the many stellar rock acts to come out of Saskatchewan in recent years. Both acts are regular performers in and about the city, but you can never go wrong with seeing either of them live, especially at a small club venue like this weekend's venue of choice for the two, Whyte Avenue's Wunderbar. 9 pm.
Saturday
Practical Slackers – A glorious evening of "pop-punk vs. punk" features this Edmonton act, whose music can be likened to a punch to the gut. Other bands on the bill include Halfway To Hollywood, The Anatomy Cats, Fighting For Ithica, and Frayed. The Studio Music Foundation (10940 166A Street), 6 pm, advance tickets $15 on sale at YEG Live.
3 Inches Of Blood – If there's a metal show in the city on any weekend, odds are good it'll be at Avenue Theatre. There's no disappointment on this night with a seasoned traditional heavy metal act from Vancouver. Also on the bill are Goatwhore and Eye Of Horus. 8 pm, $22 advance, $28 at the door.
Monday
Holly Cole – This staple of the Canadian music scene over the last twenty-some years brings her diverse and prodigious repertoire to the Myer Horowitz Theatre. This tour supports her most recent release, 2012's "Night", which featured cover songs from Tom Waits, Gordon Lightfoot, Captain Beefheart, and more. Doors open at 8 pm, $45 tickets at Ticketmaster.