WEEKEND MUSIC: Dostoyevsky ghosts haunt indie folk from Seattle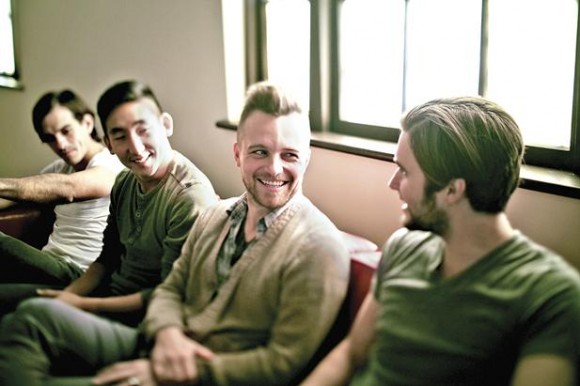 There's an intriguing suite of live music choices this weekend –  from album releases to music about chocolate to an after-party for a craft fair, the one can't-miss show is an early gig Friday at the Pawn Shop featuring Seattle's Ivan & Alyosha.
The wondrous spirit of his indie folk quartet is matched if not ever-so-slightly outweighed by gorgeous lyrics and beautiful melodies, as can be heard on its debut album released earlier this year, "All the Times We Had." The first single "Running For Cover" is the perfect example of why you'll be hearing a lot about this band for a number of years to come. Think Mumford and Sons with the boisterous energy of the Lumineers. Poignant, fun, it's an incredibly energetic, party-atmosphere band rolled up in an indie-folk aesthetic.
If you're curious, the band's name comes from two major characters in Dostoyevsky's final novel "The Brothers Karamazov," completed in 1880. Alyosha was named after the author's son, who died at three years old of epilepsy two years prior to the book being published.
Opening this show is another "indie-folk" artist named Jay Nash. The upstate New Yorker has an incredible nine albums to his credit, and his 10th, "Letters from the Lost," will be released in mid-May. Influenced first by Def Leppard, Kiss, and the like, Nash then discovered the music of Grateful Dead, Cat Stevens, and other renowned singer-songwriters, still at an early age. His sound obviously tends towards the latter, a powerful sparseness, but the former definitely had an impact as well.
Doors open at 7 pm. Advance tickets are $11 at YEG Live.
Friday
Nuela Charles – This local pop-soulstress has been touring across the country recently, amazing audiences everywhere she goes. She was also the well-deserved winner of "Female Artist Of the Year" award at the recent Edmonton Music Awards. Joanna Borromeo also performs. The Artery, 8 pm, $8.
Cygnets – Speaking of local acts amazing crowds, this band needs no introduction to regular concert attendees. One of the hardest working bands on and off stage, the alt-electro act hosts a "singles release party," along with Wildways. Pawn Shop, 9:30 pm, $10.
ESO's Radio From the Head – This intriguing evening of music from the Edmonton Symphony Orchestra should pique the interest of rock geeks. Conductor Chris O'Riley makes his debut with the ESO on a juxtaposition of classic and contemporary pieces: Radiohead next to Procol Harum, Frank Zappa next to Igor Stravinsky, who may have been the Zappa of his time, and more. Also of note is a piece called "Symphonic Chocolates", where each of four movements will evoke a different flavor of chocolate, which you can buy and then eat during the performance, at the appropriate moment. Talk about a taste of Edmonton. Winspear Centre, 9:30 pm, $20 and up plus service charges.
Saturday
Artists For Life – This fundraiser for HIV Edmonton, Camp fYrefly and the Young Emergency Shelter Society (YESS) at the Citadel Theatre will feature the music of Calgary troubadour Wil, always a popular draw here in Edmonton. After Wil performs there will be a catered reception, a silent auction (with over 50 artists participating), with Audrey Ochoa and the Crashers hosting a post-show dance party. Organizers are asking audience members to bring a bottle of wine for a special Silent Auction as well; one guest will take home an entire table of wine. Doors at 6:30 pm. Tickets are $100 for VIP, $50 for general admission, $20 for balcony seats after 9 pm.
Lindsey Walker – This uber-talented local blues-jazz artist hosts an album release party for her debut album "Our Glory". Though born and raised in Winnipeg, she's been here in Edmonton since 2005. One of those engaging performers that you'd be as equally intrigued to watch her perform as you would have a beer with her afterwards, her sound just as intimate as it is powerful. Nuela Charles (see above) also performs as she prepares to take a much needed break. The Artery, 8 pm, $15.
Camembert – The official after-party for the Royal Bison Craft Fair takes place at Wunderbar. Wait, an after-party for a craft fair?! Yes, indeed, the folks that dare to do things differently take it one notch further, with an evening of music including this local buzz band. Otto Stalk and Book of Caverns will open. Doors at 8 pm, $8 with a stamp from the fair, $10 otherwise.