MUSIC PREVIEW: Cowpunk high school reunion
Posted on May 30, 2013 By Michael Senchuk Entertainment, Music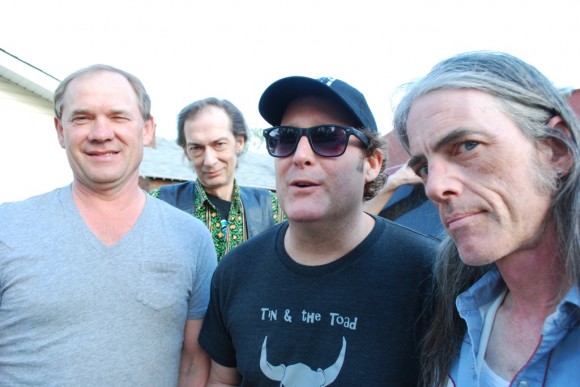 Jr. Gone Wild is performing its long-awaited comeback show in southwest Edmonton on Friday night that will undoubtedly go down in the annals of local music lore. It's going to be a cowpunk high school reunion!
This band is legendary in local music circles, having been founded in 1982 after a false start in Calgary, and went on to release a total of six albums. Their first breakup was in 1988, after which founder Mike McDonald put together a new lineup, and while continuing to put out new music and an incredibly frenetic live show, they broke up again in 1995 as album sales and attendance continued to fall. It was a time of change, to be fair, as alternative stalwarts collided head on with Britpop heavyweights.
But times have changed yet again, and McDonald, as well as bassist Dove Brown, drummer Larry Shelast and guitarist Steve Loree are back together again and ready to get a piece of the alt-country action. You'll have to drive a bit to see them – but it'll definitely be worth it. The show starts at 8 pm with opening act Carolyn Mark and Her New Best Friends at OTS Park, located at 2104 156 Street SW (south of Ellerslie, just keep going south on Rabbit Hill Road, which will turn into 156 Street, until you can't go South anymore). Tickets will cost you $30, including surcharges, at Ticketmaster.
The band will also be performing at the city's best-named music festival, Interstellar Rodeo, on Friday, July 26th, along with Deep Dark Woods and the evening's headliner, Alabama Shakes. Tickets to that three-day event are getting pretty limited, you may want to jump on those right now at the same time you're buying your Sonic Boom and Folk Festival tickets – which also both go on sale this weekend. It's going to be an expensive summer for a music lover.
More on Jr. Gone Wild: Dumb Enough to Quit, Smart Enough to Start Over
Friday
Liferuiner – The Studio Music Foundation is hosting another epic metal event, featuring this Toronto metalcore-cum-hardcore act. The band is scheduled to release their fifth full-length, "Future Revisionists," on June 4th, so expect a whole slate of new material. Also on the bill are Being as an Ocean, Riot in Paradise, Dieuponaday and Counted Among Saints. 6 pm, $15 advance at YEG Live, $20 at the door.
Canyon Rose Outfit – If you're in the mood for something completely the polar opposite of anything resembling metal, this local bluegrass-folk act is one of those you just can't help but tap your toe to, and drink a pint or two of draught. Brixx Bar & Grill, 9 pm, $10.
Northcote – Wunderbar plays host to an amazing local triple bill on this night, including this solo project from former Means and Emerson Letters frontman Matthew Goud (not to be confused with Matthew Good), as well as Vancouver's roots-rock act The Matinee (who are supporting their newest album "We Swore We'd See the Sunrise"), and J. Eygenraam. $15 advance, $20 at the door, 9 pm.
Saturday
Between Brothers – This three-piece acoustic alt-blues-rock band lives up to its name with brothers Wyatt and Ryley Eddy (vocals/guitar), along with honorary brother Zach Lewis. Luke Blu Guthrie and Clay Swanson open the show at the Haven Social Club, 8 pm, $7 advance, $10 door.
Scenic Route To Alaska – How fitting that the very day Folk Festival tickets go on sale this folk-rock act, one of the younger acts who stole the show at the 2011 edition of the festival, perform at Rossdale Hall. Also on the bill are Boreal Sons and Lucas Chaisson. 8 pm, $13 advance.
The Switches – This local act headlines another extraordinary evening at Wunderbar, with two Calgary bands – The Slabs and Soft Option – as well as Nolan Bossert also performing. 9 pm.