Jr. Gone Wild embroiled in emblem imbroglio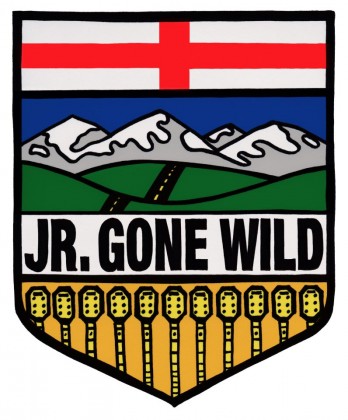 Once a rebel, always a rebel.
One of Alberta's favourite rock bands is in trouble from the Province of Alberta for unauthorized use of Alberta's official coat of arms.
Jr. Gone Wild altered the Alberta shield for use as a logo for its recent reunion, unknowingly contravening the Emblems of Alberta act. Special permission is required from the Queen to use it at all. The wording of the act is interesting: "A person who … without the consent of the Minister … assumes, uses or displays for commercial or business purposes … any design so nearly resembling the armorial bearings of Alberta or any portion of them as to be calculated to deceive … is guilty of an offence and liable to a fine of not more than $1,000."
Singer Mike McDonald says he got a phone call from Alberta Culture's legal department Thursday morning, responding to a complaint from a citizen who spotted the offending artwork in the window of McDonald's record store, Permanent Records, and offering to come to a amicable resolution.
McDonald says he is "baffled and a little hurt" by the complaint. He says, "We mean no disrespect. We didn't do it to besmirch the image of Alberta. Our whole deal is that there's more to Alberta than shitty politics, oil and hockey. We have a long precedent of being ambassadors for the province. In fact it was the Progressive Conservatives that gave us the Alberta flag we fly at all our shows. So it's clear we're not anti-Alberta. This seems a little overbearing to me."
There's a couple of grand worth of T-shirts that will have to go into the trash at stake here, at least, and while there hasn't yet been a band meeting to decide whether or not they'll fight what may be a losing battle (one that has echoes in the American Flag-burning debate), McDonald says, "They should change the laws so people can, you know, do art."